ICYMI: Secretary Pete Buttigieg Visits Alaska, Highlights Biden Administration's Investments in Rural and Tribal Transportation and Supply Chain Infrastructure
Anchorage, AK – Last week, U.S. Secretary of Transportation Pete Buttigieg traveled to Alaska on a three-day infrastructure investment tour where he learned about the state's unique transportation needs, including in its rural and Tribal areas, where airports, ports, roads, ferries and more play a critical role in the movement of residents as well as supplies. Throughout the trip he had the opportunity to highlight investments the Biden Administration is making in Alaska and travel alongside Senator Lisa Murkowski and Senator Dan Sullivan.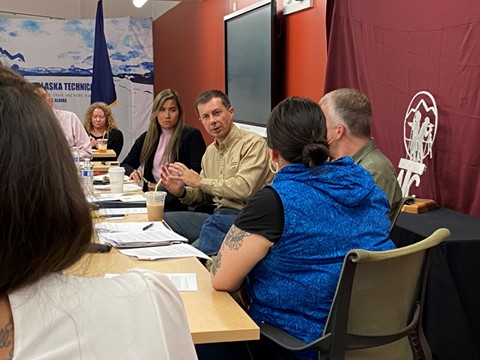 Secretary Buttigieg started his trip in Kotzebue, a remote village north of the Arctic Circle, where he joined Senator Sullivan and Tribal leaders for a community tour and welcome lunch. Throughout the day, they met with air carriers, Kotzebue officials, Northwest Arctic Borough leaders, and representatives from the AK Department of Transportation and Public Facilities to discuss transportation issues and hear about work to reduce the costs of bringing in supplies. To end the day, they joined community members for a potluck, and then toured the flight service station at Ralph Wien Memorial Airport in Kotzebue and met with FAA employees.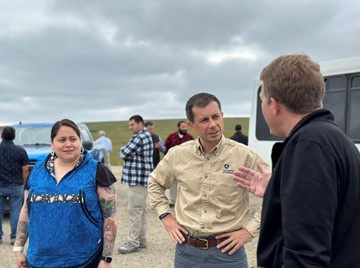 In Anchorage, the Secretary visited the Port of Alaska, where he joined Anchorage Mayor Dave Bronson and other leaders on a tour and saw the implementation of the $68.7 million investment from President Biden's Bipartisan Infrastructure Law. The investment will help prevent catastrophic failure at the port that would cut off a key point of entry for goods that reach 90% of Alaska's population. Secretary Buttigieg later met with leadership from the Alaska Federation of Natives and the FAA's Alaska Aviation Safety Initiative. To close out his day, he discussed Medivac operations in Alaska and stopped at the Alaska Airlines Cargo facility at Ted Stevens International Airport, underscoring the vital role of rural aviation infrastructure.
On his final day, Secretary Buttigieg joined Senator Murkowski for a five-hour ferry from Juneau to Haines on the Alaska Marine Highway System, a fitting place to announce a new Alaska Marine Highway route designation. In Haines, they stopped at the Lutak Dock, the site of a $20 million investment from President Biden's Bipartisan Infrastructure Law, before meeting with community and Tribal leaders. To close out the day and his trip to Alaska, the Secretary and Senator took an Alaska Seaplanes flight back to Juneau where they hosted a media availability and discussed critical infrastructure needs.
Secretary Buttigieg also announced the first-ever round of grants for Alaska and other states to fix fish culverts-- infrastructure that helps move water under roads. If left unrepaired, they can cause flooding and prevent fish passage, a significant issue for Tribal communities and jobs that are supported by healthy fish runs. President Biden's Bipartisan Infrastructure Law is helping communities remedy this long-standing problem.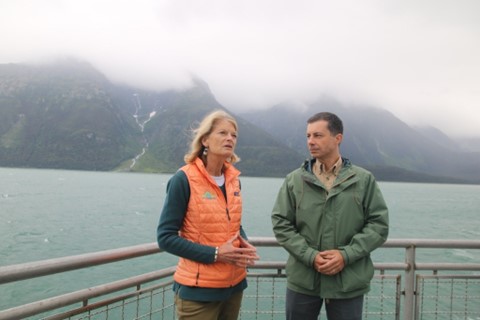 Read below to see what they're saying about the Secretary's visit.
SELECT MEDIA COVERAGE
Alaska Public Media: Secretary Buttigieg talks port challenges with Anchorage officials
"You ought to know that that $68 million award was the single largest award we made through this program last year," Buttigieg said, giving credit to President Joe Biden's infrastructure law.
Alaska News Source: Transportation secretary tours Port of Alaska, talks investment in aging infrastructure.
"This is a port that faces unique challenges. There is no other place that I have visited that encounters the kind of tidal variations — the corrosive effects that you see here at the Port of Alaska — but also that is so singularly important to people across the state," Buttigieg said. "It's one thing to see that on paper. It's another to get a direct sense of it, and we got a really great sense of it being on the ground."
Alaska Beacon/KINY: On Alaska tour, Buttigieg encounters extreme conditions and touts federal investments
"Under President Biden's leadership, with bipartisan support, we have more ability to say yes to more great projects, more funding to work with than at any point in my lifetime," he said. The list also includes a $68.7 million grant made last fall to the Port of Alaska to assist in its ongoing modernization a project expected to cost $1.8 billion over several years. It was the biggest single grant that year in that particular program in the department, Buttigieg said during the news conference at the port. 
Alaska News Source: Buttigieg visits aviation sites as part of three-day itinerary in Alaska
"No matter how much you look at it on a map or on paper, nothing can fully drive home the dimensions of this state, the sheer proportions of it," Buttigieg said, adding that a main purpose behind the trip was to see part of the $68.7 million investment from President Joe Biden's Bipartisan Infrastructure Law being put into action. "The fact that, for example, from Anchorage to Kotzebue is almost a two-hour flight and not even a fraction of the distance of the state, it helps give you a sense of why transportation infrastructure is so needed and so important."
Alaska News Source: U.S. Secretary of Transportation Pete Buttigieg discusses Alaska visit
GCaptain: MARAD Designates New Marine Highway Routes
"America's marine highways are vital links in our supply chains, helping to move goods quickly, cleanly, and efficiently," said Secretary Buttigieg. "By expanding our marine highway system, we can strengthen our supply chains, improve port operations, and help keep goods affordable for American families."
Alaska Public Media: On Alaska visit, Buttigieg touts funding boost to help salmon cross the road
"This is not just a question of conservation or preservation," he said. "It's also a question of economic security and food security." Funding for the Culvert Aquatic Organism Passage Program comes from the Bipartisan Infrastructure Law. Nationwide, it supplies grants of $200 million a year.
Your Alaska Link: Buttigieg visits Southeast Alaska
Alaska Beacon: Transportation Secretary Pete Buttigieg ends Alaska visit with emphasis on ferries
Speaking aboard the Hubbard, Buttigieg said the ferry funding is "something that is here largely by way of Sen. Murkowski," who insisted that Alaska's ferries "be considered in a big way" as part of the federal infrastructure law.
AK Sporting Journal: Transportation Secretary Buttigieg Talks Salmon 'Transit' Funding On Alaska Visit
"When you take on a job like secretary of Transportation, there are some things you know you're going to be working on — planes, trains, and automobiles," he said during an interview in Anchorage on Tuesday. "And there are other things, like anadromous fish passage, that you do not realize will be on your plate."
KTOO: Buttigieg highlights ferry system during Southeast Alaska visit
"In most of the ferry fleet, what we're worrying about is its age," Buttigieg said. "Having a new vessel is not all there is to the story. We need to make sure that we're creating a framework where operations, maintenance and capital planning can go well."
###
Last updated: Monday, August 21, 2023