On May 18, U.S. Transportation Secretary Elaine L. Chao joined Georgia Governor Nathan Deal at the site of Atlanta's new Interstate 85 bridge for a ceremonial reopening, less than seven weeks after the blaze that caused its collapse.
She told the crowd gathered there that, "The workers who helped to make today possible – the men and women who worked tirelessly to build this bridge – have impressed the nation and earned our thanks.  The real heroes are right here, among us.  Each one of them represents America's best."
The bridge work was completed a month ahead of schedule thanks to the quick influx of federal funds and fast and innovative financing for the contractor.  The nation's newest bridge features cutting-edge prefabricated components and state-of-the-art accelerated curing concrete.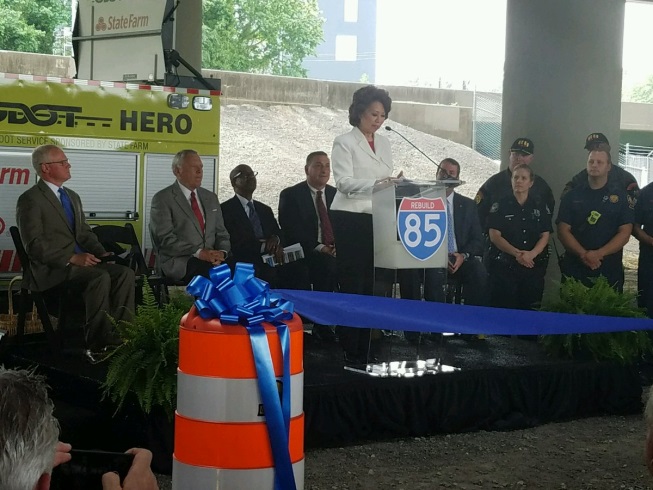 I-85 in Atlanta collapsed during rush hour on March 30 as a result of intense heat from a fire below.  The bridge serves as a major artery for Atlanta travelers, carrying nearly 243,000 vehicles daily.
The White House and Secretary Chao were quick to respond to the incident.  Within an hour of start of the fire, Secretary Chao was on the phone with Governor Deal to discuss the situation, and committed to releasing emergency funds to help begin repairs.  The next day, less than 24 hours after the bridge collapsed, the FHWA released $10 million in Emergency Relief funds to the Georgia State Department of Transportation.
As Secretary Chao told the U.S. Chamber of Commerce last week, the Department's rapid response in Atlanta, which included a near-immediate on-the-ground presence followed by the quick release of emergency funds, is an "illustration of what is possible" when federal, state, and local governments work together effectively.
During the bridge reconstruction, commuters were able to rely upon the Metropolitan Atlanta Rapid Transit Authority (MARTA) to get between home and work.  In the initial days following the collapse on I-85, MARTA ridership surged 25 percent system-wide, and over the following month and a half, the system continued to see a rail ridership increase of about 12 percent above average.   In announcing that the corridor would re-open on May 15, Governor Deal thanked MARTA, the Georgia Regional Transportation Authority, and the State Road and Tollway Authority for their leadership in providing commuters with other choices.
This incident highlights the urgent need to invest in America's infrastructure.  The White House has made rebuilding America's infrastructure a priority and is developing an investment plan which would provide a trillion dollars in public and private investments.  This incident also shows how important it is to have a multimodal transportation system that gives people a variety of choices – including public transportation – so that when one mode of transportation becomes temporarily unavailable, no one is left stranded.
Congratulations to everyone involved in this crucial project for a job well done.