U.S. Transportation Secretary Joins Georgia Governor Deal for Ceremonial Opening of Atlanta's I-85 Bridge
Thursday, May 18, 2017
Relying on federal highway funding, new bridge opens weeks ahead of schedule
ATLANTA – U.S. Transportation Secretary Elaine L. Chao joined Governor Nathan Deal today at the site of the new I-85 bridge – which opened less than seven weeks after a blaze caused its collapse and more than a month ahead of schedule – to thank the workers and first responders who kept the public safe.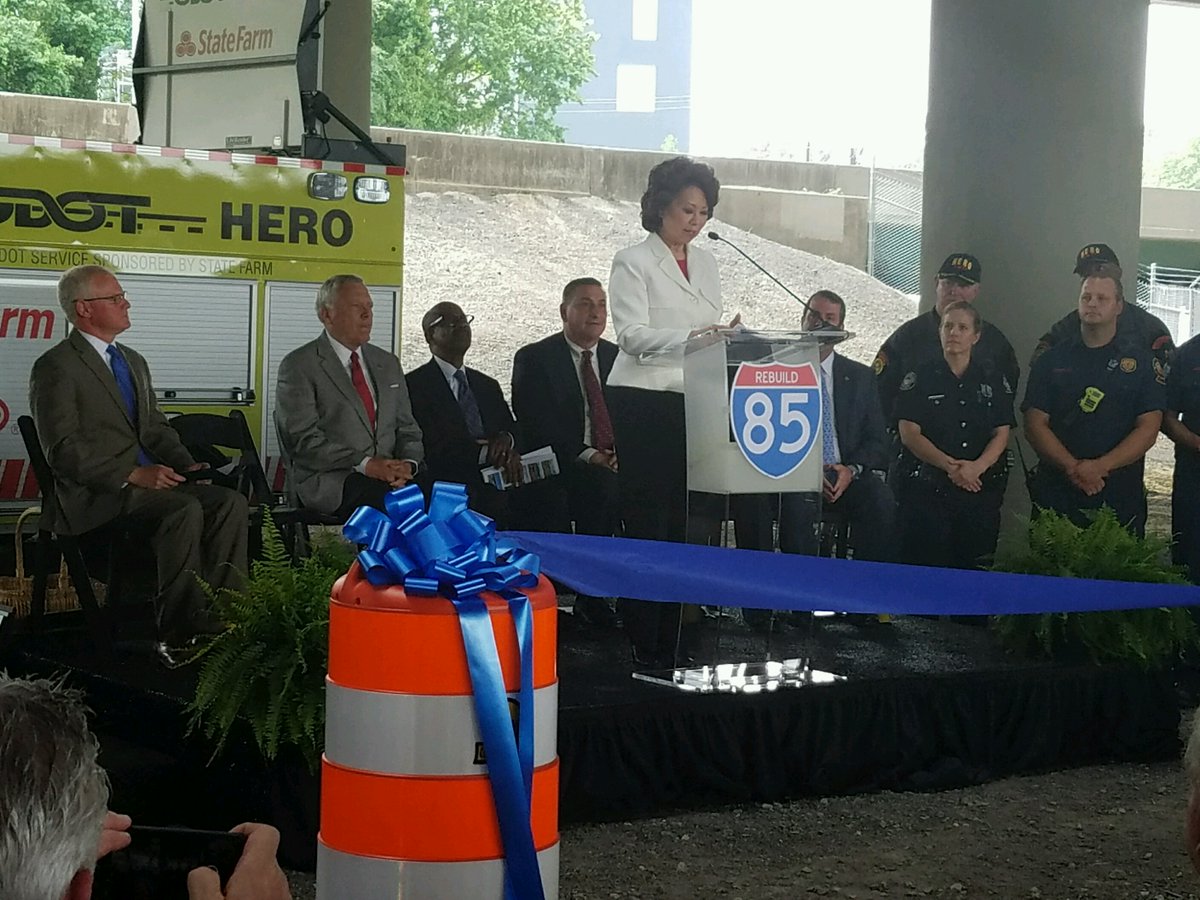 Secretary Chao joins Governor Deal and GA Leaders for I-85 Ceremonial Opening
"The workers who helped to make today possible - the men and women who worked tirelessly to build this bridge - have impressed the nation and earned our thanks.," said Secretary Chao. "The real heroes are right here, among us. Each one of them represents America's best."
Until its collapse on March 30, the bridge on I-85 over Piedmont Road served an estimated 243,000 drivers each day. Detours to side streets have caused significant time delays and inconvenience for Atlanta-area commuters ever since.
Using $10 million in "quick-release" Emergency Relief funds from the Federal Highway Administration (FHWA), demolition began almost immediately which allowed workers to remove more than 6,500 tons of debris and replace about 700 feet of surrounding roadway and support columns. Additional federal funds will be available to the Georgia DOT (GDOT) once a review of the project's overall costs is completed.
"This project underscores the value of FHWA's Emergency Relief program," said Acting Deputy Federal Highway Administrator Walter "Butch" Waidelich. "Resources like these help states in need begin repairs and restore traffic to normal as quickly as possible."
According to GDOT, fast and innovative financing for the contractor allowed the new bridge to open a month ahead of schedule – saving Atlanta-area commuters more than $27 million in congestion and detour-related delays.
Though built quickly, the nation's newest bridge features cutting-edge prefabricated components and state-of-the-art accelerated curing concrete. In addition, FHWA officials expedited regulatory requirements to ensure the project could begin faster.
###