In today's mobile society, quick information access via mobile applications (app) has become the norm. In the transportation world that could include apps for airline flight schedules and mass transit routes. The US DOT Pipeline and Hazardous Materials Safety Administration (PHMSA) just rolled out an online Code of Federal Regulations (oCFR) mobile app to both its hazardous materials and pipeline safety regulations. This easy access to current U.S. DOT regulations by the general public, transportation stakeholders and emergency first responders will help advance the safe transportation of energy and other hazardous materials that are essential to our daily lives.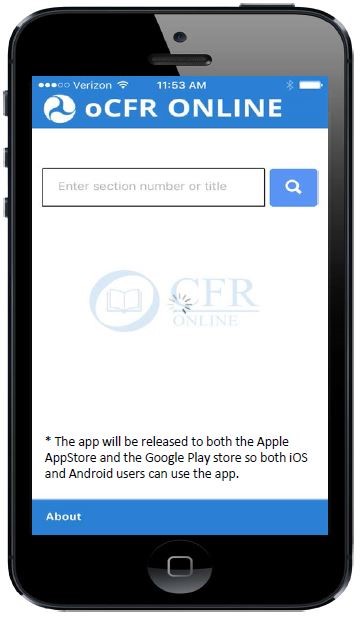 The oCFR mobile app is a simplified version of the web-based application which was released to the public in March of 2016. The oCFR app was released to both Apple's App Store and the Google Play Store for use on iOS and Android mobile devices.
The new oCFR app provides the first-ever mobile access to search, view and navigate PHMSA's Hazardous Materials Regulations in 49 CFR parts 100-180 for the classifying, handling and packaging of hazardous materials by highway, rail, aircraft, and vessel. This oCFR app also provides the first-ever mobile access to PHMSA's Pipeline Safety Regulations in 49 CFR parts 190-199, which provide the federal minimum safety standards for the design, construction, operation and maintenance, and spill response planning for pipeline and liquefied natural gas facilities involved in the transportation of natural gas and hazardous liquids within the United States. The mobile app is also unique because it allows users to navigate regulations at both the paragraph level.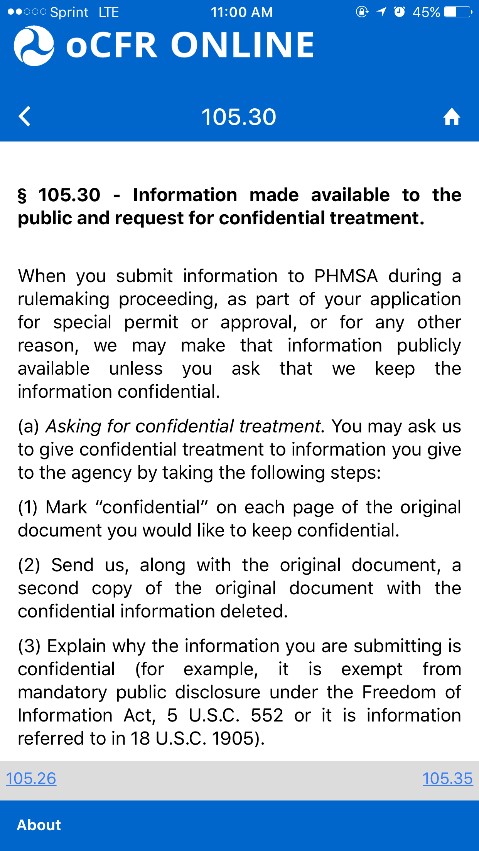 For more information on the new oCFR mobile app, or how PHMSA develops and enforces regulations for the safe, reliable, and environmentally sound operation of the nation's 2.6 million mile pipeline transportation system and the nearly one million daily shipments of hazardous materials by land, sea, and air, visit http://phmsa.dot.gov or https://twitter.com/PHMSA_DOT.