Corporate Average Fuel Economy (CAFE) Standards
What are CAFE Standards?
First enacted by Congress in 1975, the purpose of CAFE is to reduce energy consumption by increasing the fuel economy of cars and light trucks.  The CAFE standards are fleet-wide averages that must be achieved by each automaker for its car and truck fleet, each year, since 1978. When these standards are raised, automakers respond by creating a more fuel-efficient fleet, which improves our nation's energy security and saves consumers money at the pump, while also reducing greenhouse gas (GHG) emissions.
CAFE standards are regulated by DOT's National Highway Traffic and Safety Administration (NHTSA).  NHTSA sets and enforces the CAFE standards, while the Environmental Protection Agency (EPA) calculates average fuel economy levels for manufacturers, and also sets related GHG standards. NHTSA establishes CAFE standards under the Energy Policy and Conservation Act (EPCA) of 1975, as amended by the Energy Independence and Security Act (EISA) of 2007, while EPA establishes GHG emissions standards under the Clean Air Act. Following the direction set by President Obama on May 21, 2010, NHTSA and EPA have issued joint Final Rules for Corporate Average Fuel Economy and Greenhouse Gas emissions regulations for passenger cars and light trucks built in model years 2017 and beyond, and have also developed fuel efficiency and GHG emissions regulations for medium- and heavy-duty vehicles built in model years 2014 through 2018.
Passenger Car and Light Truck Standards for 2017 and beyond
In 2012, NHTSA established final passenger car and light truck CAFE standards for model years 2017-2021, which the agency projects will require in model year 2021, on average, a combined fleet-wide fuel economy of 40.3-41.0 mpg. As part of the same rulemaking action, EPA issued GHG standards, which are harmonized with NHTSA's fuel economy standards that are projected to require 163 grams/mile of carbon dioxide (CO2) in model year 2025.  EPA will reexamine the GHG standards for model years 2022-2025 and NHTSA will set new CAFE standards for those model years in the next couple of years, based on the best available information at that time.
Medium and Heavy-duty Vehicle Fuel Efficiency Standards for beyond 2018
President Obama directed NHTSA and EPA to develop and issue the next phase ("Phase 2") of medium- and heavy-duty vehicle fuel efficiency standards and greenhouse gas (GHG) standards by March 2016. Under this timeline, the agencies currently expect to issue a Notice of Proposed Rulemaking (NPRM) by March 2015. This second round of fuel efficiency standards will build on the first-ever standards for medium- and heavy-duty vehicles (model years 2014 through 2018).
NHTSA has also proposed to require badges, labels and owner's manual information for new passenger cars, low-speed vehicles (LSVs) and light-duty trucks rated at not more than 8,500 pounds gross vehicle weight, in order to increase consumer awareness regarding the use and benefits of alternative fuels.
This proposed rule would implement specific statutory mandates that manufacturers be required to: identify each vehicle capable of running on an alternative fuel by means of a permanent and prominent display affixed to the exterior of the vehicle; add proposed text describing the capabilities and benefits of using alternative fuels to the owners' manuals provided for alternative fuel vehicles; and identify each vehicle that is capable of running on an alternative fuel by means of a label in the fuel filler compartment.
CAFE Standards and Sustainability
The new CAFE standards will not only improve energy efficiency of the Nation's fleet, but also:
Reduce our petroleum consumption
Increase the availability of alternative fuel vehicles
Promote the advancement of innovative technologies
Lower greenhouse gas emissions both helping to mitigate climate change and improve air quality.
Highlights
Final Standards for passenger cars and light trucks were developed by NHTSA and EPA – with agreement of automakers, United Auto Workers, consumer groups, environmental and energy experts, states, and the public.
 President Obama officially rolled out the new CAFE standards in 2012 for model years 2017 and beyond, but NHTSA's standards since 1978 have saved (and will continue to save) many billions of gallons of fuel for American drivers.  The following graph shows NHTSA's estimates of these fuel savings: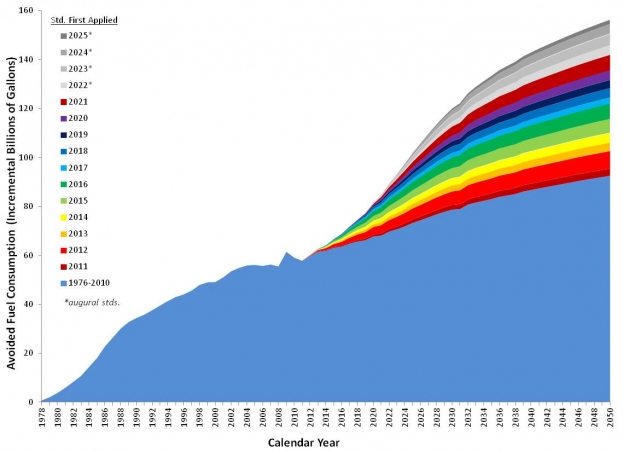 The program also includes targeted incentives to encourage early adoption and introduction into the marketplace of advanced technologies to dramatically improve vehicle performance, including:
Incentives for electric vehicles, plug-in hybrid electric vehicles, and fuel cells vehicles;
Incentives for natural gas vehicles;
Credits for technologies with potential to achieve real-world greenhouse gas reductions and fuel economy improvements that are not captured by the standard test procedures.
Additional Information
CAFE Fuel Economy
Fuel Economy and Environment Label
NHTSA Press Release
NHTSA's Study
Last updated: Monday, August 11, 2014