Passenger Cruise Ship Information
To assist cruise ship passengers, the U.S. Department of Transportation is sharing information and resources provided by other Federal agencies
Consumer Assistance
The Federal Maritime Commission (FMC) requires operators of passenger vessels carrying 50 or more passengers from a U.S. port to be financially capable of reimbursing their customers if a cruise is cancelled. The FMC also requires proof of ability to pay claims arising out of passenger injuries or death for which the ship operator may be liable. If a cruise is cancelled or if there is an injury during the cruise, the consumer will have to initiate action on his or her own behalf against the cruise line.
The FMC reviews any problems or inquiries that passengers bring to its attention. The FMC's Office of Consumer Affairs and Dispute Resolution Services (CADRS) will contact a cruise line on a passenger's behalf. However, the final resolution of such complaints or inquiries is a matter between the cruise line and the individual. The role of OCC essentially is to help ensure a quick and fair consideration of the issues involved.  Consumer complaints can be reported to the FMC by telephone at 202-523-5807. See FMC's website for additional information.
Vessel Safety
The U.S. Coast Guard is responsible for cruise ship safety. Although each cruise ship is subject to the vessel inspection laws of the country in which it is registered, as a condition of permitting the vessels to take on passengers at U.S. ports, the Coast Guard requires the ships to meet the International Convention for the Safety of Life at Sea and other international regulations. Among other things, these regulations concern structural fire protection, firefighting and lifesaving equipment, watercraft integrity and stability, vessel control, navigation safety, crewing and crew competency, safety management and environmental protection. The Coast Guard conducts routine onboard inspections of cruise ships to ensure compliance with applicable laws and regulations.
Cruise Line Incident Reports
The Cruise Vessel Security and Safety Act of 2010 prescribes security and safety requirements for most cruise ships that embark and disembark in the United States. The Act mandates that reports of criminal activity be reported to the Federal Bureau of Investigation (FBI).  See the cruise line reports.
Criminal Activity Prevention and Response Guide (Security Guide)
Cruise ships are required by 46 USC 3507(c)(1) to have a security guide available for passengers. The security guides provide important information, such as a description of medical and security personnel designated on board to prevent and respond to criminal and medical situations; and law enforcement processes available with respect to criminal activity.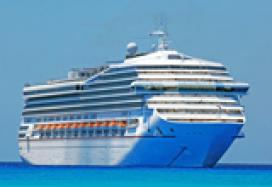 Last updated: Wednesday, October 22, 2014