Jack Danielson
Acting Deputy Administrator
National Highway Traffic Safety Administration
Jack Danielson serves as the Acting Deputy Administrator of the National Highway Traffic Safety Administration (NHTSA), leading a multifaceted organization with a budget of $911 million and 626 full-time employees located throughout the country. In this capacity, he provides overall leadership in the execution of NHTSA's safety mission of promoting vehicle safety innovations, rooting out vehicle defects, setting safety standards for cars and trucks, and educating Americans to help them drive, ride, and walk safely. Previously, Mr. Danielson served as NHTSA's Executive Director, supporting the NHTSA Administrator in providing leadership and establishing direction on policies, budgets, and strategic priorities and initiatives. He oversaw daily operations, internal management, and mission support programs, and provided executive direction over the Chief Financial Officer, the Chief Information Officer, and NHTSA's eight Associate Administrators.
Mr. Danielson began his Federal career two decades ago as an active duty service member in the U.S. Army, serving in both Operation Joint Endeavor and Operation Joint Forge in Bosnia. Following his military service, he joined the policy staff of U.S. Congressman Jim Oberstar, his home-district Congressman and the ranking member of the House Committee on Transportation and Infrastructure. Over the course of the next 15 years, he served in policy and management positions in the U.S. House and U.S. Senate, developing policy initiatives and legislation and overseeing office budgets, staff, and field offices.
He lives with his wife, Dawn, on Capitol Hill.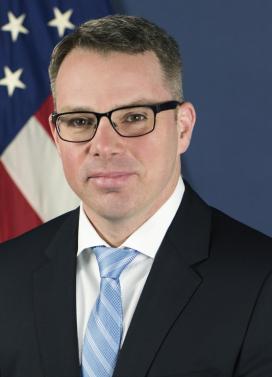 Last updated: Thursday, June 22, 2017