BIL-Funded Infrastructure Projects
Check out these state-by-state fact sheets that show announced BIL funding for rural, urban and Tribal projects in each state and US Territory, along with anticipated future funding for roads, bridges, transit, rail, airports, seaports and pipelines and clean transportation investments . 
There is a nationwide backlog of projects to repair roads and bridges and improve safety and economic competitiveness. Because of the funds in the infrastructure law, the U.S. Department of Transportation is now funding more of these projects via our competitive grant programs, and we are providing States, Tribes, US Territories and local governments far more funding to deliver projects as well. 
A sample of USDOT funded projects include the following: 
22nd Street Revitalization Project
Tucson, Arizona 
The 22nd Street Revitalization project in Tucson will replace an existing 1960s-era bridge in poor condition with a new bridge over the Union Pacific Railroad and State Route 210. The $25 million RAISE grant will also help expand 22nd Street from four lanes to six lanes with a divided median and construct a separate bicycle and pedestrian bridge. The new bridge will remove a freight bottleneck and eliminate weight restrictions and lengthy detour routes for freight, transit, school buses, and emergency medical services, saving up to 30 minutes per trip. The project provides an East-West connection between downtown Tucson and an underserved community. Broadband conduit will be installed as part of the project. Additionally, by providing more vertical clearance for the Class I railroad, the project will eliminate a bottleneck for freight movement at this rail hub, helping to reduce travel times that can help lower shipping costs, and also enables future rail expansion.
Maritime Support Facility Access/Terminal Island Rail System Project
Los Angeles, California 
The Maritime Support Facility Access/Terminal Island Rail System Project at the Port of Los Angeles will use a $20 million RAISE grant to construct a four-lane, rail-roadway grade separation that will eliminate a significant truck access impediment to this important container terminal support facility. The project will significantly reduce delays, accidents, and emissions at the Port which handles 35% of all waterborne containers entering the United States. It will also eliminate the use of a one-way tunnel, reducing the potential for crashes. The project is important for improving access to chassis and empty containers which aids in increasing cargo velocity and will relieve supply chain constraints. Significant reductions to trucking idling times will reduce thousands of tons of emissions per year providing air quality and health benefits to those living nearby and working in the Port.

Stamford, Connecticut
The Connecticut Department of Transportation was awarded a $26 million FTA Low or No Emission Vehicle grant to buy battery-electric buses to replace older diesel buses and modernize its CTtransit Stamford Division Depot to support battery-electric bus service. The project will ensure continued service reliability, maintain a state of good repair, improve air quality and advance environmental justice in Stamford, CT.
Orlando, Florida 
The Orlando International Airport received a $50 million Airport Terminal Program grant to complete the South Terminal C expansion project. The project scope includes the addition of four new gates with eight loading bridges. The project will increase passenger capacity, provide facilitates that are compliant with the Americans with Disability Act, and help the airport achieve LEED certification. In total, the project supports a better passenger experience, including for travelers with disabilities, creates jobs, and supports economic growth in this tourism-driven region.
Tallahassee, Florida
Tallahassee was awarded a $15 million RAISE grant to construct a transit center with multiple bus bays, each equipped with electric charging, located on the northwest corner of Orange Avenue and Meridian Street. Clear and safe access points from the road network surrounding the transit center will be established to minimize conflict with vehicles and will improve the safety of motorized and non-motorized travelers. The expansion of battery-electric buses will reduce mobile source emissions and improve air quality. Also heat islands will be mitigated by using design features such as rooftop solar panels and shaded landscaping. Active transportation will be encouraged by enhancing bicycle and pedestrian connections in the area, as well as improving system wide connectivity.
Panbowl Lake Corridor Project
Jackson, Kentucky
Jackson was awarded a $21 million RAISE grant for the Panbowl Lake Corridor Project to make improvements to KY 15, the main traffic artery through town and strengthen an earthen dam that helps protect the community from catastrophic flooding. The construction of bike lanes and sidewalks in an area where there currently are none will allow for safe, low-cost transportation choices. Widening the corridor will improve freight mobility for the road that is designated as part of the National Truck Network and on an important coal freight corridor thereby improving the movement of goods and overall travel time reliability. The project will includes multiple strategies to engage with residents and community-based organizations to ensure equity considerations for underserved communities are integrated.
Lexington, Kentucky
Lexington was awarded an $8 million RAISE grant to replace a railroad bridge overpass to allow for ADA accessible sidewalks and bicycle facilities, as well as improved sidewalks, accessible transit stops, and stormwater collection. The project addresses state of good repair by replacing an 86-year-old structure that has damage from strikes and increasing vertical clearance for freight traffic to more directly access downtown instead of using local roads. The project will implement a 2018 Bike and Pedestrian Master Plan based on community participation that identified gaps in the existing network related to bike and pedestrian infrastructure. Particularly, it will extend the sidewalk along the east side of the roadway to fill in the missing sidewalk and better connect the community to the transit route in an area with significantly higher-than-average pedestrian safety issues.
New Orleans, Louisiana
New Orleans was awarded a $24.8 million RAISE grant to construct a Downtown Transit Center for the city's bus and streetcar network and to make safety improvements at street intersections with a history of pedestrian-involved crashes. Those improvements include high visibility sidewalks, security cameras, call boxes, lights, protected bike lanes, and shorter crossing distances. The project helps to implement city transportation plans and its complete streets policy. The project will enhance bus service in underserved communities and focus on connections to jobs, healthcare, schools, and grocery stores. 
I-375 Community Reconnection Project
Detroit, Michigan
The I-375 Community Reconnection Project will reconnect two historically Black neighborhoods that were divided from downtown Detroit's main business district by the highway's construction. The $104 million INFRA grant will transform the freeway into a slower speed boulevard, install calming traffic and road design safety measures, and incorporate LED lighting. The project will also remove 15 old bridges and two stormwater runoff pump stations, rehabilitate one remaining stormwater runoff pump station, construct wider sidewalks and separated buffered cycle tracks with protected and signalized pedestrian crossings to reconnect neighborhood streets with the new boulevard. The redesign will provide the community with improved access to jobs and services in the area, as well as reduce roadway operating and maintenance costs. Additionally, the project will use innovative smart traffic management technologies at intersections to improve safety. 
Lake Street Multimodal Improvements Project
Minneapolis, Minnesota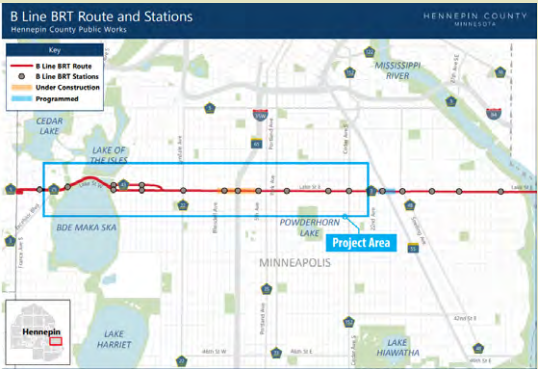 The Lake Street Multimodal Improvements Project will improve bus transit operations and increase pedestrian mobility and safety along Minneapolis' busy Lake Street corridor. The $12 million RAISE grant will help construct roadway improvements and accessibility upgrades such as pedestrian ramps and APS push button stations. These complete street improvements will allow residents to access employment opportunities more affordably and easily. The project is projected to bring significant benefits to the community through improved safety and travel time reliability.
Kansas City, Missouri
The Kansas City Area Transportation Authority was awarded a $10 million FTA Bus and Bus Facilities grant to upgrade a 45-year-old bus facility with electrical infrastructure upgrades, solar panels and updates to fire and life safety detection systems. The project will improve safety, state of good repair and ensure a continuity of service as KCATA transitions to a fully battery-electric fleet.
Victory Infrastructure Project
Fernley, Nevada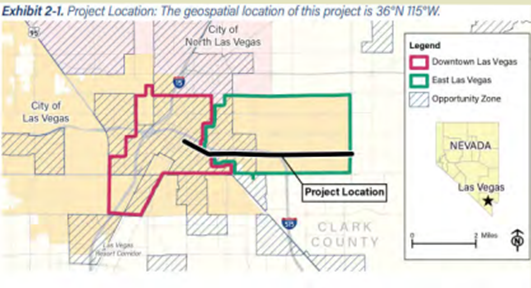 The Victory Infrastructure Project in Fernley will help complete connection from I-80 to Highway 50 delivering access to the fast-growing Victory Logistics District Industrial Park. The $25 million RAISE award will help fund the Nevada Pacific Parkway roadway and bridge component, including a new switch off the Union Pacific mainline railroad and the segment of lead rail from that new switch to the point of connection of the first switch of three to create a "rail switching yard." Through road, bridge, and rail improvements, the project will provide access to the entire Victory Logistics District industrial park. The project creates an inland port with capacity for rail switching that will create more capacity with dual access to the Union Pacific Railroad and Burlington Northern Santa Fe rail lines, increasing supply chain efficiency and helping to lower costs of goods. This transportation infrastructure will support the growth of Victory Logistics, which is expected to create between 7,000-10,000 jobs over the next 5 years. The project will also improve transportation options and safety for all road users by improving sidewalks and bike paths. 
Renewing Berlin with Renewable Energy Project
Berlin, New Hampshire
The Renewing Berlin with Renewable Energy Project received a $19 million RAISE grant to install a new snowmelt system that uses excess heat from a nearby biomass plant to improve access to the downtown area for residents and visitors during winter months. The project also includes the rehabilitation of roads, sidewalks, municipal parking areas, and other pedestrian safety improvements that are designed to reduce accidents and improve access for residents and visitors to services in downtown Berlin. The project will make travel more reliable, while also significantly reducing maintenance costs and the negative environmental effects resulting from the current processes for maintenance and snow removal. The project will also increase transportation options and connectivity for pedestrians to help strengthen the local economy.
W. 51st Street Extension Project
West Tulsa, Oklahoma
The W. 51st Street Extension Project in Tulsa will help reconnect and revitalize a community that was divided and negatively impacted by the creation of US-75 decades ago. The $10 million RAISE grant will help reconstruct approximately one mile of W. 51st Street, including a connection under US-75. The project will include a sidewalk along the entire length, a new pedestrian bridge over the TSU Railroad, and a new connection to the Arkansas River Trail. The project will also include the construction of two bridges on US-75 and two US-75 ramp bridges over W. 51st Street. In addition to reconnecting communities divided by the highway, the project will provide greater pedestrian accessibility and increase affordable transportation choices throughout the West Tulsa community.
Caldwell County, Texas
Caldwell County was awarded a $22.9 million grant to design and construct a truck parking plaza that improves safety and convenience for truck drivers. The new plaza will include short- and long-term spaces with lighting, fencing, restroom and shower facilities, with 24-hour monitored security. These improvements are planned to eliminate truck parking in unauthorized locations that can result in vehicle crashes and is located to encourage truck drivers to use SH 130 rather than I-35 to diversify the traffic load and reduce crashes on the interstate. The project includes an innovative mobile application to help truck drivers find and reserve available parking at a safe facility.
Hampton Roads, Virginia
The Transportation District Commission of Hampton Roads was awarded a $25 million FTA Bus and Bus Facilities grant to replace the 39-year-old Parks Avenue Maintenance Facility to accommodate future zero-emission buses. The new Southside Bus Operating Facility will help the agency support and maintain its current fleet while preparing to support expanded regional transit service.
Bellingham, Washington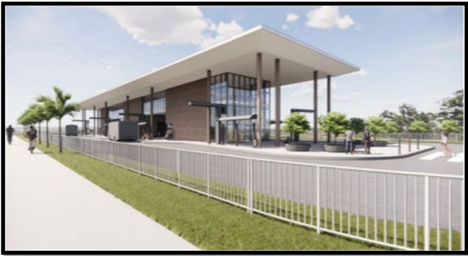 The Whatcom Transportation Authority was awarded a $9.6 million FTA Low or No Emission Vehicle grant to buy diesel-electric hybrid buses to replace older vehicles. The project will reduce diesel fuel consumption by 24 percent and greenhouse gas emissions by 49 percent while improving service reliability for residents of Bellingham and neighboring towns and rural communities, including the Lummi Reservation, and the Nooksack Trust Lands.
Last updated: Tuesday, August 22, 2023