Local and Regional Electric Mobility Planning Partners
Like statewide and multistate partners, local and regional planning organizations can play a key role in connecting stakeholders and identifying available funding, as well as in providing technical expertise.
Clean Cities coalitions comprise a national initiative with affiliated local, State, or regional stakeholder groups that provide both technical assistance at all project stages and access to local partners for electric mobility charging projects.
Planning agencies accept input from stakeholders to develop transportation plans for the coming years, providing opportunities to partner on coordination of charging infrastructure projects within a city, or throughout a region or State, and for programming funding that flows through these planning agencies to such projects.
Clean Cities Coalitions
Through DOE's national network of Clean Cities coalitions, more than 75 coalitions create networks of local stakeholders that advance alternative fuels through public-private partnerships. These coalitions have extensive experience promoting alternative fuel vehicle adoption and alternative fuel infrastructure deployment. Each coalition is led by an on-the-ground Clean Cities coordinator who tailors projects and activities for the local community.
Clean Cities coalitions are well positioned to help connect urban entities with local partners for developing and executing electric mobility charging projects. These coalitions engage with more than 20,000 stakeholders across the United States. Typical coalition members include:
Automotive businesses and dealerships;
Utility, fuel, and charging systems providers;
Vehicle fleet owners and operators;
State and local government agencies (e.g., environmental, energy, transportation, planning, and public health agencies); and
Community organizations and nonprofits. 
In addition to connecting local stakeholders working on electric mobility, coalitions can provide technical assistance on specific charging infrastructure projects and connect urban entities with available funding opportunities and incentives. The network of Clean Cities coalitions also enables urban entities to tap into national expertise, including research from DOE's National Laboratories and the Joint Office of Energy and Transportation. DOE's Vehicle Technologies Office designates Clean Cities coalitions working locally to foster the Nation's economic, environmental, and energy security. DOE provides coalitions resources and information to help transportation stakeholders evaluate options and achieve goals around electrification and alternative fuels, advanced vehicles, mobility solutions, and other fuel-saving strategies. DOE also often encourages project teams to partner with Clean Cities coalitions on applications to competitive funding opportunities for demonstrating and deploying electric vehicles and charging infrastructure.
Coalitions are often based in cities or operate statewide with a heavy focus on metropolitan areas. To learn more about coalition activities in a particular city or State and to identify contacts, see the figure below and the Clean Cities coalition contact directory.
Planning Agencies
Transportation planning agencies are important partners in electric mobility charging projects, so it is beneficial for site-level planners and other urban entities to identify the organization conducting transportation planning in their community. In metropolitan areas with a population over 50,000, the responsibility for transportation planning lies with MPOs.
(MPOs are located in Census-designated areas of over 50,000 in population and have Federal requirements to plan for the transportation needs of the metropolitan planning area.)
Outside urban communities, depending on the State, the State DOT, a regional transportation planning organization (RTPO), regional planning council, or local government may conduct transportation planning.
Urban entities can engage with MPOs around electric vehicles in several ways. Urban entities can visit MPO websites to view existing planning documents and identify information relevant to EV infrastructure planning. Typical transportation planning products include:
Work Programs: The Unified Planning Work Program (UPWP) for MPOs is an annual funding document that identifies transportation studies, tasks, or research that the agency will perform. These could include studies related to EV charging networks and gaps in a region.
Transportation Improvement Programs: MPOs develop four-year, fiscally constrained Transportation Improvement Programs (TIPs), which outline specific transportation projects and strategies with committed funding. State DOTs develop a similar Statewide TIP (STIP), which incorporates MPO, Tribal, and RTPO TIPs but also identifies projects in rural areas and small urban areas not covered by MPOs or RTPOs. TIPs could include specific, funded projects to install EV charging stations. They could also identify when major transportation projects are occurring in their area to better coordinate charging infrastructure installations with these projects.
Long-Range Transportation Plans: Regional, Metropolitan, or Statewide Long-Range Transportation Plans cover a minimum of 20-years and identify goals and strategies for how the agency plans to invest in the transportation system. Long-range plans may include goals that facilitate investments in EVs and EV charging infrastructure, such as improving air quality in a region, supporting growing demand for charging stations, and meeting climate resilience goals. They may also include more specific strategies like installing EV corridors along State highways.
The development of UPWPs, TIPs, and Long-Range Transportation Plans all provide an opportunity for urban entities to work with planning agencies to consider EVs and the EV infrastructure needs and the agencies' goals, programs, and funding decisions. Transportation planning agencies are required to obtain public and stakeholder input in the development of these transportation planning products. Most MPOs have information on their websites listing opportunities to attend public meetings and to provide comments on draft plans.
Micromobility Partners
Deploying micromobility charging infrastructure involves a smaller ecosystem of partners including city and university planning agencies, shared micromobility providers, micromobility charging infrastructure providers, and site hosts.
Shared micromobility providers are public or private entities that own, manage, and operate shared micromobility fleets (e.g., bikeshare and scooter share). Partnerships with these providers are critical to bringing shared micromobility to urban communities. Providers' operations vary, and they may charge micromobility devices through on-street charging at docking stations, swapping removeable batteries and charging them offsite, or charging the entire device remotely.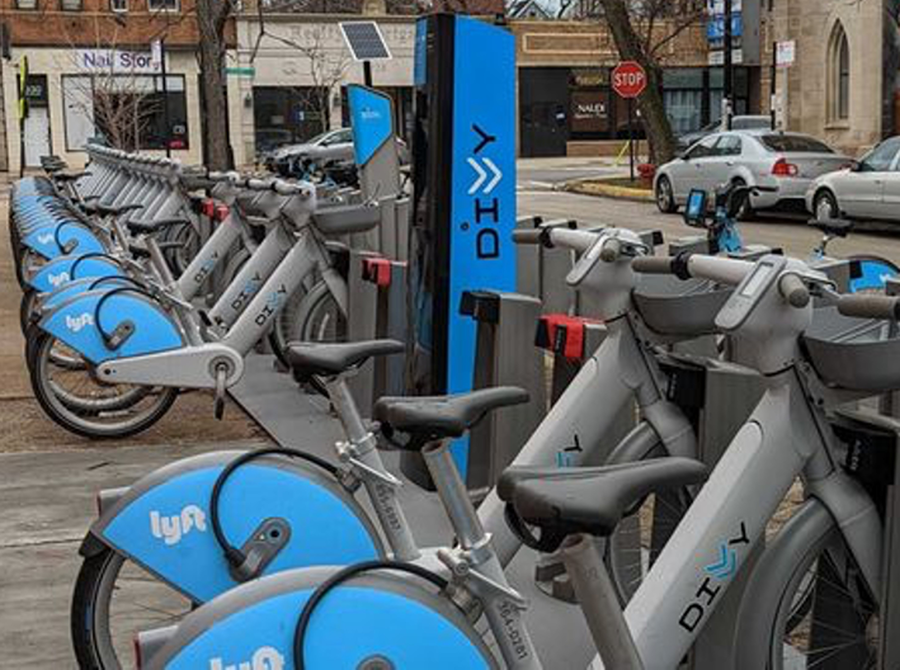 Independent companies have emerged that provide interoperable/universal charging solutions for micromobility devices, including centralized lockers for charging many e-scooters simultaneously, as well as solar- or battery-powered on-street parking corrals. These charging infrastructure providers may service either shared or privately owned micromobility devices.
On-site charging for shared and/or privately owned micromobility devices may be deployed in partnership with site hosts (see Site Hosts for more information on potential site hosts for a project).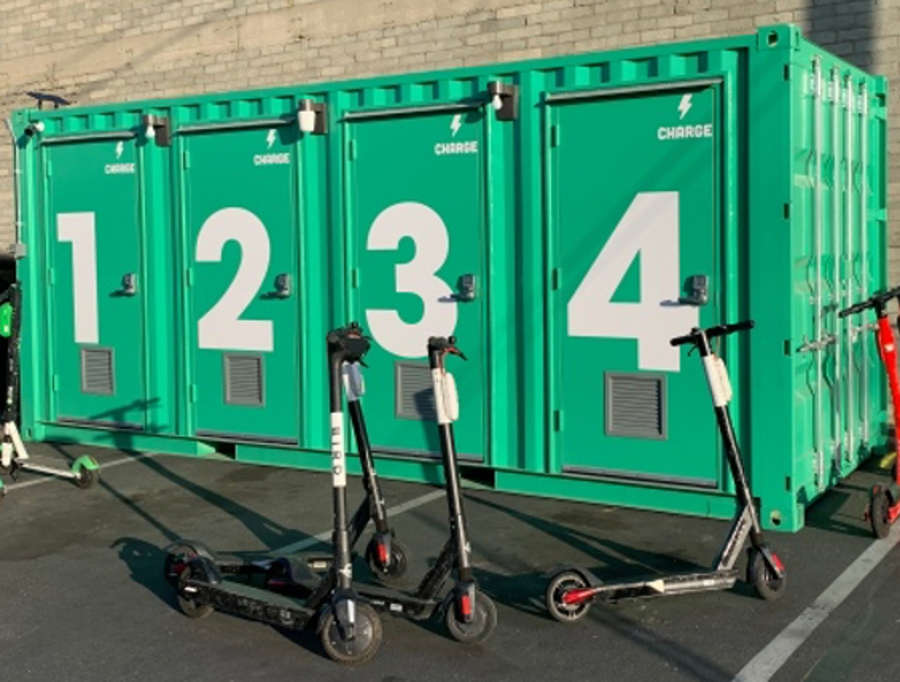 Local Transit, Ride-Hailing, Taxi, and Delivery Fleets
Partnerships with local fleet owners and operators can be advantageous for municipalities that are looking to increase EV usage in their communities to decrease emissions and improve air quality, as well as for owners and operators who would like to lower their operational costs. Partners for the electrification of fleets for transit, ride-hailing, taxis, and deliveries may also include equipment manufacturers, utilities, regulators, and charging providers.
In transit electrification, the local or regional transit agency will be the key partner to incorporate BEBs into the fleet, while the local school district will be the key partner to incorporate ESBs. These entities manage all components of their fleet from planning and procurement to operations and maintenance, and will have, or will be able to collect, the data necessary to make decisions about next steps for fleet electrification. The transit agency or school district will also work with other partners, such as vehicle manufacturers, as discussed in Partners for Electric Bus Fleet Operators. Local and regional government staff and officials can play different roles to encourage EV adoption by transit agencies and school districts, including education, building up to electrification commitments, securing electric bus grants, and assisting with build out charging infrastructure. For more information on planning, see Electric Mobility Infrastructure Planning for Urban Areas.
Community Partnership: EV Transportation Service for Seniors & Youth in St. Louis
The
St. Louis Vehicle Electrification Rides for Seniors (SiLVERS) project
provides free transportation to seniors and youth to connect people to social services. The program has a total of 5 vehicles with 5 charging stations between the 2 destinations: a local community center for children and seniors and a senior center. The project emerged through the American Climate Challenge, which was a partnership between the City of St. Louis, a nonprofit environmental advocacy group, and a philanthropic organization. The project was created through a partnership of local community-based organizations, including the local community center, the local senior center, the St. Louis Agency on Aging, and a nonprofit organization. DOE's Vehicle Technologies Office provided funding to help purchase the vehicles and infrastructure and to collect data on the benefits of the project. The SiLVERS program aims to further the City's sustainability goals.
Despite only contributing a small fraction of vehicle miles in most cities, partnerships with ride-hailing companies or transportation network companies (TNCs) and taxi companies can provide benefits to all involved stakeholders.
The decarbonization of rides associated with TNCs is important because about half of all ride-hailing trips either displace cleaner forms of transport (public transit, walking, or biking) or are a car trip that would otherwise not have happened, and each ride-hailing trip causes about 69 percent more GHG emissions than the trips that they replace.
Full-time TNC drivers travel approximately three times as many miles per year as the average American, which, along with taxi drivers, creates a large potential demand for charging infrastructure once more of the fleet vehicles are electric.
Similarly, the growth in e-commerce is increasing needs for urban last-mile freight delivery. The potential demand of TNCs, taxis, and delivery services could lead to them serving as "anchor tenants" for high-speed public charging, which may enable broader deployment across urban areas by providing early users.
Local and regional government staff and officials can provide valuable assistance through educational campaigns, either partnering with TNCs to educate their drivers or partnering directly with taxi and delivery companies, to share information on available resources and financial assistance for fleet electrification. This upfront investment in education may be especially important for ride-hailing drivers, as they often wait to replace their car until necessary, but then need to rapidly decide which new car to get.
Additionally, local and regional governments can use partnerships with TNCs, taxi companies, and delivery companies to develop charging infrastructure in the region by sharing data and comparing options for the number of charging points, the best locations for drivers, and the appropriate power levels.
There are a variety of levers that regulators, officials, and planners could use to encourage the development of partnerships with, and the electrification of, TNCs, taxi companies, and delivery companies including: regulations, subsidies, incentives, and direct assistance to companies.
For more information on planning for the electrification of municipal fleets, TNCs, taxi companies, and urban delivery services, see Other Fleet Planning.
Other Local and Regional Partners 
City governments and city councils can work with their MPO to help integrate EV charging and transportation needs with other local priorities around energy, environment, housing, and economic and workforce development. These organizations can also use MPO planning documents and other information to directly plan for and identify resources to implement electric mobility charging infrastructure.
Municipal Fleet Electrification Partnership in Austin, TX, with the Climate Mayors Electric Vehicle Purchasing Collaborative
Austin, TX has purchased over
130 electric vehicles
to transition their municipal fleet to an all-electric fleet. These vehicles have been purchased through the
Climate Mayors Electric Vehicle Purchasing Collaborative
, a partnership between Climate Mayors, the Electrification Coalition, and an organization servicing government and nonprofit agencies. As Austin continues to procure electric vehicles for their municipal fleet, the city is working with an Austin-based utility company to support the growing fleet.
Higher education institutions including colleges, universities, and technical and vocational schools, can also serve as valuable resources and potential project partners, including through the DOT's University Transportation Centers.
Numerous institutions are carrying out grant-funded EV demonstration projects and charging infrastructure planning and analysis in urban areas.
University of North Carolina (UNC) at Charlotte is leading a DOE-funded project to design, test, and evaluate a scalable curbside electric vehicle charging station solution utilizing existing infrastructure to meet the growing market demands for electric vehicles. Under the project, UNC Charlotte has partnered with Duke Energy, the City of Charlotte, and the Centralina Regional Council to develop and deploy the PoleVolt curbside EV charging system, which uses existing streetlight infrastructure to reduce charging infrastructure installation costs by up to 50 percent.
As another DOE-funded project example, Tulane University is deploying and demonstrating four new battery electric shuttle buses and supporting charging stations to serve the university's shuttle route linking Tulane's uptown and downtown campuses in New Orleans. Tulane will collect and analyze key electric bus data, and share operation, performance, and cost information with other university fleets.
Lastly, colleges and universities serve as excellent charging infrastructure site hosts for students and visitors in addition to institutional EV fleets. 
Additional local and regional partners can assist with EV education and outreach. Car dealerships may be expanding their sales of EVs and can help progress EV education for consumers. For example, DOE has funded a project (DRIVE Electric USA) to facilitate collaboration with automotive dealerships and other essential partners under the banner of statewide EV initiatives.
EV advocacy organizations can also be valuable partners in raising awareness around EVs, facilitating demonstration projects, and guiding equitable deployment. For example, the nonprofit advocacy group Southern Alliance for Clean Energy, launched the Driving on Sunshine electric vehicle roadshow in 2019 to participate in events across Florida and offer test drives in EVs while educating the public on the benefits of electric transportation.
Additionally, advocacy organizations or other professionals that focus on affordable housing development and/or environmentally focused housing development may be partners for promoting electric mobility charging at multi-unit dwellings and other residential sites and helping encourage the adoption of EVs by residents.
Also in this Section

Partnership Opportunities for Electric Mobility Infrastructure
Next Section

Electric Mobility Infrastructure Planning for Urban Areas
Last updated: Thursday, June 29, 2023