Teaming up to Help Trick or Treaters


The U.S. Department of Transportation's Federal Highway Administration (FHWA) and the National Highway Traffic Safety Administration (NHTSA) are working together to help keep pedestrians safe this Halloween.  As trick-or-treaters take to the streets on Halloween, their risk of being injured by motorists increases greatly. Dark colored costumes and masks which challenge children's peripheral vision are additional reasons for parents and motorists alike to be even more watchful for children on Halloween. Motorists should reduce speeds in residential neighborhoods and obey all traffic signs and signals. Drive at least 5 mph below the posted speed limit to give yourself extra time to react to children who may dart into the street.  Parents should also review safety precautions, including pedestrian and traffic safety rules.
On Halloween night 2016, between (6 p.m. until 5.59 a.m.)
47 people died and nearly a third were due to drunk drivers – three times the fatalities of an average day.
Thirty percent of Halloween crash fatalities were pedestrians, compared to only 16 percent on an average day.
Over the last four years, from 2012-2016, 22 percent of pedestrian fatalities on Halloween night involved a drunk driver.
Many pedestrian fatalities occur at uncontrolled crossing locations such as mid-block or un-signalized intersections. FHWA's "Safe Transportation for Every Pedestrian" (STEP) program offers cost-effective countermeasures agencies can use to address a significant national safety problem and improve quality of life for pedestrians of all ages and abilities.
You can find more information on FHWA's (STEP) Program at https://www.fhwa.dot.gov/innovation/everydaycounts/edc_4/step.cfm
To stay safe, on Halloween, NHTSA offers the following traffic safety tips: https://www.nhtsa.gov/halloween-safety-tips
Please share these tips with members of your community, so we can all have a safe holiday.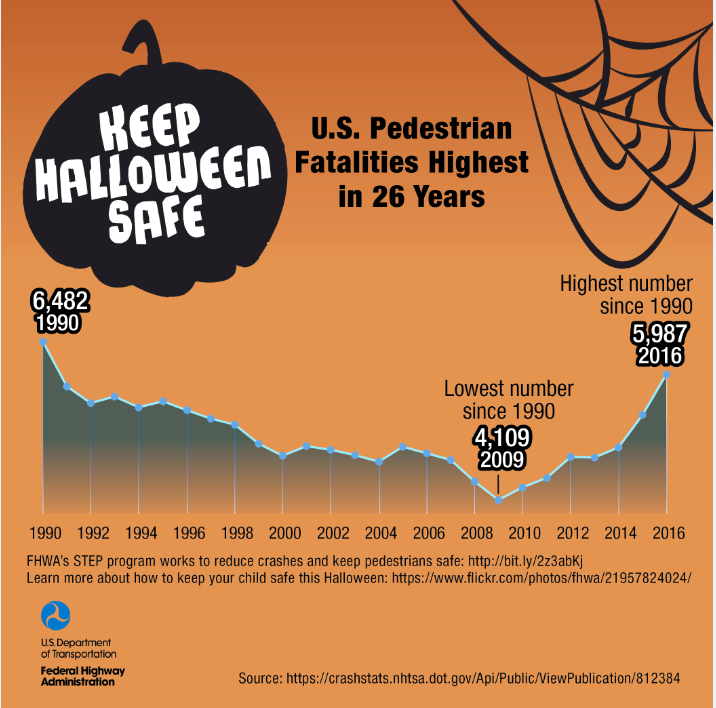 To see more #TransportationTuesday graphics and topics, visit our webpage.