Understanding Your Pay, Leave and Benefits
Pay Systems
There are several pay systems within the Federal government. The Office of Personnel Management (OPM) develops and maintains government-wide regulations and policies governing pay administration, including basic pay setting, locality pay, special salary rates, back pay, pay limitations, premium pay, grace and pay retention, severance pay, recruitment and relocation bonuses, retention allowances, and cost of living allowances (COLA). However, each Federal agency is responsible for administering these pay policies and programs for its employees. Below is a brief description of some of the more common pay systems found within DOT:
Executive Schedule (EX)
Five levels of pay to which top executives are assigned (e.g. members of the President's Cabinet, deputy secretaries, under secretaries, etc.)
Senior Executive Service (SES)
Includes more managerial, supervisory, and policy positions classified above the General Schedule GS-15 or equivalent positions in the Executive Branch of the Federal government. The agency head determines the level of pay for each SES position based on qualifications, performance, responsibilities of the position, and private sector pay.
General Schedule (GS)
The majority of the Department's Civil Service Employees are compensated under the General Schedule, which is based on equal pay for substantially equal work within each local pay area. There are fifteen grades and ten steps within each grade that determine pay. On an initial appointment into the Civil Service, pay is usually set a step one of the grade of the position for which the employee is selected, although it may be set higher based on superior qualifications, or a special need of the agency when certain requirements are met.
Wage Grade (WG)
Wage Grade is referred to a "blue collar" or "prevailing rate" and is based on the prevailing rates in a given local wage area. This system covers trade, craft, labor, and other blue-collar jobs. Each wage area pay scale is divided into three classes: WG (worker), WL (leader), and WS (supervisor).
Pay Bands
A pay band defines the range of potential pay for a position. The pay band has a minimum rate of pay and a maximum rate of pay. Locality pay is not included in the rate of pay used for pay bands. The Federal Aviation Administration (FAA) is currently under Core Compensation Plan (Pay Banding System).
Each Pay Band has:
Minimum: The lowest base pay rate for a position within the band.
Midpoint: The median of the pay band. The midpoint of each pay band is using market survey data to ensure competitiveness.
Maximum: The highest base pay rate for a position within the band.
The FAA has established a website about their Core Compensation Plan. Additional information regarding the FAA's pay banding system may be found at http://jobs.faa.gov/FAACoreCompensation.htm.
Pay Adjustments
Each year the President determines whether to authorize an adjustment to basic pay of certain categories of Federal Employees. This adjustment is usually made annually and is usually implemented at the beginning of the first full pay period of January.
General Pay Information
Basic Work Week in the Federal Government
Full-time employees normally work a regular tour of duty of 8 hours a day, 40 hours a week, Monday through Friday. Part-time employees work a tour of duty not less than 16 hours and no
more than 32 hours per week. All employees are expected to be at their work sites, ready to work, by their scheduled times.
Pay Day
All employees are paid on a biweekly basis (every other TUESDAY). The salary earned in each biweekly pay period is paid seven workdays later, in the next pay period. The first pay is normally received approximately three weeks after starting work. On pay day employees receive a "Statement of Earnings and Leave" at their home address that itemizes their pay and specific deductions. Generally, an employees pay consists of an hourly rate multiplied by the number of hours worked during the biweekly pay period, reduced by deductions for withholdings.
Direct Deposit
Federal employees are required to have their pay directly deposited or transferred into a bank or financial institution account of their choice. Funds transferred in this manner are deposited to your account on pay day. To establish a Direct Deposit, employees must submit a Direct Deposit Form to their HR Office. This form should be submitted within the first week of your entrance on duty. Failure to submit this form in a timely manner may delay receipt of your pay.
Deductions from Pay
There are two types of deductions: discretionary and non-discretionary. Discretionary deductions are deductions only the employee may authorize, such as life and health insurance, thrift savings plans contributions, union dues, and savings account deductions. Non-discretionary deductions, such as withholding of federal, state, and local income taxes, Social Security tax, retirement plan contributions, and Medicare deductions, occur automatically.
Purpose of W-4 and W-2 Forms
Although the withholding of federal and state taxes is non-discretionary, employees can make decisions which impact the amount of funds withheld from their biweekly earnings. The W-4 form allows employees to designate the number of tax exemptions (e.g., family members/ dependents) that will be used in determining the amount of federal tax to be withheld. New employees are required to complete a W-4 form.
Every year by January 31, the Department of the Interior (DOT's personnel and payroll provider) issues all DOT employees their W-2 form. The W-2 form specifies an employee's total gross earnings, withholding of income taxes, social security deductions, Medicare deductions and other financial information. Employees need to file the W-2 form with their federal, state, and local income tax returns. Employees who do not receive the W-2 form by January 31 should contact the Department of the Interior's payroll hotline at (303) 969-7732 or (800) 662-4324.
Employee Express
Employee Express is an automated system that puts federal employees in control of processing their own discretionary personnel and payroll actions. Employee Express eliminates the need for obtaining and submitting paper forms. Currently, the following actions can be processed using Employee Express: Federal and state tax withholdings, direct deposit of salary, discretionary allotments, financial allotments, change in home address; contribute to annual combined federal campaign, FEHB Qualifying Life Event, Disability Update, Ethnicity and Race Indicator, Federal Employee Health Benefits (FEHB) during open season, Thrift Savings Plan (TSP) and
Thrift Savings Plan Catch-up. You can also choose to stop mailing of your Leave and Earnings Statement or W-2. Actions processed through Employee Express become effective no later than the next pay period. To access Employee Express, visit the website at www.employeeexpress.gov.
Basic Pay Increases
The most common type of pay increase is referred to as the annual pay adjustment or general increase. The annual pay adjustment is provided by law and becomes effective on the first day of the first pay period in January. The amount of the increase is based on the Employment Cost Index.
Locality Pay Schedules
Locality pay provides a percentage increase to the General Schedule rates of pay to provide a total rate of pay that is competitive with the cost of wages for a particular geographical area.
Within-Grade Increases
Within-grade increases are increases to the next pay step on the pay schedule without change in duties, title, or grade. Permanent General Schedule (GS) and Federal Wage System (FWS) employees who are serving at an "acceptable level of competence" are eligible for a within-grade increase after serving the following waiting periods without an equivalent increase in compensation. Supervisors will determine whether an employee's work is of an "acceptable level of competence." The following are the waiting periods for GS and FWS employees.
Waiting Period for General Schedule (GS) Employees
For advancement to steps 2, 3, and 4 - 52 calendar weeks
For advancement to steps 5, 6, and 7 - 104 calendar weeks
For advancement to steps 8, 9, and 10 - 156 calendar weeks respectively
Waiting Period for Federal Wage System (WG/WS) Employees
For advancement to step 2 - 26 calendar weeks in step 1
For advancement to step 3 - 78 calendar weeks in step 2
For advancement to steps 4 and 5 - 104 calendar weeks in steps 3 and 4
Leave and Earnings Statement
Your Leave and Earnings Statement (LES) is available every Tuesday of each pay period. You should review your LES to ensure leave earned and used is properly reflected, and report any discrepancies to your supervisor. You should also ensure that proper deductions are being made for health and life insurance, charitable donations, union dues, and/or savings allotments. Please retain these statements for future reference. You may view your LES on www.employeeexpress.gov by using your User ID and Personnel Identification Number (PIN) that will be sent to you from the Office of Personnel Management.
Leave and Absences
The Federal Government's generous leave system is an employee benefit. Leave is subject to the specific requirements contained in applicable laws, regulations, agency use policies, and applicable negotiated agreements. For the complete leave policy of the Department, see the DOT Absence and Leave Handbook at http://dothr.ost.dot.gov/.
Accrual Rates – Annual and Sick Leave
The amount of annual leave an employee accrues is based on the number of years of service in the federal government, as shown in the following chart. Leave accrual category changes automatically in the personnel and payroll system upon eligibility. Part-time employees accrue leave on a prorated basis based on the number of hours worked during the pay period.
(Members of the SES, employees in the senior level (SL) and scientific or professional (ST) positions accrue annual leave at the rate of 1 day (8 hours) for each full bi-weekly pay period.)
Annual Leave Accrual Rates
Annual Leave Accrual Rates

| | | | |
| --- | --- | --- | --- |
| Employee Type | Less than 3 years of service | 3 years but less than 15 years of service | 15 or more years of service |
| Full-time employees | 4 hours for each pay period | 6 hours for each pay period, except 10 hours in last pay period | 8 hours for each pay period |
| Part-time employees* | 1 hour of annual leave for each 20 hours in a pay status | 1 hour of annual leave for each 13 hours in a pay status | 1 hour of annual leave for each 10 hours in a pay status |
| Uncommon tours of duty* | 4 hours times (average # of hours per biweekly pay period) divided by 80 = biweekly accrual rate.** | 6 hours times (average # of hours per biweekly pay period) divided by 80 = biweekly accrual rate.** | 8 hours times (average # of hours per biweekly pay period) divided by 80 = biweekly accrual rate. ** |
*Leave is prorated for part-time employees and employees on uncommon tours of duty.
**In computing leave accrual for uncommon tours of duty, the accrual rate for the last full pay period in a calendar year must be adjusted to ensure the correct amount of leave is accrued.
Sick Leave Accrual Rate
Sick Leave Accrual Rate

| | |
| --- | --- |
| Full Time Employee | Part-time Employee |
| 4 hours for each biweekly pay period | 1 hour for each 20 hours in a pay status |
Note: There are no time limits on the amount of sick leave accumulated by an employee.
Approval of Leave
If you wish to take leave, you are required to request leave from your supervisor in advance. If you are unable to report to duty, you must notify your supervisor as soon as possible at the beginning of the workday. Your request for leave should include the day(s), what type of leave, the number of hours, and the specific hours (from-to) that you are requesting.
Emergency Closing/Early Release
Periodically there may be certain circumstances that prevent significant numbers of employees from reporting to work on time or require agencies to close all or part of their activities. These circumstances include adverse weather conditions (snow emergencies, severe icing conditions, floods, earthquakes, hurricanes), air pollution, disruption of power and/or water, interruption of public transportation, and other emergency situations.
Employees should follow the U.S. Office of Personnel Management's (OPM) Washington DC, Area Dismissal or Closure Procedures in the event of government operation disruptions. Federal Executive Boards and Federal Executive Associations have coordinated similar dismissal or closure procedures in other major metropolitan areas. OPM's Washington, DC, Area Dismissal or Closure Procedures is available at http://www.opm.gov/oca/COMPMEMO/dismissal.pdf.
OPM will make announcements to the media as to whether federal agencies in the Washington, DC area are open or closed, or operating under an unscheduled leave policy, unscheduled telework policy, a delayed arrival policy, or an early dismissal policy. Announcements on the status of government operations are available at http://opm.gov/Operating_status_schedules/. Recorded messages on operating status also will be provided by OPM's Office of Communications and Public Liaison on (202) 606-1900.
Holiday Leave
There are 10 paid holidays each year. Below is a list of the established Federal holidays:
Holiday Leave

| | |
| --- | --- |
| New Year's Day | January 1 |
| Martin Luther King Jr.'s Day | 3rd Monday in January |
| President's Day | 3rd Monday in February |
| Memorial Day | Last Monday in May |
| Independence Day | July 4 |
| Labor Day | 1st Monday in September |
| Columbus Day | 2nd Monday in October |
| Veterans Day | November 11 |
| Thanksgiving | 4th Thursday in November |
| Christmas Day | December 25 |
PAYROLL CALENDARS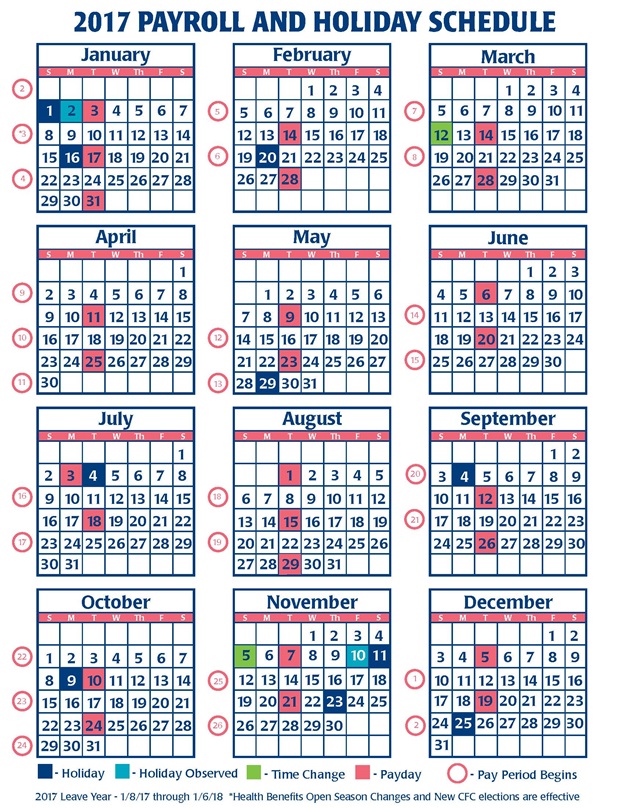 Benefits Overview
The Federal government provides an array of benefits, financial incentives, and family friendly programs to its employees. Below are some of the benefits that are offered.
Health Insurance
The Federal Employees Health Benefits (FEHB) Program allows eligible employees the opportunity to enroll in a group health insurance plan, regardless of age or medical condition. Nationally about 200 health plan options are offered to Federal employees. The government pays a significant part of the cost of health benefits and the employee's cost is deducted biweekly from his/her pay. New employees have 60 days from the date of the appointment to enroll in a participating FEHB plan. For more information visit OPM's website at http://www.opm.gov/insure/health/index.asp
Life Insurance
The Federal Employees' Group Life Insurance (FEGLI) Program provides term insurance and builds no cash value. FEGLI consists of basic life insurance coverage and three options which are Option A Standard, Option B Additional, and Option C Family. All new employees are automatically covered under basic unless waived. Employees who wish to elect coverage under one of the three options have 31 days from the date of appointment to do so. For more information visit OPM's website at http://www.opm.gov/insure/life/index.asp
Federal Long Term Care Insurance
The Federal Long Term Care Insurance (FLTCI)) is an important addition to the package of benefits available to Federal employees and retirees. The employee, however, pays the full cost for the insurance. Long-term care insurance, under the Federal program, provides you reimbursement for costs of care when you are unable to perform at least two activities of daily living (e.g. eating, bathing, dressing) for an expected period of at least 90 days or when you need constant supervision due to a severe cognitive impairment. As a new employee, you can use the abbreviated underwriting application (fewer-health related questions) if you enroll within 60 days of your entry on duty. Additional information are available on OPM's website http://www.opm.gov/insure/ltc/index.asp
Flexible Spending Accounts
The Flexible Spending Accounts (FSA) program allows you to set fund aside before taxes to pay for a wide range of health and dependent care expenses. Employees who are eligible to enroll in the health benefits program can take advantage of the FSA program. There are two types of FSAs available:
The Health Care Flexible Spending Account (HCFSA)
The Health Care Flexible Spending Account can be used to pay for health care expenses not covered by FEHB or any other insurance. And HCFSA covers eligible health care expenses (including over-the-counter medications) for you, your spouse, and your dependents.
The Dependent Care Flexible Spending Account (DCFSA)
The Dependent Care Flexible Spending Account can be used to apply for dependent care expenses that allow you and your spouse, if you're married to work, look for work, or attend school full-time. A DCFSA covers eligible expenses for care of:
Dependent children under age 13; and/or
A person of any age whom you claim as a dependent on your Federal income tax return, and who is mentally or physically incapable of caring for himself or herself.
New employees can sign up for FSAs for the current year within 60 days from their entry on duty. One word of caution – the amount you choose to contribute to an FSA cannot be changed during the year. Any money in your FSA that is not used at the end of each calendar year will be forfeited. For more information and to sign up for an FSA, go to www.FSAFEDS.com
Retirement
There are three retirement plans for Civil Service Employees. Generally the type of appointment determines whether an employee is covered by a retirement plan. Employees hired before December 31, 1983 are generally covered under the Civil Service Retirement Plan System (CSRS). Those hired after January 1, 1984 are covered by the Federal Employees Retirement System (FERS). Employees who had a break in service that exceeded one year, ended after 1983, and have five years of creditable civilian service on January 1, 1987 may be covered under the CSRS Offset system. It is important to fully understand your retirement system so that you can take the steps necessary to ensure a comfortable retirement. To learn more about retirement go to http://www.opm.gov/retire/index.aspx or make an appointment to meet with your benefits counselor in your Human Resource office.
Social Security
Employees under the FERS and CSRS Offset are covered by Social Security. Social Security benefits are provided to workers and their qualified dependents under the Old-Age Survivors and Disability Insurance (OASD) programs of the Social Security Act. Employees are also covered under Social Security's Medicare Hospital Insurance Program, which pays a portion of hospital expenses incurred while you are receiving Social Security disability benefits or retirement benefits at age 65 or older. For more information on Social Security and Medicare, visit the Social Security Administration website at http://www.ssa.gov
Thrift Savings Plan
The Thrift Savings Plan (TSP) is a retirement savings and investment plan for Federal employees and contributions are tax deferred. The purpose of the TSP is to provide supplemental retirement income. TSP offers Federal employees the same type of savings and tax benefits that may private corporations offer their employees under the 401(k) plans. By participating in the TSP an employee has the opportunity to save part of his/her earning before they are taxed. Contributions are made to your account through payroll deductions. Employees are free to contribute any amount up to the IRS deferred compensation limit. The TSP is an integral part of the FERS retirement system, therefore, it is essential that employees begin their contributions as soon as possible. For more information on TSP, visit the Thrift Savings Plan website at www.tsp.gov
Last updated: Friday, January 27, 2017