Understanding the ​Maritime Administration (MARAD)
Welcome to the Understanding MARAD transition site page. Here you will find all sorts of useful information about what MARAD does, how it is organized, and the manner in which it operates. For additional information about MARAD, please go to marad.dot.gov.
Who We Are
The Maritime Administration's (MARAD) programs promote the economic competitiveness, efficiency, and productivity of the U.S. maritime transportation system, and help to ensure sealift capability and capacity is available to support the national and economic security needs of the Nation. MARAD works in a variety of areas involving ships and shipping, port operations, vessel operations, national security and strategic mobility, ship disposal, and environment and education. MARAD is responsible for maintaining the health of the merchant marine, as commercial mariners, vessels, and intermodal facilities are vital for supporting national security. Through the United States Merchant Marine Academy (USMMA) and support for six State Maritime Academies (SMAs), MARAD educates the majority of the Nation's new generation of highly skilled Merchant Marine officers who, through service obligations, are committed to national service during times of war and peace.
MARAD maintains a fleet of cargo ships in reserve to provide surge sea-lift during war and national emergencies, and is responsible for disposing of the ships in that fleet, as well as other non-combatant Government ships, as they become obsolete.
What We Do
MARAD is responsible for ensuring that there are enough vessels and available volunteer commercial mariners to meet the Nation's military strategic sealift needs. MARAD owns 46 large cargo ships in the Ready Reserve Force (RRF). These are crewed with commercial mariners, and can be activated with a few days' notice. MARAD also provides stipends to 60 commercial vessels in the Maritime Security Program (MSP) that trade under the US-flag internationally, and can be called on in war or a national emergency. The $210 million MSP program gives the U.S. military access to a worldwide transportation logistics network worth over $50 billion. These two fleets combined carry over 90 percent of the supplies, equipment and material to support both Gulf wars, and the war in Afghanistan.
MARAD coordinates with other Federal agencies to ensure compliance with the Jones Act and Cargo Preference requirements. The Department of Defense is required to rely on U.S.-flagged and crewed vessels for sealift. All of the Department of Defense's sealift cargo is carried on U.S. flagged vessels when available. Civilian Federal agencies must move a portion of Federally-financed international cargos on U.S.-flagged ships. The Jones Act requires all ships engaged in domestic trade to be U.S.-flagged. Cargo Preference and the Jones Act help ensure that the country has enough ships and mariners, and a maritime industry vibrant enough, to meet all national security needs.
MARAD's USMMA and the six SMAs provide training and education to ensure qualified personnel are available to maintain the Nation's pool of licensed merchant marine officers. Additionally, approximately 25 percent of USMMA graduates and 4 percent of SMA graduates serve on active duty in the U.S. Armed Forces.  MARAD owns the SMA training ships.

Learn more about MARAD programs and statutory codes in the file below.
Organization Chart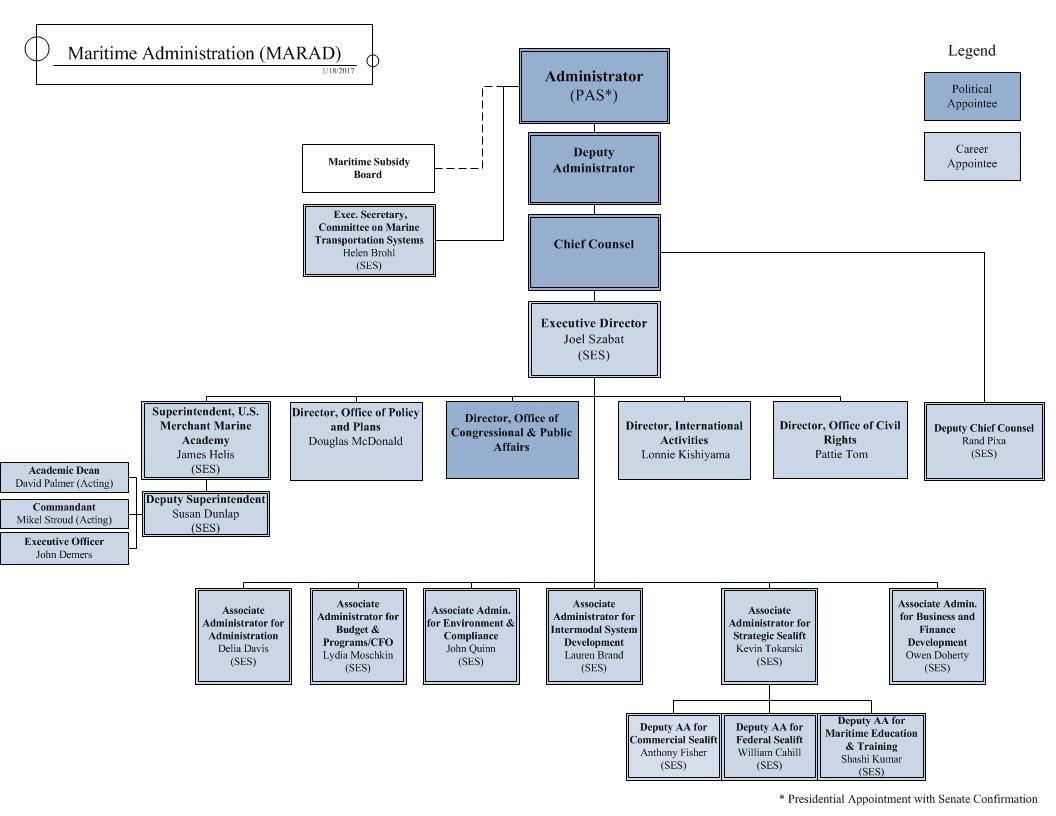 Line of Succession
Per DOT/MARAD Order 10-2, dated April 27, 2015, Designation and Delegation of Authority to Act as the Maritime Administrator:
Deputy Administrator (MAR-110)

Chief Counsel (MAR-220)

Executive Director (MAR-120)

Associate Administrator for National Security (MAR-600)

Associate Administrator for Administration (MAR-300)
MARAD Labor Agreements
You can find more information on MARAD's Labor Union Agreement in the file below.
MARAD 10 Year Budget History 
View 10 years of MARAD funding history in the spreadsheet below.
MARAD FY-2008-2018 10-Year Funding History
MARAD 101
Congressional Committees of Jurisdiction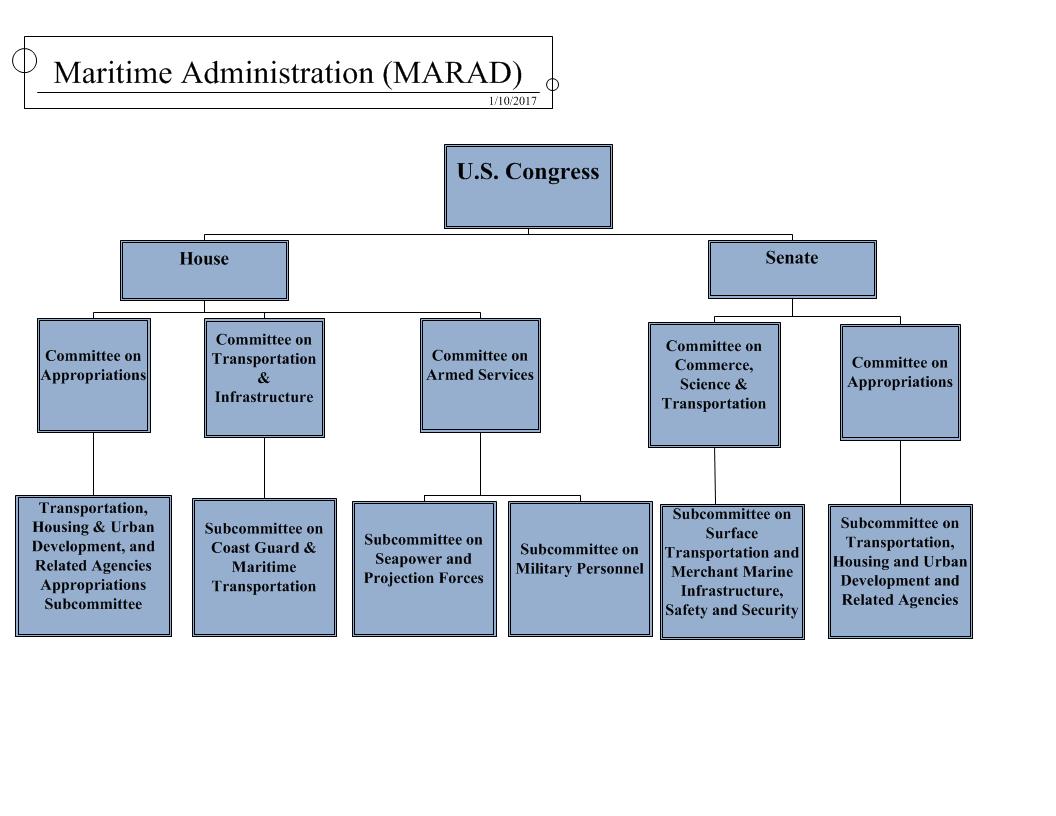 Last updated: Friday, January 27, 2017