Understanding the Federal Transit Administration (FTA)
Welcome to the Understanding FTA transition site page. Here you will find useful information about what FTA does, how it is organized, and the manner in which it operates. For additional information about FTA, please go to www.transit.dot.gov or click here to access an electronic version of the FTA Modal Transition Highlights book.
Who We Are
The Federal Transit Administration (FTA) provides financial and technical assistance to more than 1,000 local public transit systems that operate buses, subways, light rail, commuter rail, trolleys, and ferries. FTA also oversees transit safety measures and helps develop next-generation technology research.
Since 1964, FTA has partnered with State and local governments to create and enhance public transportation systems, investing more than $12 billion annually to support and expand public rail, bus, trolley, ferry, and other transit services. These investments have helped modernize our public transportation network and extended service into small cities and rural communities that previously lacked any transit options. This has resulted in more than 10.4 billion annual trips being taken on public transit nationwide.
History
For over 50 years, FTA has partnered with State and local governments to create and improve public transportation systems.  
FTA delivers its mission to improve public transportation for America's communities through policy innovation, funding, technical assistance and oversight. FTA programs fund construction of new public transit systems, purchase and maintenance of transit vehicles and equipment, public transit operations (for small providers), regional transportation planning, and transit technology and service methods research and innovation.  
In 2012, FTA's safety regulatory authority was significantly expanded by changes in Federal law, and FTA is implementing the safety regulatory framework, oversight program, and technical assistance associated with the new safety authority.  
In 2015, a five-year surface transportation authorization was enacted into law – the FAST Act, amending permanent Federal transit law (49 U.S.C. §5301 et. seq.). The FAST Act provides predictable funding over five years (FY 2016-2020) with a renewed focus on reinvesting in and modernizing transit assets, partially addressing the backlog of recapitalization investment required to bring the Nation's transit systems into a state of good repair.
What We Do
FTA works closely with State and local governments and transportation planning organizations to provide Federal grant funding for transit services across the Nation. This Federal investment modernizes public transportation, extends service into small cities and rural communities that previously lacked any transit options, creates transit oriented places, helps manages traffic congestion, and promotes safe travel by transit. Whether transit is used out of necessity or by choice, it offers an effective, important transportation service that links people to jobs, schools, health care services, and recreation.
FTA provides Federal oversight of transit safety in coordination with the States.  FTA has established a safety regulatory framework and can issue nationwide or targeted safety directives and perform direct oversight or rail transit operations when required. FTA may also issue restrictions and prohibitions to address unsafe conditions or practices, and withhold or direct Federal funds for non-compliance with safety requirements.
Public transportation ridership is at historically high levels. Last year, U.S. transit ridership exceeded 10.5 billion trips, the highest level since 1956. The United States will see a population increase of approximately 80 million new residents by 2050. Transit service will be a key part of the transportation solution to moving more riders while managing congestion and air pollution. Trends based on census and other demographic data sources indicate transit ridership demand growth in the future.
FTA Capital Investment Grants enable municipalities to invest in major transit infrastructure projects that yield additional benefits such as fostering the development of more economically vibrant communities. Many transit investments promote walkable land uses that help municipalities make better use of valuable real estate near urban centers and provide opportunities for transit operators to realize higher revenues from fares and from the sale or rent of agency-owned properties. Bus rapid transit (BRT) and streetcar systems can benefit cities that do not have the ridership demand to support higher capacity rail service.
FTA recently reviewed the impacts of 126 capital investment grants from a span covering 40 years.  Since 1976, FTA has supported the construction of over 1,100 miles of fixed guideway BRT and rail lines, purchased over 2,000 related transit vehicles, and most importantly, fostered the creation of walkable, transit-oriented neighborhoods around more than 700 new transit stations with convenient access to goods and services.
FTA funding supports transit systems that provide substantial public benefits including improving mobility and accessibility, particularly for low-income, the elderly, and people with disabilities. FTA is improving mobility for seniors and individuals with disabilities by supporting the removal of barriers to transportation service and expansion of transportation mobility options. This is done via programmatic support for transportation services planned, designed, and carried out to meet the special transportation needs of seniors and people with disabilities.
Several FTA programs provide funding for transit operators to improve the condition and performance of their systems and help bring our Nation's infrastructure into a state of good repair. According to FTA research, the Nation's transit systems have an $86 billion maintenance backlog that continues to grow. These systems must be brought into a state of good repair in order to provide the high quality transit service our citizens expect. In the coming years, FTA and the transit industry will implement new asset management requirements to help guide transit agency investment and decision-making.
Find out more information on FTA programs and statutory codes.
Organization Chart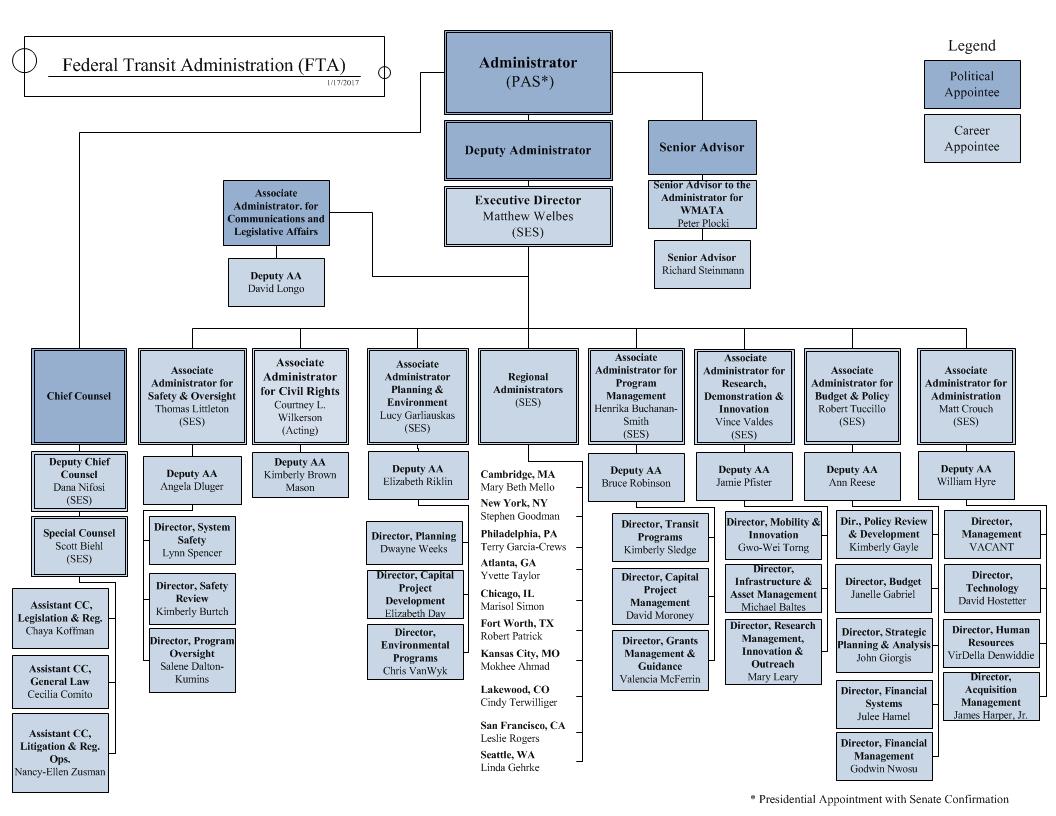 Line Of Succession
In the event of the absence or disability of both the Administrator and the Deputy Administrator, the following officials shall, in the order indicated, perform the duties of the Administrator, except for any non-delegable statutory and/or regulatory duties, and serve as Acting Deputy Administrator:
 Executive Director;
Chief Counsel;
Associate Administrator for Program Management;
Associate Administrator for Budget and Policy;
Associate Administrator for Communications and Congressional Affairs;
Associate Administrator for Administration;
Associate Administrator for Planning and Environment;
Associate Administrator for Research, Demonstration and Innovation;
Associate Administrator of Transit Safety and Oversight;
Deputy Chief Counsel;
Regional Administrators – Region 1, Region 2, Region 3, Region 4, Region 5, Region 6, 
Region 7, Region 8, Region 9, Region 10.
Labor Agreements
10-Year Budget History
FTA 101
Congressional Committees of Jurisdiction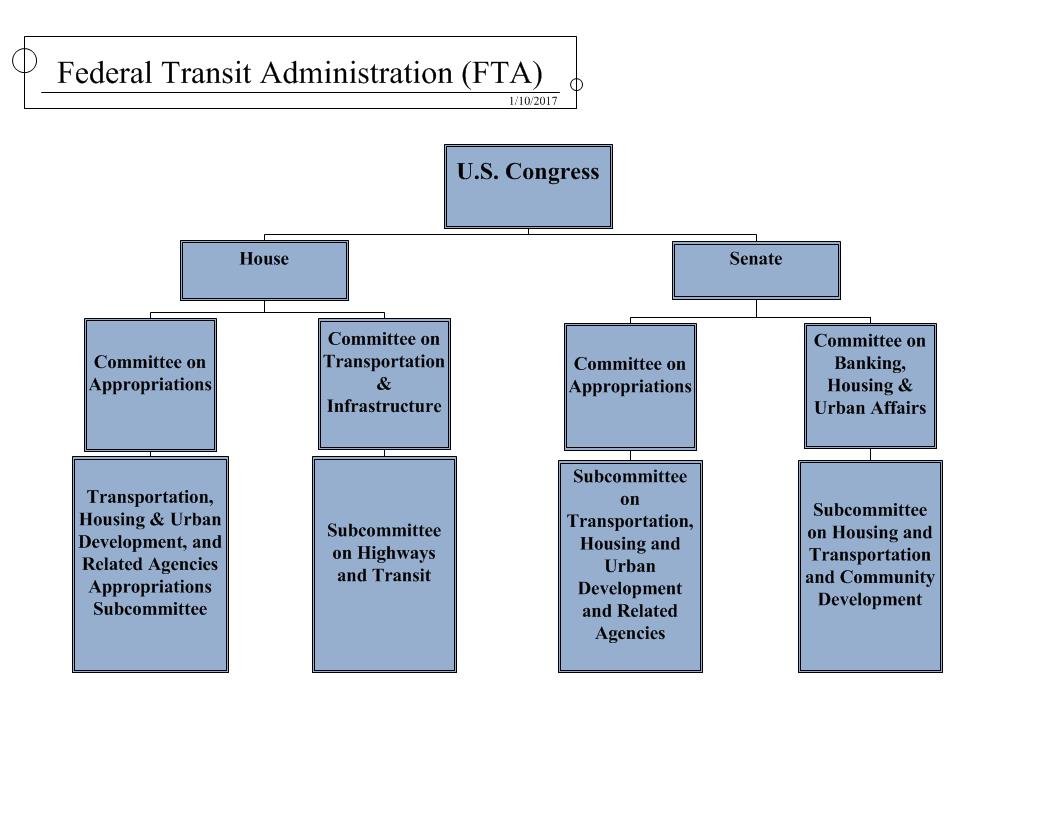 Key Officials
Matthew Welbes, Executive Director – Office of the Administrator
Henrika Buchanan-Smith, Associate Administrator – Office of Program Management
Courtney Wilkerson, Associate Administrator – Office of Civil Rights
Lucy Garliauskas,  Associate Administrator – Office of Planning and Environment
Matthew Crouch,  Associate Administrator – Office of Administration
Robert Tuccillo,  Associate Administrator – Office of Budget and Policy
Thomas Littleton, Associate Administrator – Office of Transit Safety and Oversight
Vincent Valdes , Associate Administrator – Office of Research, Demonstration and Innovation
Scott Biehl, Special Counsel, Office of Chief Counsel
Mary Beth Mello, Regional Administrator – Region 1 (Cambridge, MA)
Steve Goodman, Regional Administrator – Region 2 (New York, NY)
Terry Garcia – Regional Administrator – Region 3 (Philadelphia, PA)
Yvette Taylor – Regional Administrator – Region 4 (Atlanta, GA)
Marisol Simon – Regional Administrator – Region 5 (Chicago, IL)
Bob Patrick – Regional Administrator – Region 6 (Fort Worth, TX)
Mokhtee Ahmad – Regional Administrator – Region 7 (Kansas City, MO)
Cindy Terwilliger -  Regional Administrator – Region 8 (Lakewood, CO)
Leslie Rogers – Regional Administrator – Region 9 (San Francisco, CA)
Linda Gehrke – Regional Administrator – Region 10 (Seattle, WA)
Stakeholders and External Relations
FTA's Office of Communications and Congressional Affairs, along with the Office of the Administrator, creates and maintains stakeholder relationships at the federal level.
Key National Organizations Representing FTA Grantees:

American Public Transportation Association (APTA)
Community Transportation Association of America (CTAA)
American Association of State Highway and Transportation Officials (AASHTO)
​Association of Metropolitan Planning Organizations (AMPO)
National Association of Regional Councils (NARC)

Other Key Stakeholder Groups:

State Departments of Transportation (54 agencies)
Local & Regional Transit Agencies (900 direct grantees and another 3,000 sub-recipients of FTA grant funds)
Local & Statewide Planning Organizations (409 Metropolitan Planning Organizations & Council of Governments)

Key Transit Industry Employee Organizations and Labor Unions

Conference of Minority Transportation Officials (COMTO)
Amalgamated Transit Union (ATU)
Transportation Workers Union of America (TWU)
American Federation of Labor and Congress of Industrial Organizations (AFL-CIO)

Federal Agency Partners

National Transportation Safety Board (NTSB)
Department of Housing and Urban Development (HUD)
Council on Environmental Quality (CEQ)
Department of Labor (DOL)
Department of Justice – Civil Rights Division
Transportation Security Administration (TSA) 
Last updated: Friday, January 27, 2017