Here you will find all sorts of useful information about what the Federal Highway Administration (FHWA) does, how it is organized, and the manner in which it operates. For additional information about FHWA, please go to http://www.fhwa.dot.gov or click here to access an electronic version of the FHWA Modal Transition Highlights book.
Who We Are
The Federal Highway Administration (FHWA) supports State and local governments in the design, construction, and maintenance of the Nation's highway system (Federal Aid Highway Program) and various federally and tribal owned lands (Federal Lands Highway Program). Through financial and technical assistance to State and local governments, FHWA is responsible for ensuring that America's roads and highways continue to be among the safest and most technologically sound in the world.  The strategic priorities of FHWA are national leadership in transportation policy and innovation, effective delivery of the Federal highway programs, improved safety and performance of our Nation's highway systems, and enhancement of FHWA's corporate capacity to achieve its mission.  In addition to its headquarters office, FHWA has offices in each of the 50 States, the District of Columbia, and Puerto Rico that work with State, local, and other Federal transportation agencies.
History
1893 – General Roy Stone takes charge of the new Office of Road Inquiry – with a budget of $10,000 and a staff consisting of one stenographer.  The organization was subsequently named the Office of Public Road Inquiries (1899-1905), Office of Public Roads (1905-1915) and the Office of Public Road and Engineering (1915 – 1918).
1916 – President Woodrow Wilson signs the Federal Aid Road Act, launching the Federal-aid Highway program.
1918 – The agency is renamed the Bureau of Public Roads (BPR).  Although briefly named the Public Roads Administration (1939-1949) the agency remained the BPR until FHWA joined the Department of Transportation.
1956 – President Dwight D. Eisenhower signs the Federal-aid Highway Act of 1956.  The Interstate Highway program begins. The Highway Trust Fund is established to provide stable funding for the Interstate System (and still provides resources today for FHWA to accomplish its mission). 
1966 – FHWA is established as the successor to a series of earlier organizations dating back to 1893 that had worked to improve our Nation's public roads.  The mission of FHWA is to improve mobility on our Nation's highways through national leadership, innovation, and program delivery.
Since 1966, FHWA has supported State and local governments in the design, construction, and maintenance of our Nation's highway system (Federal Aid Highway Program) and various federally and tribal owned lands (Federal Lands and Tribal Transportation Programs).  
1995 –The National Highway System (NHS) is established with the passage of the national Highway System Designation Act of 1995.  The NHS currently about 220,000 miles, consists of roadways important to the Nation's economy, defense, and mobility.  
2015 – The FAST Act establishes the National Highway Freight Network and a new formula program for freight projects on that network.
What We Do
Making roads safer: The number of highway-related fatalities has decreased by about 18 percent between 2006 and 2015. The decrease coincides with, and is at least partly attributable to, the establishment and continuation of the Highway Safety Improvement Program (HSIP) as a core Federal-Aid Highway program the requirement for States to have "Strategic Highway Safety Plans"; and the integration of both with other safety programs across the Department. 
Spurring the U.S. economy: The highway program is a key driver of the U.S. economy. Our Nation's highways and bridges are critical to the effective movement of people and goods, including food, energy, and manufactured goods.  An efficient, reliable freight network allows people and goods to be moved more quickly and reliably to their destinations, lowering costs and improving productivity across the Nation.
Improving highway conditions and performance: The share of National Highway System (NHS) travel occurring on pavements with good ride quality rose significantly from 48 percent in 2001 to 59 percent in 2014, despite an increase in NHS mileage of over 50,000 miles due to the Moving Ahead for Progress in the 21st Century Act (MAP-21). Bringing pavements up to a state of good repair benefits system users by decreasing wear and tear on vehicles and resulting repair costs, reducing traveler delays, and lowering crash rates. 
Improving bridge condition and performance: Over the last decade, even as the total number of bridges in the Nation's inventory increased from 597,561 to 611,845, the percentage of bridges classified as structurally deficient dropped from 12.6 percent in 2006 to 9.6 percent in 2015. Similarly, the percentage of the deck area (considering bridge size) on bridges classified as structurally deficient has dropped from 9.6 percent in 2006 to 6.7 percent in 2015. 
Moving people and goods more efficiently: FHWA provides national leadership in the areas of congestion management, intelligent transportation systems, traffic operations, emergency management, and freight management and operations. 
Creating jobs: Besides allowing for crucial investments in America's highway and bridge infrastructure, the Federal-Aid Highway Program also puts tens of thousands of Americans to work. Currently, there are approximately 110,000 open projects, resulting in annual Federal highway expenditures of around $43 billion. This investment creates and supports good paying jobs in the construction industry throughout the Nation. 
Spurring innovation: The Every Day Counts (EDC) program seeks to increase innovation at every stage of the highway project lifecycle. Launched in 2010 as a partnership with State and local agencies, EDC has initiated its fourth 2-year cycle focusing on "efficiency through collaboration and technology." These innovations continue the goals of accelerating project delivery, enhancing roadway safety, reducing congestion, improving infrastructure performance, and improving environmental sustainability.
Safeguarding taxpayer funds: FHWA's risk-based stewardship and oversight approachincludes program and project involvement and data driven evaluations and assessments at the national and State levels.  Additionally, our Financial Integrity Review and Evaluation (FIRE) program helps us monitor how Federal funds are managed and whether they are safeguarded from fraud, waste, and abuse.
Organizational Chart
Line of Succession
Delegation of Authority: In the event of the absence or disability of the Administrator, or in the event that the Administrator's position is vacant, the Deputy Federal Highway Administrator is the only FHWA official authorized to serve as Acting Administrator.  When serving as Acting Administrator, the Deputy Administrator is authorized to perform all of the functions and duties of the Administrator, including those functions and duties that are required by statute or regulation to be performed exclusively by the Administrator.  In the event of the absence or disability of both the Administrator and the Deputy Administrator, or in the event that both the office of the Administrator and the Deputy Administrator are vacant, the officials in the FHWA order of succession, noted above, shall perform all the functions and duties of the Administrator, but may not serve as Acting Administrator.  When communications cannot be established with a higher authority during a national emergency, each Division Administrator and FLH Division Engineer is delegated the authority to perform, with respect to the geographic area to which he/she is assigned, the functions and duties of the position of the Federal Highway Administrator.
The succession plan for FHWA is:
Administrator
Deputy Administrator
Executive Director
Chief Counsel
Associate Administrator for Policy and Governmental Affairs
Associate Administrator for Planning, Environment and Realty
Associate Administrator for Infrastructure
Associate Administrator for Federal Lands Highway
Associate Administrator for Safety
Associate Administrator for Operations
Chief Financial Officer
Associate Administrator for Administration
Associate Administrator for Research, Development, and Technology
Chief Innovation Officer
Chief Technical Services Officer
Associate Administrator for Public Affairs
Associate Administrator for Civil Rights
Director of Field Services – North
Director of Field Services – Mid-America
Director of Field Services – South
Director of Field Services – West
Labor Agreements
More information on FHWA's labor union agreement can be found here.
10-Year Budget History
FHWA FY2008 - FY2018 10-year funding history.xlsx
FHWA 101
Congressional Committees of Jurisdiction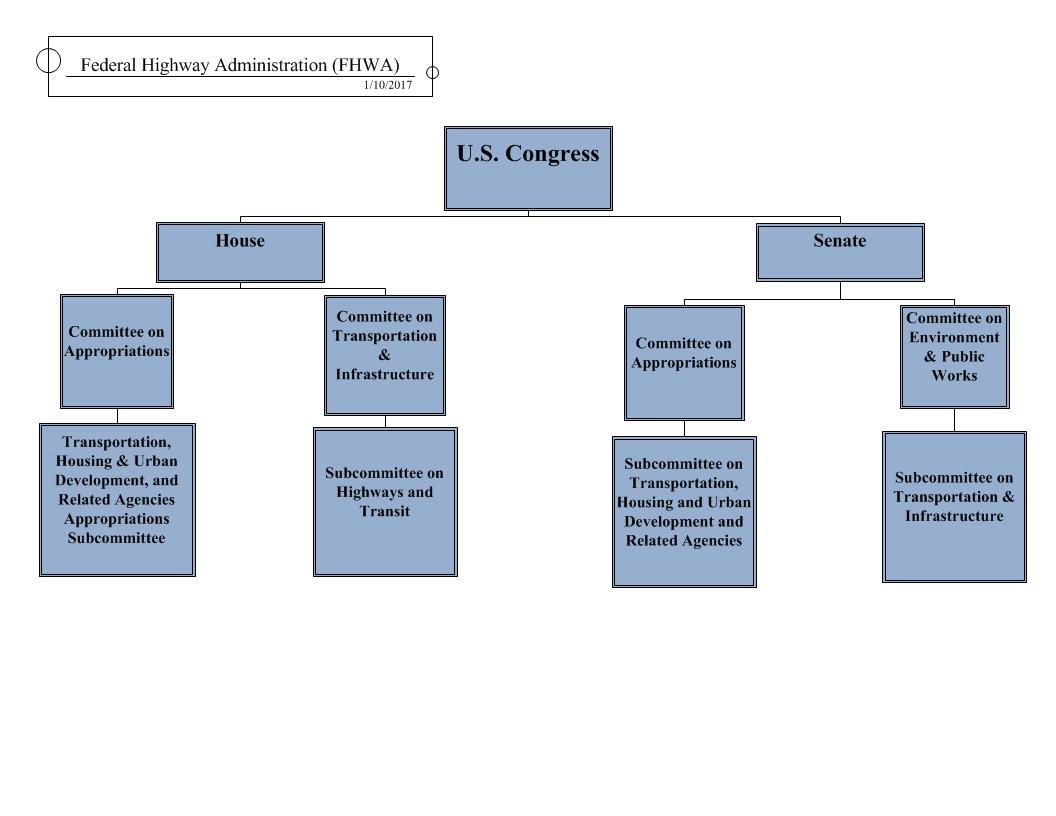 Stakeholders and External Relations
FHWA's key stakeholders and partners include the State DOTs, plus the respective transportation departments for Puerto Rico, U.S. Virgin Islands, Guam, American Samoa, and Northern Mariana Islands.  Non-governmental stakeholders include national transportation-related stakeholder and professional organizations, such as the American Association of State Highway and Transportation Officials (AASHTO).
You can find complete list of FHWA's key partners and stakeholders here
Additional Information for Operating Administrators
Topic:  Safety Overview
Issue: The first priority of USDOT and FHWA is the safety of the American traveling public. With two dedicated safety offices – the policy and programmatic Office of Safety, and the research-oriented Office of Safety Research and Development – FHWA works with its State, local, and private-sector partners to deliver various national highway infrastructure-related safety programs and technologies. 
Background:  The FHWA is committed to the vision of eliminating fatalities and serious injuries on our Nation's roadways.  This approach echoes USDOT's Strategic Plan, which articulates the goal of working toward no fatalities across all modes of travel.  The FHWA also advocates the use of proven technologies to improve safety through several initiatives:  Focused Approach,which provides additional resources to eligible high priority States and cities; Proven Safety Countermeasures that include research-proven and data-driven techniques and devices that FHWA encourages transportation partners to employ; and EDC Safety Initiatives, which promote the use of proven but underutilized safety innovations.
Notable safety initiatives include:
Strategic Highway Safety Plan – For a State to obligate Highway Safety Improvement Program (HSIP) funding, it must develop, implement, evaluate, and update a data-driven and performance-oriented Strategic Highway Safety Plan (SHSP) that identifies and analyzes highway safety problems and opportunities on all public roads in the State.  The SHSP is developed by the State DOT in a cooperative process with local, State, Federal, Tribal, and other public and private sector safety stakeholders.  The SHSP establishes statewide goals, objectives, and key emphasis areas, and aligns goals, leverages resources, and collectively addresses the State's safety challenges.  It plays a key role in State and national efforts to strive toward zero deaths.  All States must have a MAP-21 compliant SHSP by August 1, 2017, to avoid losing Federal funding eligibility, and must update the SHSPs on a regular basis.
Toward Zero Deaths (TZD or Vision Zero) – Following ten years of decline, motor vehicle deaths and injuries increased sharply in 2015.  Despite this increase, roadway safety professionals have been working toward the goal of zero fatalities for some time.  The HSIP is based on this approach.  States have aggressively pursued a zero fatalities vision since the inception of the SHSP as part of the HSIP.  The FHWA provided technical support to a group of organizations that represent professionals with an active role in highway safety.  In March 2015, this group published the Toward Zero Deaths: National Strategy on Highway Safety. The Vision Zero Network is a collaborative campaign focused on major cities demonstrating commitment and potential for a Vision Zero program.  As of September 2016, there were 16 Vision Zero cities.  In July 2016, the Institute of Transportation Engineers announced its intent to aggressively advance the Vision Zero and Toward Zero Deaths movements. In October 2016, FHWA joined NHTSA and FMCSA to partner with the National Safety Council in launching the Road to Zero Coalition.
Roadside Safety Hardware – Highway infrastructure includes various devices (hardware) along, over, and under the roadway which work to increase the safety of the roadway.  It is FHWA's policy to reimburse States for installation of roadside safety hardware on the National Highway System only if the hardware meets the applicable crash test criteria. 
The FHWA does not regulate the manufacturers of roadside safety hardware and does not have the statutory or regulatory authority to compel manufacturers to test roadside safety devices.  Instead, FHWA works together with AASHTO to develop guidance and best practices related to the roadside safety hardware placed on the roads.  The FHWA provides technical assistance and a service to the State DOTs by evaluating crash test results to determine whether roadside safety hardware is crashworthy.  The FHWA documents these evaluations in FHWA Federal-aid reimbursement eligibility letters.  Federal-aid eligibility letters written by FHWA are not required in order for a State DOT to install the device on any road and are not required for the State DOT to receive Federal-aid reimbursement for that device.
One such class of eligible devices is guardrails, which work to keep a vehicle from running off the roadway or crossing over the median into oncoming traffic.  In 2012, FHWA was contacted by an individual claiming that Trinity Industries (Trinity) had changed its ET-Plus (a guardrail end terminal) model by reducing its guide channel from 5 inches to 4 inches.  After States heard similar claims, a number of them contacted FHWA regarding the issue.  Although FHWA does not regulate or have authority over manufacturers of roadside safety hardware, FHWA investigated the allegations using a data-driven, engineering-based approach to assess whether the ET-Plus poses a safety hazard to the traveling public.  The FHWA and State DOTs, through AASHTO, worked together on this issue and formed two joint task forces.  The work included additional crash testing of the device, extensive field measurements, and an assessment of the performance limitations of w-beam guardrail end terminals, including the ET-Plus.  Based on this comprehensive effort, FHWA has reaffirmed that the ET-Plus meets the applicable crash test criteria.  
Through the AASHTO/FHWA Joint Implementation Agreement established for the Manual Assessing for Safety Hardware (MASH), FHWA is working with the State DOTs to move forward on a schedule for transitioning to the latest crash test criteria.  The FHWA also called upon the Volpe National Transportation Systems Center to conduct an end-to-end review of the entire process by which roadside safety hardware is developed, evaluated, funded, implemented, and assessed.  The review is expected to produce recommendations to enhance safety in the evaluation of roadside safety hardware.  In July 2016, the GAO published a report on its findings and recommendations from its review of FHWA's oversight of roadside safety hardware.  The FWHA is currently working to implement those recommendations.
Action Needed: For information only.
Points of Contact:  Beth Alicandri, Associate Administrator for Safety (202) 366-6409
Topic:  Infrastructure Condition and Investment Needs
Issue:  The American Society of Civil Engineers (ASCE) gives the Nation's highways and bridges grades of "D" (poor) and "C+" (mediocre), respectively.  While current national investment levels appear adequate to keep the situation from getting worse, years of underinvestment have resulted in a large backlog of unmet capital investment needs, estimated by FHWA to total $836 billion.  Clearing out this backlog, while making the highway and bridge improvements needed to maximize economic benefits, would require an increase in combined national highway and bridge capital investment of $37.3 billion per year through 2032.
Background:
The ASCE periodically issues a Report Card for Infrastructure that receives significant attention in the media.  The 2013 version gave the nation's infrastructure an overall rating of D+ (A=Exceptional, B=Good, C=Mediocre, D=Poor, E=Failing), ranging from a high of B- for solid waste infrastructure to a low of D- for inland waterways and levees.  Highways received a grade of D; bridges were graded C+. 
The ASCE report card provides quantitative results as well, but the highway and bridge statistics are drawn primarily from FHWA reports, most prominently the biennial Status of the Nation's Highways, Bridges and Transit:  Conditions and Performance report to Congress (C&P report).
The 2015 C&P report indicates that all levels of government spent a combined $221.3 billion for highway related purposes in 2012.  About 47.5 percent ($105.2 billion) went for capital improvements to highways; the remainder included expenditures for physical maintenance, highway and traffic services, administration, highway safety, and debt service. 
Highway capital expenditures rose from $68.2 billion in 2002 to $105.2 billion in 2012, and now exceed the $89.9 billion level estimated to be necessary to keep overall highway conditions and performance in 2032 from declining below 2012 levels.    
As of 2012, the United States had an estimated $836 billion of unmet capital investment needs for highways and bridges that would be cost-beneficial to address. Eliminating that backlog while addressing other needs as they arise over 20 years through 2032 would cost approximately $142.5 billion per year, 35.5 percent higher than the actual 2012 spending.    
Actions Needed:  Identify sustainable revenue sources for the Highway Trust Fund and seek authorized funding levels consistent with addressing long term capital investment needs. 
Point of Contact:  Mary Beth Zimmerman, Director, Office of Transportation Policy Studies,
(202) 366-9232
Topic:  National Bridge Inspection Standards Rulemaking
Issue:  Section 1111 of MAP-21 required the Secretary to update the National Bridge Inspection Standards (NBIS), administered under 23 CFR 650 Subpart C, by July 2015. The update has been delayed due to other regulatory priorities also required by legislation.
Action Needed: 
The Administration will want to follow bridge safety issues closely. 
Close oversight of compliance with the current NBIS regulation must continue to be supported by leadership to insure a consistent program of bridge safety. 
Support the rulemaking process.
Background:  The NBIS regulation was first established in 1971.  The regulations have been updated occasionally over the years, primarily in reaction to a partial or total bridge collapse for which the circumstances were not adequately addressed.  The current regulation with risk-based, data-driven FHWA oversight has proven successful in achieving an appropriate level of bridge safety across the nation's inventory of approximately 614,000 highway bridges. 
In MAP-21, Congress required the NBIS to be updated to further improve bridge safety and increase the effectiveness of the available resources used to conduct bridge inspections.  Specifically, MAP-21 required the Secretary to update the NBIS to cover the methodology, training, and qualifications for national certification of bridge inspectors and incorporate a risk-based approach to identify the frequency of bridge inspection.  These changes will likely improve the reliability of bridge inspections and provide flexibility to use available funding and staff resources more appropriately.
Point of Contact:  Joseph Hartmann, Director, Office of Bridges and Structures, (202) 366-4599
Topic:  Sustainability – Climate Change – Adaptation/Mitigation
Issue:  The transportation sector is a significant source of U.S. greenhouse gas (GHG) emissions, and will need to achieve major reductions to support national climate commitments.  FHWA has a role in helping to make the Nation's highway system more sustainable, reduce GHG emissions, and increase the system's resilience to climate change.
Background:  The U.S. has pledged to reduce GHG emissions 26-28 percent by 2025 and 80 percent or more by 2050, consistent with scientific targets for stabilizing atmospheric concentrations of carbon dioxide (CO2) at 450 parts per million.  Tailpipe GHG emissions from transportation sources accounted for 29 percent of total U.S. GHG emissions in 2012, and almost four percent of global GHG emissions.  Including other life cycle processes—such as the extraction and refining of fuel, the manufacture of vehicles, and the construction and maintenance of infrastructure—the U.S. transportation sector accounts for roughly five percent of global GHGs.
In response, FHWA has developed a series of tools and resources to assist State DOTs and metropolitan planning organizations (MPOs) in developing and evaluating effective GHG emissions reduction strategies.  The FHWA is also working to encourage and promote the use of low carbon vehicles and fuels through partnerships with Federal, State, and local partners and stakeholders.
Sustainability:  A sustainable transportation system is safe, healthy, affordable, and renewable.  It operates fairly, and limits emissions and the use of new and nonrenewable resources throughout its lifecycle.  To support the full integration of sustainability in transportation, FHWA developed a web-based self-evaluation tool, the Infrastructure Voluntary Evaluation Sustainability Tool (INVEST), to help transportation agencies identify sustainable transportation practices and quantify the level of their sustainability.  More than 50 state DOTs, MPOs, and Federal Land units have used INVEST to score projects or plans.
Climate Change Mitigation/Adaptation:  There are significant economic, national security, and environmental costs of the fuel currently used in our transportation system: transportation accounts for 71 percent of U.S. petroleum consumption and has surpassed electricity production as the primary source of GHG emissions in the United States.  At the same time, significant advances have been made to improve the overall efficiency of the transportation sector, particularly with regard to increasing investment in alternative fuels and electric vehicles.
The FHWA developed a series of tools and resources to assist state DOTs and MPOs in evaluating effective energy and GHG emissions reduction strategies.  The Energy and Emissions Reduction Policy Analysis Tool is an integrated state-level modeling system to evaluate surface transportation GHG reduction strategies, and the Infrastructure Carbon Estimator is a spreadsheet tool that evaluates GHG emissions from construction and maintenance of transportation facilities.
Adaptation:  Climate change and extreme weather events can have profound impacts on transportation infrastructure.  Extreme weather events such as hurricanes and other coastal storms, intense precipitation events, heat waves and drought, and wind storms have affected the highway system in the past, and damage associated with them is expected to worsen in coming decades. Released in 2014, FHWA Order 5520 commits the agency to integrating climate risk considerations into the delivery and stewardship of FHWA programs.  The FHWA has developed tools and guidance for systematic consideration of climate change risks at transportation system and project levels.
Action Needed:  FHWA is working to integrate climate change and sustainability considerations into several new policy/guidance areas:
The FHWA asked for comment on input on potential establishment of a GHG performance measure as part of the performance management rulemaking.
Pursuant to section 1413 of the FAST Act, FHWA is establishing a national network of alternative fueling and charging infrastructure along national highway system corridors.
In addition to addressing the statutory requirements related to alternative fuel corridors, DOT has committed to developing national signage and branding to help catalyze public interest and the success of the corridors.
Point of Contact:  Emily Biondi, Acting Director, Office of Natural Environment, (202) 366-9482
Topic:  Funding Resources
Issue:  The FAST Act funds surface transportation programs, including Federal-aid highways, at over $305 billion for fiscal years (FY) 2016 through 2020.  It is the first surface transportation authorization enacted in a decade that provides long-term funding certainty for surface transportation.  However, funding and designation/priority challenges remain.
Background:  The FAST Act authorizes $226.3 billion in budget authority for Federal-aid highway programs over five years (FY 2016 through FY 2020). This includes $225.2 billion in contract authority, starting at $43.1 billion for FY 2016 and growing about two percent each year to $47.1 billion in FY 2020.  The Act also authorizes another $1.1 billion over the five years that is subject to appropriation.
The FAST Act also provides a separate authorization for FHWA administrative expenses associated with the Federal-Aid Highway Program and the Appalachian Regional Commission, which coordinates the construction of the Appalachian Development Highway System.  This authorization provides $453 million for FY 2016, and increases about two percent each year to $480.8 million for FY 2020.  Of this amount, $24 million is designated for other purposes each year:
On-the-job training supportive services ($10 million annually)
Disadvantaged Business Enterprise supportive services ($10 million annually)
Highway use tax evasion projects ($4 million annually)
Administrative Expenses.  The Agency's administrative, or General Operating Expenses (GOE), funding provides essential resources to maintain the Agency's general administrative operations, and includes funding for such items as salaries and benefits, travel, rent, communications, utilities, printing, contractual services, supplies, and equipment.  Due to flat or decreased funding levels from FY 2010 through FY 2015, the agency had to reduce or defer key services.  For FY 2017, the FAST Act authorizes $432.5 million in contract authority for GOE, a $6.7 million increase over the FY 2016 levels.  With increased funding under the FAST Act, FHWA has worked to partially restore the reduced/deferred key services. FHWA made permanent a reduction of about 100 positions. FHWA's administrative funding remains tight due to ciritcal needs and increasing fixed costs.
Research Funding.  The FAST Act funds and refocuses FHWA's Research, Technology, and Education (RT&E) program to increase emphasis on deployment of innovations.  The FAST Act authorizes $125 million per year for a nationally-coordinated RT&E program that sets the stage for a strategic research and innovation delivery program to address current and emerging national challenges.  Although the program is not subject to project-specific earmarks, statutory designations direct research funds to deployment grants, thereby providing fewer funds and less flexibility in the allocation of funds than under the previous authorizing legislation.
FY 2017 Appropriations / Continuing Resolution (CR).  Congress has passed short-term CRs through April 28, instead of an FY 2017 annual appropriations bill. The current CR holds FHWA at FY 2016 obligation limitation levels, further reduced by an across-the-board reduction. In terms of FHWA's GOE, this represents an annualized amount of $424.51 million (after the required reduction). This is approximately $8 million below the funding and limitation levels that the FAST Act authorized for FHWA's administrative expenses in FY 2017.
Action Needed: 
Stakeholders:  Office of the Secretary, Office of Management and Budget, House and Senate Appropriations and Authorization Committees.
Points of Contact:  Brian Bezio, Chief Financial Officer, (202) 366-0622; Jon Gatti, Deputy Chief Financial Officer, (202) 366-6235
Topic:  Data Analyses and Management
Issue:  The FHWA has long been a leader in providing transportation data.  Data quality, timeliness, consistency, and completeness can have a significant impact on many mission-critical processes and decisions.  The FHWA needs to collect, analyze, manage, and provide highway-related data and information in a valid, reliable, and timely manner.
Action Needed:  Given the new demands on the FHWA data systems, including those imposed by the implementation of transportation performance management, periodic reassessments are necessary to address future needs and advances in technology.
Background:  Data generally fall under three broad categories: collected by FHWA; submitted to and/or shared with FHWA by State, local, and tribal entities and other Federal agencies; and purchased by FHWA.  For the most part, these data collections are funded through annual requests for research funds, which can vary from year to year.  The resource demands on data collection, processing, analysis, and reporting are changing rapidly.
Data quality is suspect for State-supplied data where the data collection and reporting processes are unknown.  The FHWA must have reliable data to retain credibility with its stakeholders and to influence decision-making within the agency and among its partners.
Topics to be explored by data program reassessments should include:  reviewing the need for existing data and identifying new data; where applicable, changing systems to be near-real-time transactional data systems like FHWA's Financial Management Information System, instead of annual data programs; identifying methods to reduce the data collection burden on States while improving data timeliness; reviewing existing data models for potential improvements; exploring the potential for implementing commercial off-the-shelf products; and exploring the potential to purchase public data to supplement or replace portions of existing data.  
Point of Contact:  David Winter, Director, Office of Highway Policy Information, 202‑366-4631
Topic:  Accelerating Project Delivery – Direct Recipients
Issue:  The FHWA aims to evaluate the possibility of making Local Public Agencies (LPAs) direct recipients of Federal-aid highway funding.  This will consider the potential positive impact of direct aid funding on the effectiveness, efficiency, and expediency of projects delivered by LPAs that utilizing innovative approaches to help streamline and accelerate project delivery and oversight.  It also will test FHWA's ability and costs to oversee an expanded base of direct aid recipients with limited additional resources and different oversight approaches.
Background:
The Federal-aid Highway Program is a Federally-funded, State-administered program, under which State DOTs are responsible for determining which projects are Federally funded, including those that benefit LPAs.
Various national stakeholder organizations and local entities have advocated for improvements to the Federal-Aid Highway Program delivery to LPAs, and the need to expedite the use of Federal funding to accelerate the economic and productivity benefits of capital project investments.
The FHWA has long supported innovative approaches to project delivery and is constantly searching for new and better ways to oversee, accelerate, and reduce the cost of the delivery of surface transportation projects.
The FHWA has the authority, under 23 U.S.C. 502 (b)(1)(B), to carry out research on all phases of transportation planning and development, including construction, operation, transportation system management and operations, modernization, development, design, maintenance, safety, financing, and traffic conditions.  This authority is limited to requirements under Title 23 of the United States Code.
The FHWA has received requests to exercise this experimental research authority, and is proposing to establish a direct aid pilot program for selected LPAs.
The pilot program will help determine whether LPAs can deliver projects more expeditiously and with lower costs when elevated to direct recipients of Federal funding, and will test the ability of, and determine the cost to, FHWA to oversee an expanded base of direct recipients.
The selected LPAs will receive direct Federal funding and oversight, while being expected to fully perform the duties and responsibilities normally handled by a State DOT.
For an LPA to participate in the pilot program, the relevant State must expressly agree to cede its oversight responsibilities over the LPA, and the LPA must possess the legal authority and administrative means to carry out the responsibilities of a direct recipient.
Action Needed:  In October, FHWA announced a pilot program to permit, on an experiemental basis, direct delivery of Federal-aid funding of up to five Local Public Agencies (LPAs).
Points of Contact:  Thomas Echikson, Chief Counsel, 202-366-0740; Firas Ibrahim, Stewardship and Oversight Team Leader, 202-366-1564.
Updated:
Tuesday, January 31, 2017