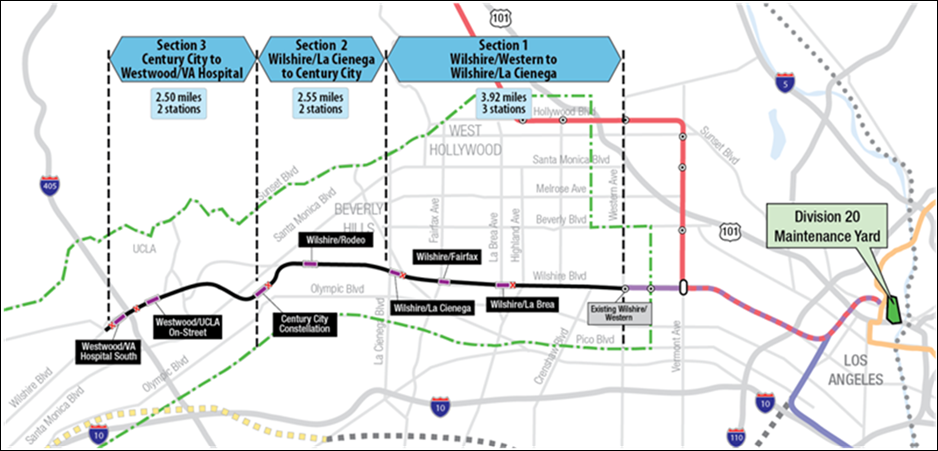 Sponsor / Borrower:
Los Angeles County Metropolitan Transportation Authority (LACMTA)
Duration / Status:
Revenue service operation is expected in 2025.
Project Description:
The Project entails the construction of the second section of a three-section, 9-mile underground heavy rail line that will extend the existing Metro Purple line along Wilshire Boulevard to a new western terminus in West Los Angeles near the Veterans Affairs Hospital in Westwood.  Section 2 extends the line another 2.6 miles through the cities of Los Angeles and Beverly Hills and includes two new stations and the procurement of 20 heavy rail cars.  
Funding Sources:
Federal Sources

TIFIA Loan: $307 million
FTA New Starts Grant: $1.187 billion
CMAQ: $169 million

Local Sources: 

Measure R: $692.7 million
Repayment of Capital Projects Fund: $54.8 million
Project Delivery / Contract Method:
Project Advisors / Consultants:
To LACMTA:
Financial Advisor – Montague DeRose and Associates
Legal Advisor – Norton Rose Fulbright
To USDOT Build America Bureau:
TIFIA Financial Advisor – Deloitte Financial Advisory Services
TIFIA Legal Advisor – Squire Patton Boggs US LLP
TIFIA Credit Assistance Detail:
Direct loan: $307.0 million.  The TIFIA loan will be repaid with Measure R local retail sales tax.
Financial Status:
The TIFIA loan agreement was signed on December 20, 2016. Principal repayment of the TIFIA loan will begin in 2020, and will amortize through final maturity anticipated in 2037.
Project Contacts:
Metro Purple Line Extension
(213) 922-6934