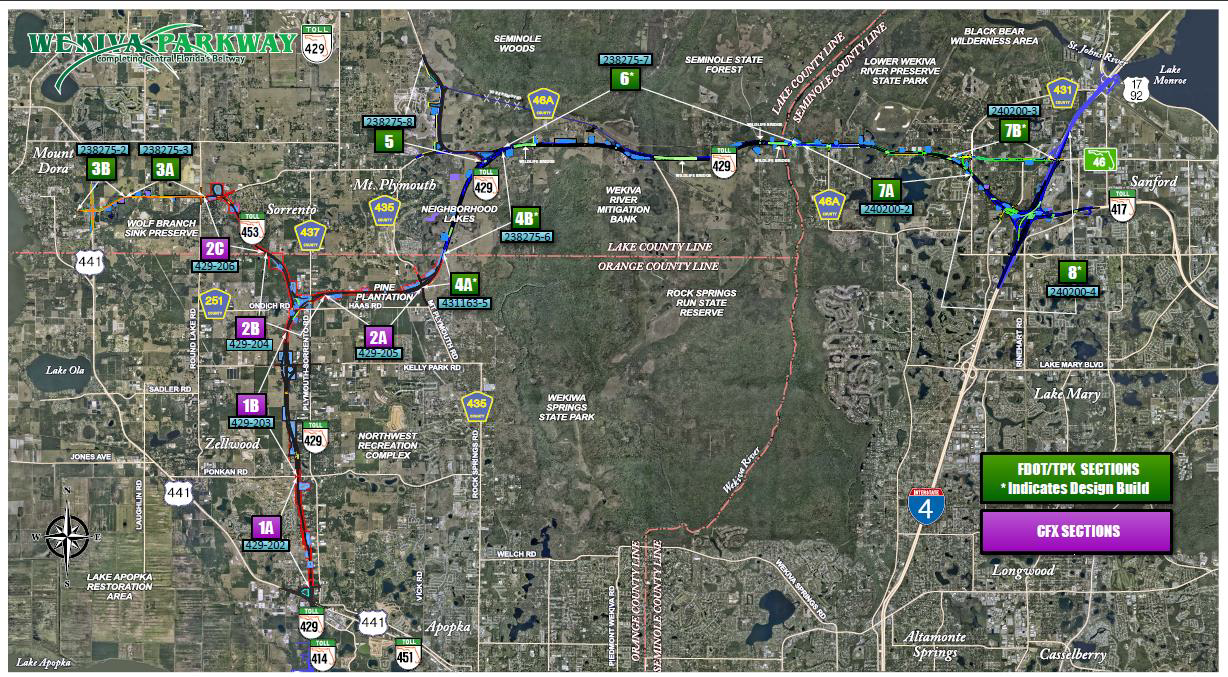 Sponsor / Borrower:
Central Florida Expressway Authority (CFX)
Duration / Status:
A Finding of No Significant Impact (FONSI) was awarded by FHWA in 2012. CFX began construction in 2015 and is expected to reach substantial completion in 2018.
Project Description:
Authorized in 2004 by the Wekiva Parkway and Protection Act (Chapter 369, Part III, F.S.), the Wekiva Parkway project will complete the beltway around northwest metropolitan Orlando, Florida. The proposed 25-mile tolled expressway will connect to the existing S.R. 417 at I-4, providing an alternative to I-4 and relieving S.R. 46, US 441 and other area roads of traffic congestion resulting from intensifying growth and travel between Orange, Lake, and Seminole Counties.
The TIFIA loan will finance the CFX portion of the project, which consists of approximately 10 miles of the overall project to be constructed in 5 segments.  The remaining 17 miles of the project will be constructed by the Florida Department of Transportation (FDOT) and will connect directly to the CFX project section(s).
According to CFX, construction of the Parkway is estimated to generate more than 35,000 jobs over 8 years.  Over the long term, the project will make it easier to travel between homes, schools, jobs, and recreational areas.  The largely elevated Parkway is designed to separate intercounty traffic from those making local trips, reducing vehicle crashes and fatalities.  Development of the expressway has included setting aside more than 3,400 acres of land for conservation. The Parkway also will include numerous wildlife bridges, and its elevation will reduce accidents between vehicles and wildlife.
Funding Sources:
Cash Contribution from Pay-Go: $139.7M
Series 2015 Bond Anticipation Note Proceeds: $201.6M
Series 2016 Bond Proceeds: $52.4M
TIFIA Loan $193.7M
Project Delivery / Contract Method:
Project Advisors / Consultants:
To CFX:
Financial Advisor – Public Financial Management, Inc.
Legal Advisor – Shutts & Bowen LLP
To USDOT TIFIA JPO:
TIFIA Financial Advisor – Louis Berger Group
TIFIA Legal Advisor – Bryant, Miller and Olive P.A.
TIFIA Credit Assistance Detail:
Direct loan: $193.7 million
Financial Status:
The TIFIA credit agreement was signed in March 2015. Interest payments are expected to start in 2023, and principal payments are expected to start in 2028; final loan maturity is expected to occur in 2049.