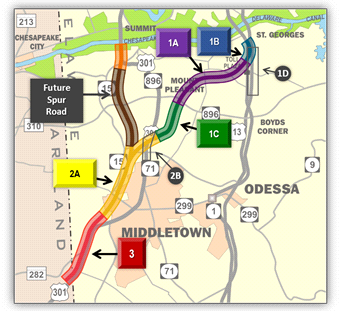 Sponsor / Borrower:
Delaware Transportation Authority (DTA)
Duration / Status:
Construction began in January 2016, and the project is expected to be substantially complete in 2018.
Project Description:
The US 301 Project involves construction of a new 13-mile, four-lane (two per direction) controlled access highway extending from the existing US 301 at the Maryland border with Delaware to State Route 1 (SR1), just south of the Chesapeake and Delaware Canal in Delaware.  Along with the existing SR 1, the combined road will form an expressway from the Maryland/Delaware state line to I-95.
The purpose of New US 301 is to enhance the regional and local transportation network and safety while improving livability throughout the project area by managing heavy truck traffic and reducing congestion in a rapidly developing area.  The project will serve the northeast corridor of the United States as an alternative to I-95 between the Northern Virginia and Washington, DC area and I-95, I-295, and I-495 south of Wilmington, Delaware.  Locally, the Project will serve New Castle County, Delaware and Queen Anne's, Kent, and Cecil Counties in Maryland.
With commercial office development expected to increase by 275 percent and residential unit development expected to increase by 143 percent, the area will need an expanded roadway system to accommodate new businesses and residents. The project will aid in promoting economic competitiveness by improving regional mobility in the heavily populated northeast by supporting job creation and increasing the efficiency and reliability of the movement of goods and people both locally and regionally. The US 301 extension will provide significant mobility benefits by providing residents with a convenient commute option and by providing an alternative for the area's major commercial traffic bottleneck on I-95. According to DTA, the project is expected to generate approximately 15,000 jobs, 60 percent of which will be construction-related, and contribute to the region's economic growth by establishing another connection to Baltimore and Washington, DC.
Funding Sources:
Senior Tax-Exempt US 301 Project Revenue Bond Proceeds: $234.3 million
DTA 2010 GARVEE Bonds: $125 million
DTA Cash on Hand: $11.8 million
Federal Highway Funds: $53.5 million
TIFIA Loan: $211.235 million
Project Delivery / Contract Method:
Competitively bid construction contracts.
Project Advisors / Consultants:
To the Project:
Underwriters for Senior Project Revenue Bonds: Band of America Merrill Lynch; Citigroup; J.P. Morgan; M&T Securities, Inc.

Bond Counsel: Saul Ewing LLP

Financial Advisor: Public Financial Management, Inc.
To USDOT TIFIA JPO:
TIFIA Financial Advisor – Scully Capital, Inc.

TIFIA Legal Advisor – Skadden, Arps, Slate, Meagher & Flom, LLC
TIFIA Credit Assistance Detail:
Direct loan: $211.235 million. The TIFIA loan will be repaid through US 301 toll revenues and pledged Transportation Trust Fund (TTF) revenues.
Financial Status:
The TIFIA credit agreement was signed in December 2015. Interest payments on the loan are expected to begin in 2023. Principal payments are expected to begin 2028, with final loan maturity expected to occur in 2053.
Innovations:
TIFIA Loan is secured by a double-barreled pledge of subordinate lien on both US 301 Toll Revenues and State Transportation Trust Fund (TTF)

Structure qualified for waiver of Springing Lien to US 301 Master Indenture Senior Project Revenue Bonds
Project Contacts:
Delaware Transportation Authority
               Hugh Curran, Director of Finance