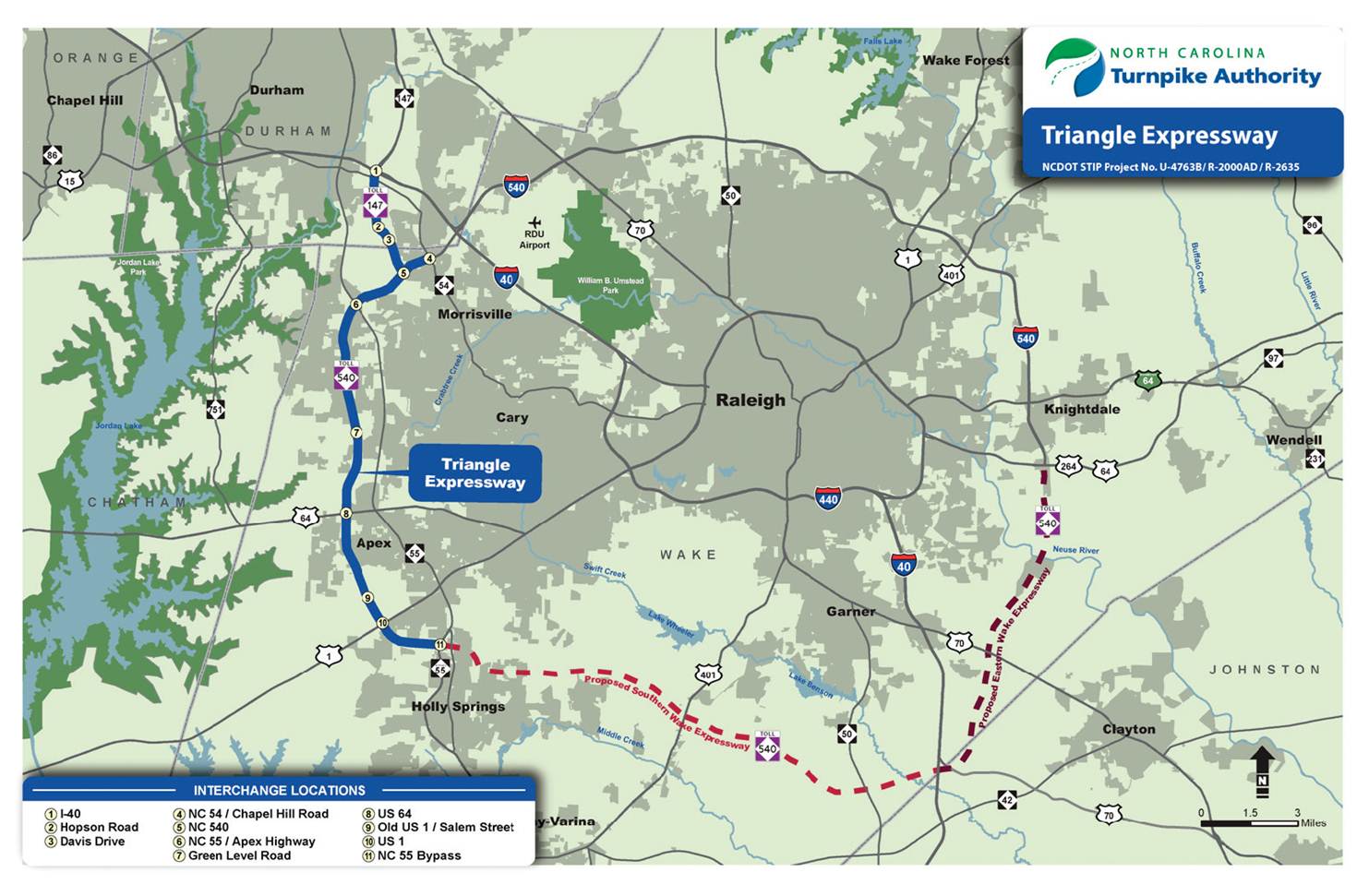 Sponsor / Borrower:
North Carolina Turnpike Authority (NCTA)
Duration / Status:
The project reached substantial completion on December 1, 2012 and commenced tolling operations in January 2013.
Project Description:
The 18.8-mile Triangle Expressway serves the Research Triangle Park (RTP) region (including I-40) between Raleigh and Durham, as well as improves commuter mobility, accessibility and connectivity to the RTP employment center. The tolled highway comprises three sections:
Phase 1 - 2.8 miles of NC 540 from NC 54 to NC 55 near Morrisville, which was constructed by North Carolina Department of Transportation (NCDOT) with Surface Transportation Funds (STP) funds and opened to traffic in 2007 (but not tolled until August 2012), and 3.4 miles of NC 147 from I-40 south to the interchange with NC 540 (opened in December 2011 and tolled in January 2012)
Phase 2 - 6.6 miles of NC 540 from the southern terminus of Phase 1 at NC 55 to U.S. 64 (opened and tolled in August 2012)
Phase 3 - 6 miles of NC 540 from the southern terminus of Phase 2 at U.S. 64 to NC 55 Bypass near Holly Springs (opened in January 2013)
Roadway and traffic conditions in the Tri Ex study area threatened to limit the region's continuing economic development and growth. The Triangle Expressway accommodates growing demand, featuring a fully electronic tolling system designed to prevent significant traffic delays and improve corridor safety. The project improves commuter mobility, accessibility, and connectivity to the RTP employment center with an average expected travel time savings of 17 minutes per trip by 2030. The project is expected to generate approximately $811 million in total economic impact through the same time period. TIFIA financing allowed for the realization of these benefits with approximately 20 years sooner and with $388 million of cash flow interest cost savings compared to conventional financing methods.
Funding Sources:
TIFIA Revenue Bonds: $266.1M
State-backed Bonds: $343.3M
TIFIA Loan: $386.662M
State Funds: $175.6M
Project Delivery / Contract Method:
Project Participants:
Design-builder (Phases 2 and 3): Raleigh-Durham Roadbuilders (joint venture of Archer Western Contractors, Granite Construction Company)
The LPA Group - Lead design consultant
Volkert & Associates, Inc. - Construction engineering inspection services
Project Advisors / Consultants:
NCDOT Alternative Delivery Unit
HNTB - GEC
PBS&J - Toll technology
PFM Group/Davenport & Company - Financial advisors
Womble Carlyle - Bond counsel
Wilbur Smith Associates - Traffic & Revenue
Wells Fargo - Bond trustee
Merrill Lynch - Bond underwriters
To USDOT TIFIA JPO:
TIFIA Legal Advisor: Nixon Peabody
TIFIA Financial Advisor: Infrastructure Management Group
TIFIA Credit Assistance Detail:
Direct loan: $386.662 million. The TIFIA loan has been issued on a subordinate basis to the senior lien toll revenue bonds.
Financial Status:
The TIFIA credit agreement was signed in July 2009. The first interest payment occurred in January 2015, with principal payments set to begin in 2024, and final expected in 2043; however, the loan agreement was retired early when NCTA prepaid its TIFIA loan on December 12, 2018.
Innovations:
Most expensive public works project in North Carolina history
All-electronic, cashless/video tolling