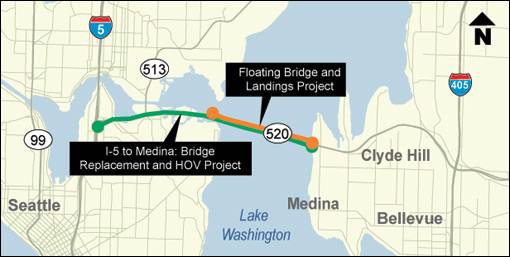 Sponsor / Borrower:
Washington State Department of Transportation (WSDOT)
Duration / Status:
The project is currently under construction with substantial completion expected in 2017.
Project Description:
State Route (SR) 520 is one of two major east-west roadways crossing Lake Washington, located within King County and the Seattle metropolitan area in the State of Washington. The roadway extends from its western terminus at Interstate 5 eastward across Lake Washington, intersecting with Interstate 405, and continuing east to Redmond where it terminates at SR 202. Construction stretches from Seattle's University District to 108th Avenue NE in Bellevue, with restriping continuing out to Redmond.
The SR 520 Floating Bridge and Eastside plus West Approach Bridge Projects include:
Pontoon Construction Project - Construction of 33 bridge pontoons and a 55-acre site on Grays Harbor in Aberdeen. Pontoon construction includes 21 longitudinal pontoons 360 feet in length, weighing approximately 11,000 tons, as well as 10 supplementary stability pontoons, and two cross pontoons;
Floating Bridge and Landings Project - Construction of a new six-lane floating bridge across Lake Washington to replace the aging four- lane bridge, including removal of the existing floating bridge;
Eastside Project - Widening of SR 520 between the eastern shore of the lake and I-405 to six lanes, constructing three community-connecting lids and other corridor-wide improvements to add a HOV lane in each direction; and
West Approach Bridge Project - Construction of a permanent west approach bridge structure to connect westbound traffic from the floating bridge to the Montlake Boulevard Interchange near the University of Washington in Seattle, as well as to complete the bicycle/pedestrian path from the eastside to Seattle.
The project will provide an efficient connection between the major population areas and employment centers between Seattle and the region's eastern suburbs, including Bellevue and Redmond. The project includes the addition of new HOV lanes and the utilization of an all-electronic toll collection system to improve travel time reliability. Wider lanes and shoulders also prevent congestion, further improving travel times and roadway safety. The project also focuses on multi-modal accessibility by creating new links to the area's transit, bicycle, and pedestrian paths. According to WSDOT, construction of the project is estimated to generate approximately 1,400 jobs. TIFIA financing allowed WSDOT to raise an additional $200 million in construction funding compared to conventional financing means, accelerating the project's timeline, while providing flexibility to increase scope.
Funding Sources:
Federal, TIFIA Loan and Other Toll Funding:

Toll-Backed Bonds: $773M
TIFIA Loan: $300M
Direct GARVEE: $819M
Federal Pay-As-You-Go Toll Revenues: $121.6M

State, Local, and other Toll Funding:

2005 Transportation Partnership Account: $439M
State and Local Sales Tax Deferral: $144M
Toll Revenues: $139M
Project Delivery / Contract Method:
Design-Build (Pontoon Construction Project, Floating Bridge and Landings Project, and Eastside Project) and Design-Bid-Build (West Approach Bridge North Project).
Project Participants:
Pontoon Construction Project: Kiewit-General Joint Venture (Kiewit, General Construction Company)
Floating Bridge and Landings Project: Kiewit/General/Manson, A Joint Venture (Kiewit, General Construction Company, Manson Construction)
Eastside Project: Eastside Corridor Constructors (Granite Construction Company, PCL Construction Services, HW Lochner, David Evans & Associates, Perteet)
Project Advisors / Consultants:
To the State of Washington
CDM Smith - Traffic and Revenue Consultant
Parsons Brinckerhoff - Financial Planning Consultant
HDR - General Engineering Consultant
Citi Group - Counselor
J.P. Morgan - Counselor
Montague DeRose and Associates - Financial Advisor
Seattle-Northwest Securities Corporation - Financial Advisor
Foster Pepper - Legal Advisor
To USDOT TIFIA JPO:
Hawkins Delafield & Wood LLP - Legal Advisor
Taylor-DeJongh - Financial Advisor
Booz Allen Hamilton - Financial Advisor
TIFIA Credit Assistance Detail:
Direct loan: $300 million.
Financial Status:
The TIFIA loan agreement was executed in October 2012. Interest and principal payments are expected to start in 2016; final loan maturity is expected to occur in 2051.
Innovations:
The new Floating Bridge is designed to withstand a 1,000-year earthquake event and windstorms up to 89 mph.
The Washington State Legislature authorized the collection of tolls on the existing Floating Bridge beginning in December 2011 to help fund and finance the construction of its replacement. Tolls will also be collected on the new bridge and contribute to its operations and maintenance. Toll collection is all-electronic and toll rates vary by day and time of travel.
Project Contacts:
Amy Arnis 
Assistant Secretary for Strategic Planning and Finance Ops 
Washington State Department of Transportation 
310 Maple Park SE 
Olympia, Washington 98504 
(360) 705-7000 
Amy.Arnis@wsdot.wa.gov