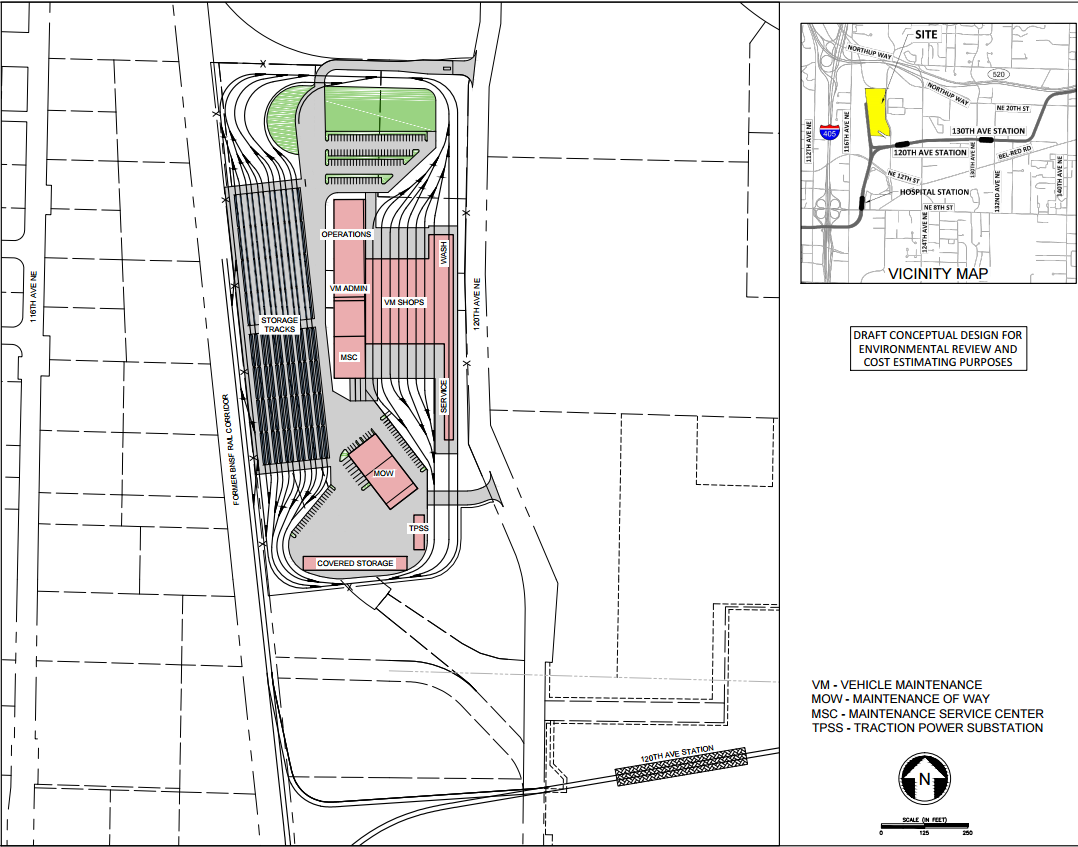 Sponsor / Borrower:
Central Puget Sound Regional Transit Authority (Sound Transit)
Project Cost Details:
$449.2 million in total project costs; $265.7 million in project costs eligible for TIFIA financing.
Duration / Status:
Construction expected to begin in fall 2017; substantial completion is expected in 2021.
Project Description:
The Operations & Maintenance Satellite Facility: East ("Project") is a proposed facility that will maintain, store, and deploy light rail vehicles.  The Project is crucial for the expansion of the region's light rail system.  By 2023, the system will grow from 16 to 50 miles and the existing light rail fleet will triple in size from 62 to 180 vehicles.  Sound Transit forecasts that the current operations and maintenance facility in Seattle, which can store and maintain up to 104 light rail vehicles, will reach full capacity by 2020, making the Project a much needed addition to Sound Transit's maintenance capacity.  The new site will be located between a former BNSF Railway railroad right-of-way on the west and 120th Avenue Northeast on the east, south of SR520 and north of Northeast 12th Street in the City of Bellevue.
Funding Sources:
Sound Transit Tax Revenue: $112.3 million
TIFIA Loan: $87.7 million
Bond Proceeds: $57.3 million
Grant Revenue - Federal/Local: $8.4 million
Project Delivery / Contract Method:
Project Advisors / Consultants:
To Sound Transit:
Financial Advisor – Piper Jaffray
Legal Advisor – Foster Pepper
To USDOT Build America Bureau:
TIFIA Financial Advisor – Taylor DeJongh/Booz Allen Hamilton
TIFIA Legal Advisor – Shearman & Sterling LLP
Project Lender(s):
USDOT Build America Bureau
Bondholders
TIFIA Credit Assistance Detail:
Direct loan: $87.7 million.  The TIFIA loan will be repaid through pledged gross tax revenues.
Financial Status:
The TIFIA credit agreement was executed on June 22, 2017, and is expected to mature in 2056.
Innovations:
The Sound Transit Operations & Maintenance Satellite Facility: East Project is the second project to reach financial close under a Master Credit Agreement (MCA) executed by USDOT and Sound Transit in December 2016 that provided a $1.991 billion contingent commitment to the Borrower.  The MCA provides Sound Transit certainty, predictability and efficiency for projects under the MCA.