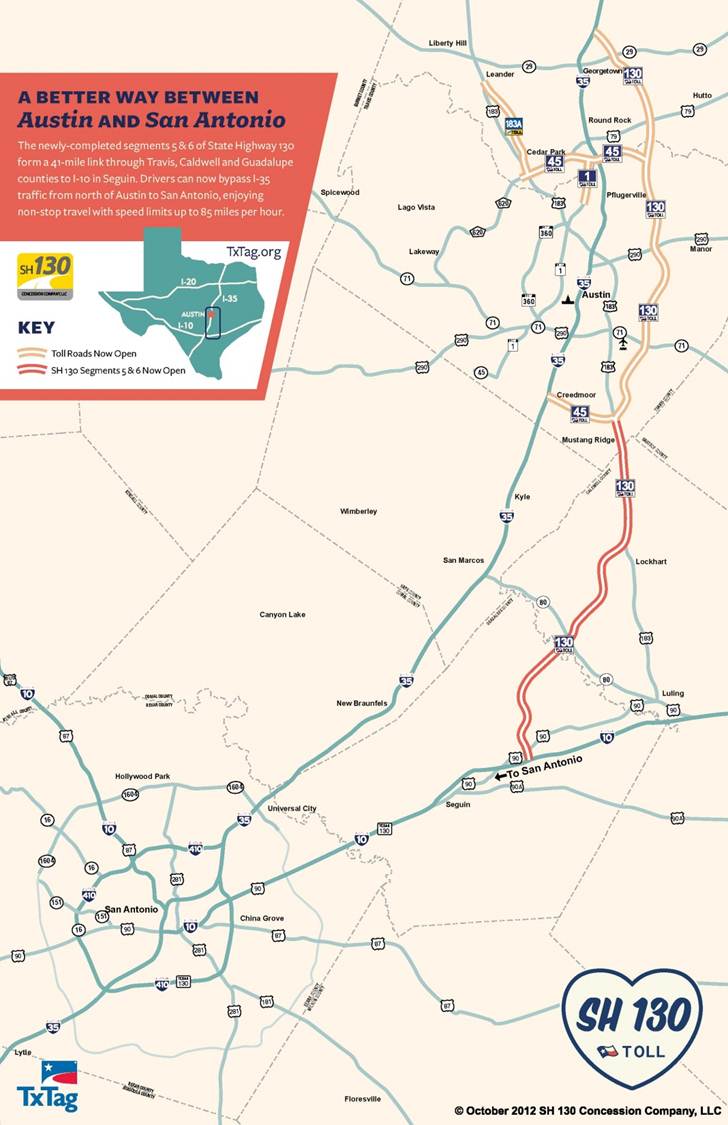 Sponsor / Borrower:
Texas Department of Transportation (TxDOT)
SH 130 Concession Company, LLC
Duration / Status:
Construction began in April 2009. The project opened to traffic in October 2012, and service commenced in November 2012.
Project Description:
SH 130 is a four-lane, 91-mile toll road east and south of Austin designed to relieve congestion on the heavily traveled I-35, the primary north-south route through Central Texas. Segments 1-4 of SH 130 (which are part of the Central Texas Turnpike System that includes SH 45 North and Loop 1) were constructed as a separate project and opened in stages between November 2006 and April 2008.
On March 22, 2007, TxDOT signed a Comprehensive Development Agreement (CDA) with the SH 130 Concession Company to design, build, finance, operate, and maintain a 40-mile extension of SH 130 (Segments 5 and 6) under a 50-year concession from the date of opening. The extension follows the current US 183 alignment from north of Mustang Ridge to north of Lockhart and extends southwest to I-10 northeast of Seguin.
The SH 130 project is designed to provide much needed relief from the congestion on I-35. Segments 5 and 6 use an open-tolling system to ensure steady flow of traffic and prevent dangerous sudden stoppages, preventing potential collisions. By using TIFIA financing and utilizing the P3 delivery method, TxDOT estimates that it completed the project 20 years sooner than it would have through more conventional methods.
Funding Sources:
Senior Bank Loans: $685.8M
TIFIA Loan: $430M
Private Equity: $209.8M
Interest Income: $2.3M
Project Delivery / Contract Method:
DBFOM (Design-Build-Finance-Operate-Maintain)
Project Participants:
SH 130 Concession Company, LLC (Originally a joint venture of Cintra Concesiones de Infraestructuras de Transporte, S.A. and Zachry American Infrastructure)
Project Advisors / Consultants:
Original advisors:
AECOM/Maunsell - Project's Traffic Consultant
Capita Symonds - Lenders' Traffic Auditor
Atkins International Ltd. - Lenders' Technical Advisor
To USDOT TIFIA JPO (original advisors):
TIFIA Legal Advisor: Nixon Peabody, LLP
TIFIA Financial Advisor: Montague DeRose and Associates, LLC and High Street Consulting Group, LLC
Project Lender(s):
Bank Syndicate, USDOT TIFIA
TIFIA Credit Assistance Detail:
Direct loan: $430 million. The TIFIA loan is secured by a lien on Project Revenues subordinate to the lien securing Senior Lien Obligations, which are bank loans, and is senior to the equity to be provided by investors.
Financial Status:
Financial close occurred and the TIFIA loan agreement was signed in March 2008. On March 2, 2016, the privately owned toll road operator and TIFIA borrower, SH 130 Concession Company, LLC, applied for reorganization under Chapter 11 of the U.S. Bankruptcy Code. On June 28, 2017, the Chapter 11 Plan of Reorganization became effective and the project emerged from bankruptcy. As part of the reorganization, USDOT received subordinated debt and equity interests in the reorganized borrower.
Innovations:
First privately developed and operated open toll road facility in Texas