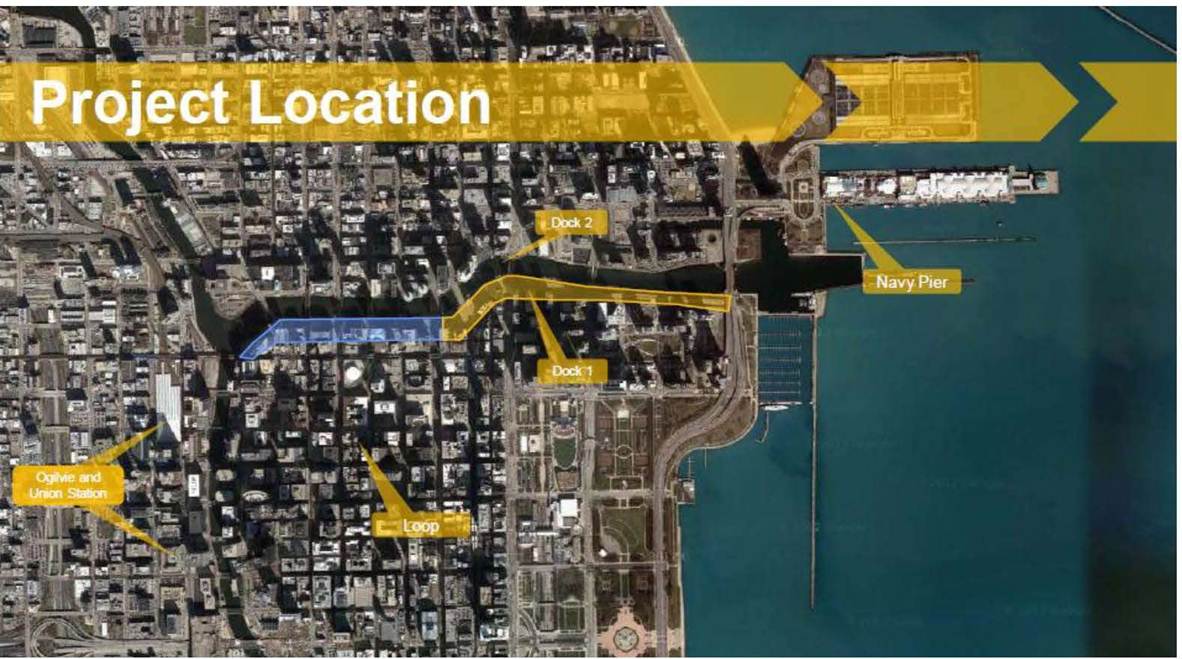 Sponsor / Borrower:
City of Chicago
Chicago Department of Transportation (CDOT)
Primary Revenue Pledge:
Motor Fuel Tax Revenues
Project Revenues
Duration / Status:
Construction is completed on the Wacker Drive and Riverwalk Phase 1 elements of the project. Construction on Phase 2 began in early 2014 and has been completed.  Phase 3 construction began in early 2015. Completion of construction for the entire Riverwalk is expected to be in 2016.
Project Description:
The project encompasses the following elements of the Wacker Drive Reconstruction Project, a major initiative to improve transportation along Wacker Drive, strengthen intermodal links, and establish a continuous pedestrian walkway along the south bank of the Chicago River:
Wacker Drive - Full reconstruction of Upper and Lower Wacker Drive from Randolph Street to Congress Drive
Riverwalk Expansion Phases 1, 2, and 3 - Adjacent to Wacker Drive from Michigan Avenue to Lake Street, along the south bank of the Main Branch of the Chicago River
The Riverwalk is a planned public walkway along the banks of the Chicago River, connecting the lakefront with downtown Chicago. When complete, it will extend 0.7 miles from Michigan Avenue to Lake Street. The one-block portion from Michigan to Wabash Avenue was constructed by CDOT in 2009 using tax-increment financing. The remaining Riverwalk phases comprise the six blocks from State Street to Lake Street. Although each block will be separated by an existing bridge that crosses the Chicago River, the blocks will be connected by at-grade under-bridge connections, providing six continuous blocks of pedestrian walkway along the river. Each block will feature a distinct theme. Design elements include bicycle and pedestrian facilities, Americans with Disabilities Act (ADA)-compliant access, public seating, sustainable native plant landscaping, and recreational spaces. Landscaping will replace the industrial seawall and provide habitat protection and restoration of the Chicago River.
The project will enhance safety for pedestrians with bicycle paths and pedestrian trails along the continuous promenade.  Additional design elements include Americans with Disabilities Act (ADA)-compliant access, public seating, sustainable native plant landscaping, and recreational spaces.  The promenade will also strengthen intermodal links to public transportation facilities provided by the Chicago Transit Authority and Metro Commuter rail.
Funding Sources:
TIFIA Loan: $98.66M
Federal Funds: $232.74M
State/Local Funds: $88.1M
Project Delivery / Contract Method:
Project Advisors / Consultants:
To the Borrower:
Hunden Strategic Partners - Feasibility and Financial Consultant
Ice Miller LLP - Legal Counsel
Design team:

Sasaki Associates Inc.
Alfred Benesch & Co
To USDOT TIFIA JPO:
TIFIA Legal Advisor - Squire Sanders LLP
TIFIA Financial Advisor - Montague DeRose and Associates, LLP/High Street Consulting Group, LLC
TIFIA Credit Assistance Detail:
Direct loan: $98.66 million. The security for the TIFIA loan is a pledge of the City's share of State Motor Fuel Tax Revenue and Project Revenue (rent and fees derived from tour boats, private boat docking, charter boats, retail leases, advertising, and sponsorships).
Financial Status:
TIFIA credit agreement was executed in June 2013. Interest payments began during 2015 and principal payments are expected to start in 2020; final loan maturity is expected to occur in 2048.
Innovations:
Leveraging of innovative financing streams generated by the project to advance the final phases of the Riverwalk Expansion