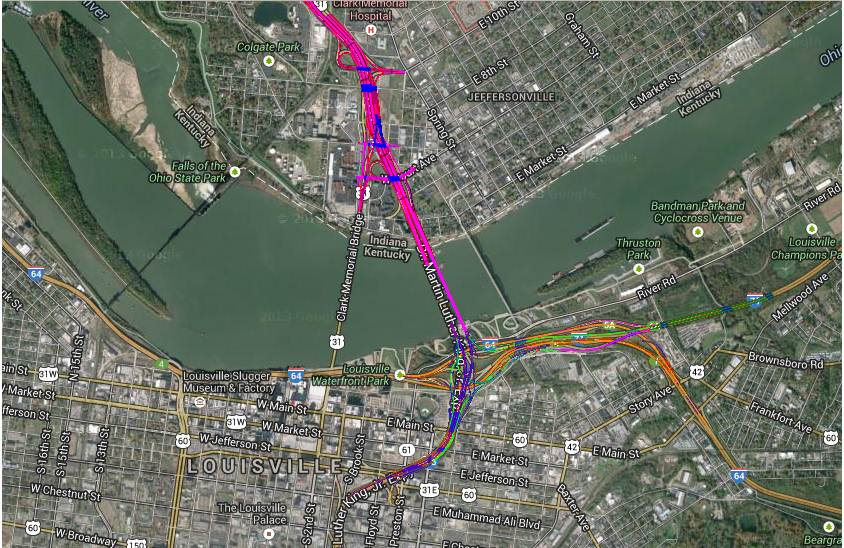 Sponsor / Borrower:
Kentucky Public Transportation Infrastructure Authority (KPTIA)
Kentucky Transportation Cabinet (KYTC)
Duration / Status:
Design-build team selection on November 15, 2012. Construction began June 18, 2013. Substantial completion occurred in November 2016.
Project Description:
The Downtown Crossing project includes a new bridge facility across the Ohio River, and associated roadway and facilities, connecting Louisville, Kentucky and Clark County, Indiana. The bridge will carry six lanes of northbound I-65. The existing Kennedy Bridge, located immediately downstream will be rehabilitated and reconfigured to carry six lanes of I-65 southbound. The project also includes improved and expanded approaches and the reconstruction of the Kennedy Interchange between I-65, I-64, and I-71 in downtown Louisville.
The project is half of the bi-state Ohio River Bridges project, which also includes the new East End Crossing, also spanning the Ohio River eight miles to the north, connecting I-265/SR 265 in Indiana to I-265/KY 841 in Kentucky. The Commonwealth of Kentucky is leading the Downtown Crossing project and the State of Indiana is leading the East End Crossing project. The Downtown Crossing project is being delivered through a design-build contract between KYTC and Walsh Construction Co. awarded in November 2012. The Downtown River Bridge (and East End Bridge) will be tolled, which will back bonds sold by KPTIA to partially finance the project.
The project seeks to improve cross-river mobility and enhance livability, economic competitiveness, and safety in the region, which spans between Jefferson County, Kentucky and Clark County, Indiana. The project is expected to generate travel time savings valued at approximately $3.2 billion annually.
Funding Sources:
GARVEE Bonds: $334.6M
Project Revenue Bonds: $274M
TIFIA Loan: $452.2M
Toll Revenue Bonds $41M
Federal Aid Funds: $274.4M
State Road Funds: $76M
Project Delivery / Contract Method:
Project Participants:
Design-builder: Walsh Construction
Walsh Construction Co.
Milestone Contractors, L.P.
Jacobs Engineering Group Inc. - Lead design
Buckland & Taylor Ltd. - Structural design
Guthrie/Mayes Public Relations - Public involvement
Project Advisors / Consultants:
Oversight assistance (construction oversight, inspection, and quality control)
HDR, Inc.
Greenman-Pedersen, Inc.
FIGG Bridge Inspection, Inc.
S&ME, Inc.
To USDOT TIFIA JPO:
TIFIA Legal Advisor - Skadden Arps, Slate, Meagher & Flom, LLP
TIFIA Financial Advisor - Scully Capital Services, Inc.
TIFIA Credit Assistance Detail:
Direct loan: $452.2 million. The TIFIA loan and the toll revenue bonds are backed by Kentucky's 50 percent share of the toll revenue generated from the combined Ohio River Bridges project.
Financial Status:
The TIFIA credit agreement was signed in December 2013. Loan principal and interest payment began in 2018, and final loan maturity is expected to occur in 2051.
Innovations:
The Downtown Crossing is part of the Ohio River Bridges project, which also includes the East End Crossing eight miles to the east. Together, the Louisville and Southern Indiana Bridges Authority, a bi-state agency, has been responsible for the financing of the $2.6 billion Ohio River Bridges. Kentucky is delivering the Downtown Crossing through a more traditional design-build contract, while Indiana has chosen to finance the East End Crossing through an availability-pay, public-private partnership. These innovative delivery approaches have combined significant cost savings.
Project Contacts:
David L. Talley
Innovative Finance Manager
Kentucky Transportation Cabinet
(502) 782-4095