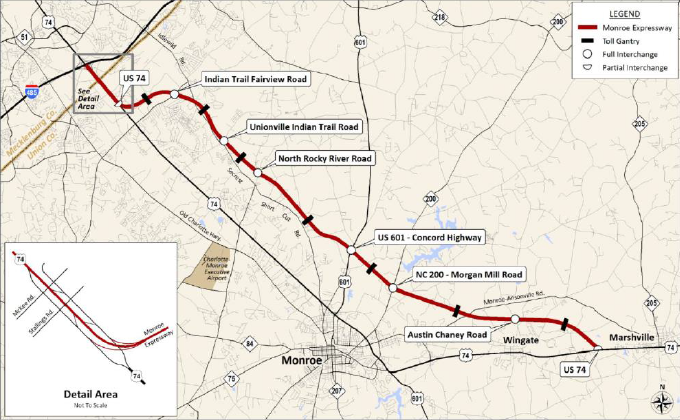 Sponsor / Borrower:
North Carolina Turnpike Authority (NCTA)
Duration / Status:
Construction began in 2015, and substantial completion is expected in late 2018.
Project Description:
The Monroe Expressway Project is a new, four-lane tolled expressway that will extend nearly 20 miles from US 74 near I-485 in Mecklenburg County to US 74 between the towns of Wingate and Marshville in Union County, North Carolina.  The Project includes the reconstruction of a one-mile portion of US 74 that includes an elevated, six-lane controlled-access freeway.  The Project is currently under construction and is anticipated to reach completion by November 2018.
Funding Sources:
Federal Sources

TIFIA Loan: $166.5 million

State Sources

Appropriations Bonds: $467.1 million
Toll Revenue Bonds: $144.4 million
NCDOT State Highway Trust Fund: $22.0 million
Project Delivery / Contract Method:
Project Advisors / Consultants:
To NCTA:
Financial Advisor – Public Financial Management, Inc.
Legal Advisor – Hunton & Williams LLP
To USDOT Build America Bureau:
TIFIA Financial Advisor – The Louis Berger Group, Inc.
TIFIA Legal Advisor – Nixon Peabody LLP
TIFIA Credit Assistance Detail:
Direct loan: $166.5 million.  The TIFIA loan will be repaid with gross toll revenues generated from the Project.
Financial Status:
The TIFIA loan agreement was signed on January 31, 2017 and is expected to mature in 2053.
Project Contacts:
Monroe Expressway
1548 Mail Service Center
Raleigh, NC 27699-15481
(800) 475-6402