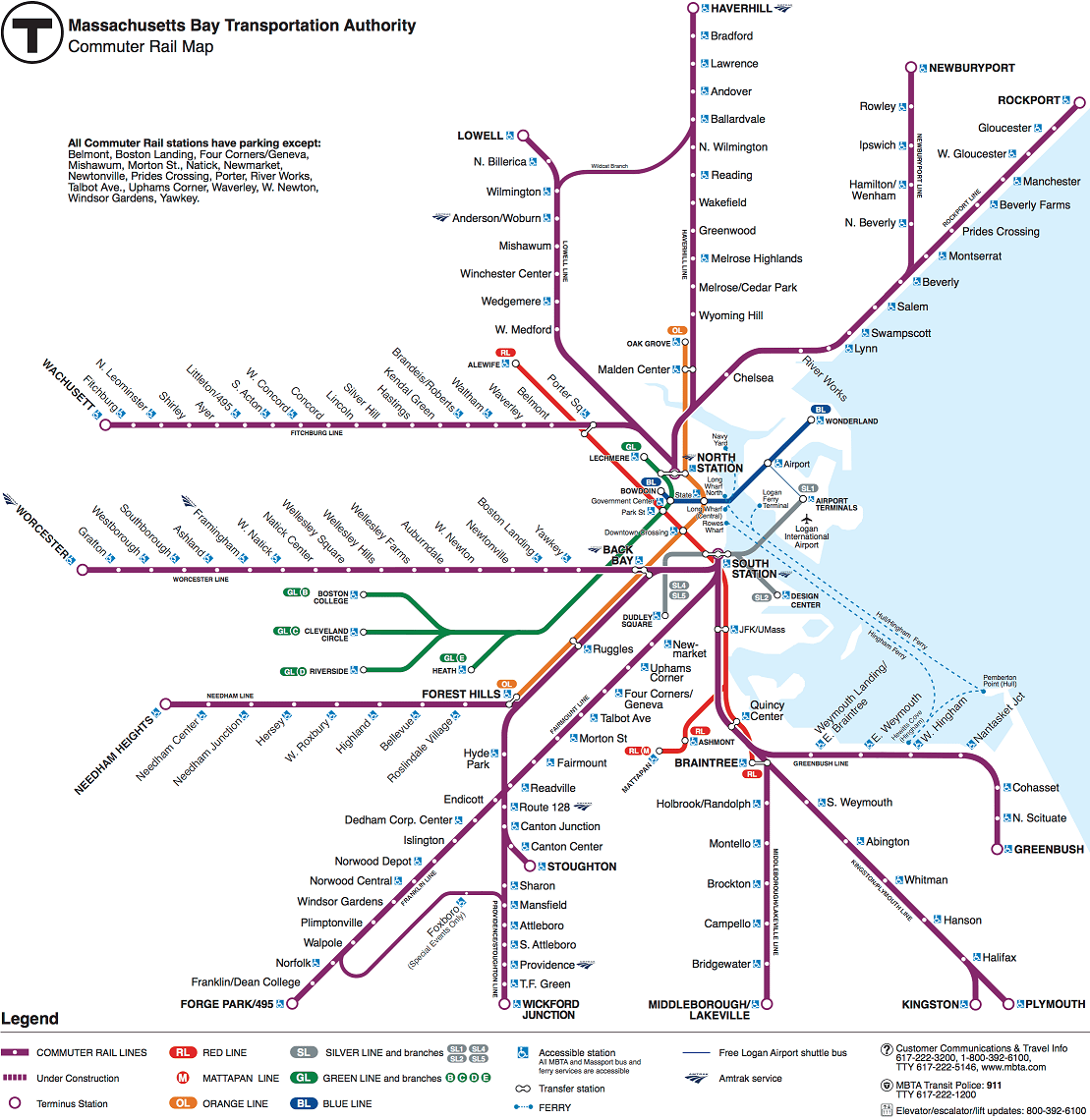 Sponsor / Borrower:
Massachusetts Bay Transportation Authority
Project Cost Details:
$516.7 million in eligible project costs.
Duration / Status:
MBTA has contracted with Ansaldo to design, build, test and obtain FRA approval and certification for the PTC system.  Substantial completion is expected in December 2020.
Project Description:
The Project is the implementation of positive train control technology and associated supporting infrastructure required to comply with the federally-mandated PTC requirements (49 CFR 236, Subpart I).  The Project will be applied to all of MBTA's commuter rail system with approximately 400 combined track miles (purple line on the map).  The Project provides significant safety benefits, by preventing trains from incursion into work zones without proper authority, keeping trains from being routed though misaligned switches, and protecting the movement of trains through failed or inoperative grade crossing systems.  It will be interoperable to accommodate tenant and host railroads sharing tracks. 
The Project is included in both state and local transportation planning documents, indicating that the Project is a high priority at the state and local levels. 
Funding Sources:
RRIF Loan: $220.0 million
TIFIA Loan: $162.0 million
Project Delivery / Contract Method:
Project Participants:
Design Builder: Ansaldo STS USA
Project Advisors / Consultants:
To USDOT Build America Bureau:
Financial Advisor - Infrastructure Management Group, Inc.
Legal Advisor - Skadden, Arps, Slate, Meagher & Flom LLP
Project Lender(s):
USDOT Build America Bureau
TIFIA Credit Assistance Detail:
Direct loan: $162.0 million. The TIFIA loan is secured by statewide sales tax revenues.
Financial Status:
TIFIA credit agreement was signed on December 8, 2017, and will mature in January 2039.
Project Contacts:
MBTA PTC Hotline
(617) 721-7506