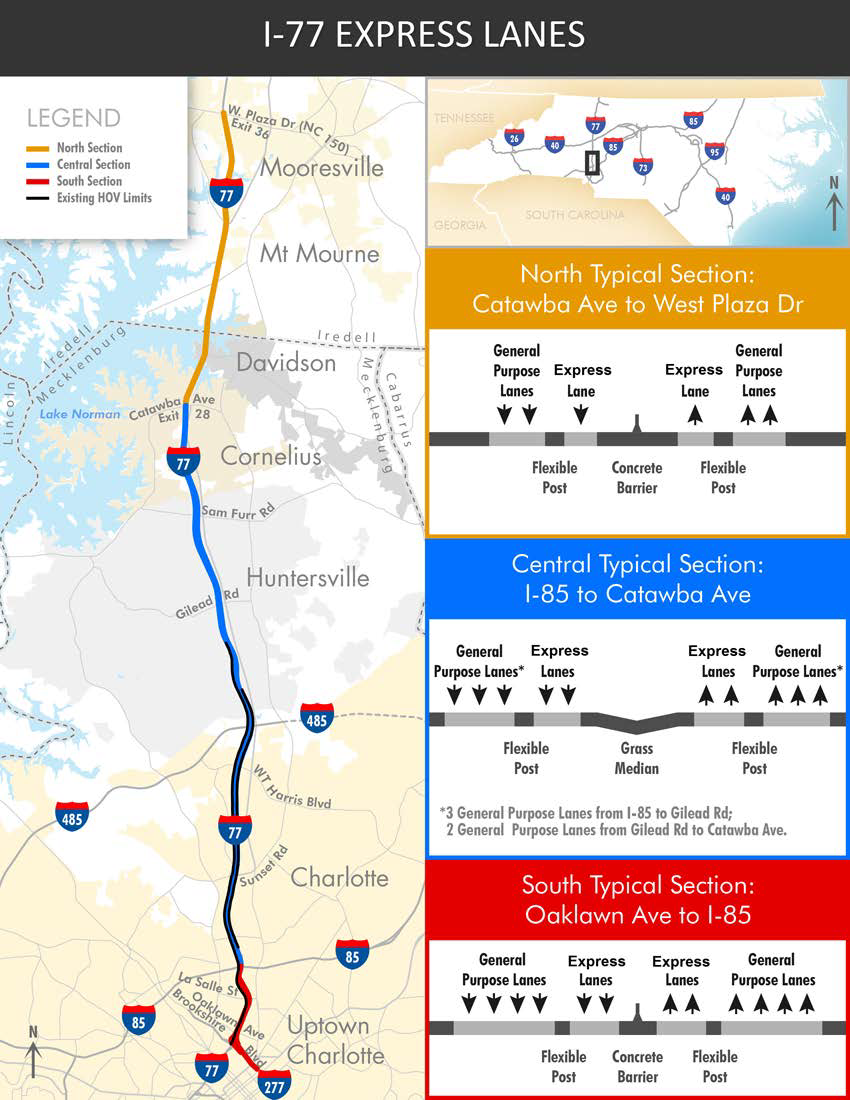 Sponsor / Borrower:
North Carolina Department of Transportation
Cintra Infraestructuras, S.A.
Duration / Status:
Commercial close was reached on June 26, 2014. Construction began in August 2015 and is expected to be substantially complete in 2018.
Project Description:
The I-77 Managed Lanes project will add 26 miles of variably priced managed lanes along I-77 and I-277 in Charlotte, North Carolina north through Mecklenburg and Iredell Counties. The project will provide two 17.1-mile HOT lanes in both directions from I-277 (Brookshire Freeway) near Charlotte Center City to Catawba Avenue in Cornelius and one HOT lane per direction for an additional 8.8 miles from to NC 150 in Mooresville. At the southern end of the corridor, direct connector ramps will extend the lanes an additional 1.3 miles along I-277.
The project will enhance mobility and travel time reliability in the I-77 corridor north of Charlotte. This region has experienced significant population growth during the past 25 years, particularly in the communities along the northern portion of the corridor in Iredell County. Population growth in this portion of the region expanded at a rate 50 percent greater than the average state rate between 2000 and 2010. As a result, the I-77 corridor currently experiences significant congestion which would worsen in the absence of the improvements.
This project leverages TIFIA financing to reduce overall project costs by approximately $50 million, and it utilizes a public-private partnership (P3) structure to reach completion faster through investments by a private firm.  The private sector partner, Cintra, will invest the $248 million to design, build, operate and maintain the express lanes project in exchange for toll revenue generated from the lanes.  The North Carolina Department of Transportation will invest $88 million toward the $636 million project.  According to the Project, the proposed I-77 High Occupancy Toll (HOT) Lanes will support the growing population of the Charlotte-Mecklenburg, North Carolina area and further facilitate growth, allowing for continued economic expansion with businesses moving to the area and promote economic development. This project will support a vital route for regional commerce and alleviate delays and excessive travel times to meet predicted growth in Mecklenburg County.
Funding Sources:
Senior PABs: $100M
Bond Premium: $3.6M
Equity: $248M
Public Funds: $94.7M
Interest Income: $0.5M
TIFIA Loan: $189M
Project Delivery / Contract Method:
DBFOM (Design-Build-Finance-Operate-Maintain)
Project Participants:
Cintra Infraestructuras, S.A.
F.A. Southeast
W.C. English
The Louis Berger Group
Project Advisors / Consultants:
To NCDOT:
Technical Advisor: Parsons Brinckerhoff
Traffic and Revenue Advisor: Stantec
Financial Advisor: KPMG
Counsel to the NCDOT: Nossaman LLP
To Borrower:
Traffic and Revenue Advisor: C&M Associates, Inc.
Counsel to Borrower: Gibson, Dunn & Crutcher LLP and Parker Poe Adams & Bernstein LLP
To USDOT TIFIA JPO:
TIFIA Legal Advisor: Shearman & Sterling LLP
TIFIA Financial Advisor: IMG Rebel
TIFIA Credit Assistance Detail:
Direct loan: $189 million
Financial Status:
TIFIA credit agreement signed in May 2015. Interest and principal payments are expected to start in 2033; final loan maturity is expected to occur in 2053.