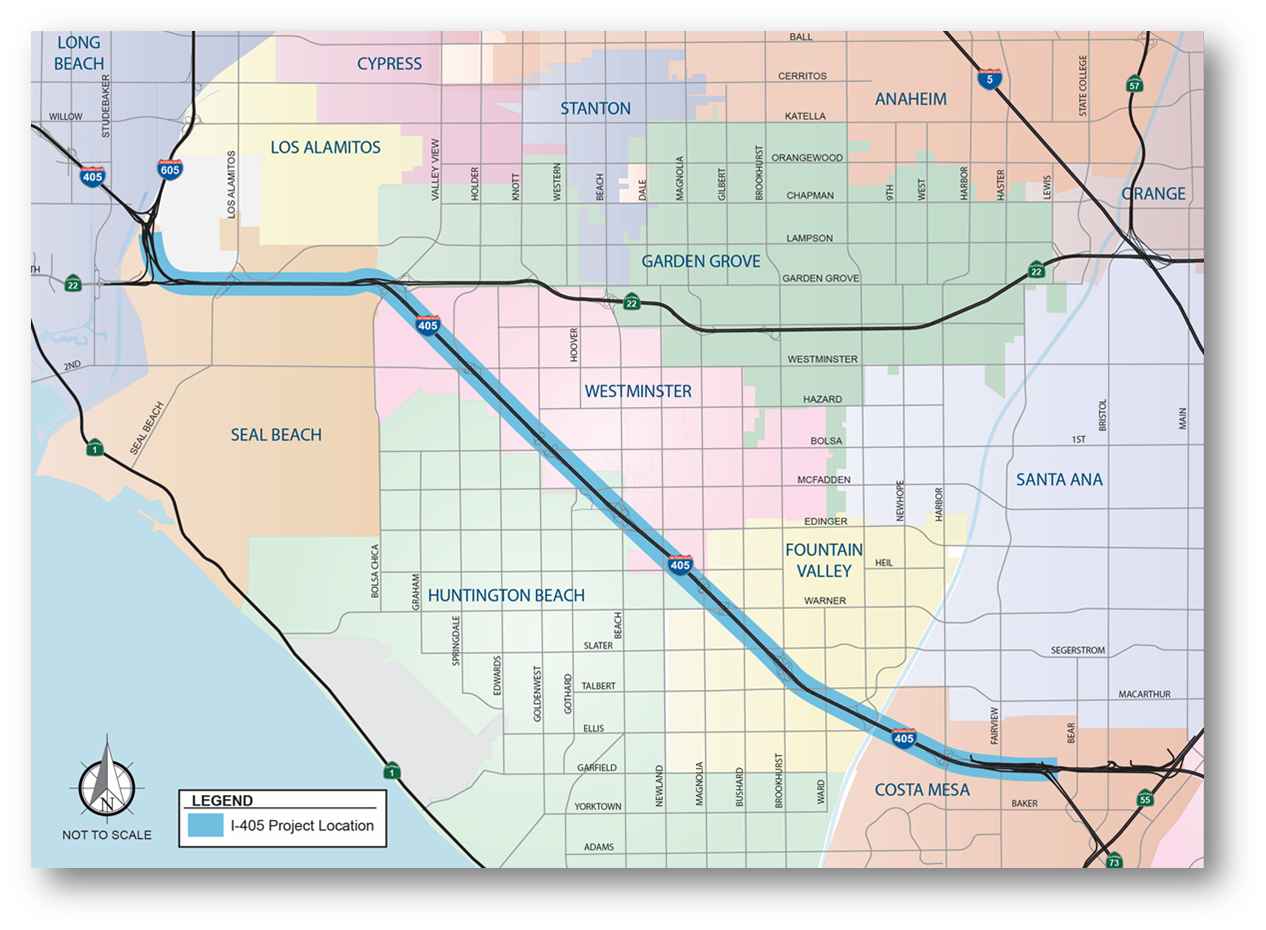 Sponsor / Borrower:
Orange County Transportation Authority (OCTA)
Project Cost Details:
$1.908 billion in eligible project costs
Duration / Status:
The design-build contract was awarded on November 14, 2016, and executed on January 31, 2017. Substantial completion is expected in December 2023.
Project Description:
The Project will add one new General Purpose lane and one new toll lane in each direction along the 16-mile corridor of I-405 between State Route 73 (SR 73) and Interstate 605 (I-605). The new tolled express lanes will combine with the existing high occupancy vehicle (HOV) lane to create two Express Lanes in each direction in the I-405 median from SR 73 to I-605. The I-405 Express Lanes will include single lanes connecting to/from the SR-73 to the I-405 at the southern end of the 405 Express Lanes and to/from the I-605 and the SR-22 at the northern end of the 405 Express Lanes.
The Project will also consist of the replacement of 18 bridges, the construction of new and widened bridges, improvements to the auxiliary lanes, relocations of utilities, construction of new sound walls, and additions to the tolling and Transportation System Management and Transportation Demand Management systems.
Funding Sources:
M2 Sales Tax Bonds: $891.07 million
TIFIA Loan: $628.93 million
M2 Sales Tax Revenues: $253.94 million
State and federal grants: $135.4 million
Project Delivery / Contract Method:
Project Participants:
Design-Builder: OHL USA, Inc./Astaldi Construction Corporation joint venture
Project Advisors / Consultants:
To OCTA:
Financial Advisor - Sperry Capital
Legal Advisor - Nossaman LLP
To USDOT Build America Bureau:
Financial Advisor - Deloitte
Traffic and Revenue Advisor - Louis Berger
Legal Advisor - Nixon Peabody
Project Lender(s):
USDOT Build America Bureau
Bondholders
TIFIA Credit Assistance Detail:
Direct loan: $628.93 million. The TIFIA loan is secured by pledged net toll revenues (gross revenue minus annual O&M expenses).
Financial Status:
TIFIA credit agreement was signed in July 2017, and will mature in December 2057, 35 years after substantial completion.
Project Contacts:
Andy Oftelie
Executive Director of Finance and Administration
714-560-5649
Kirk Avila
Treasurer/General Manager
714-560-5674