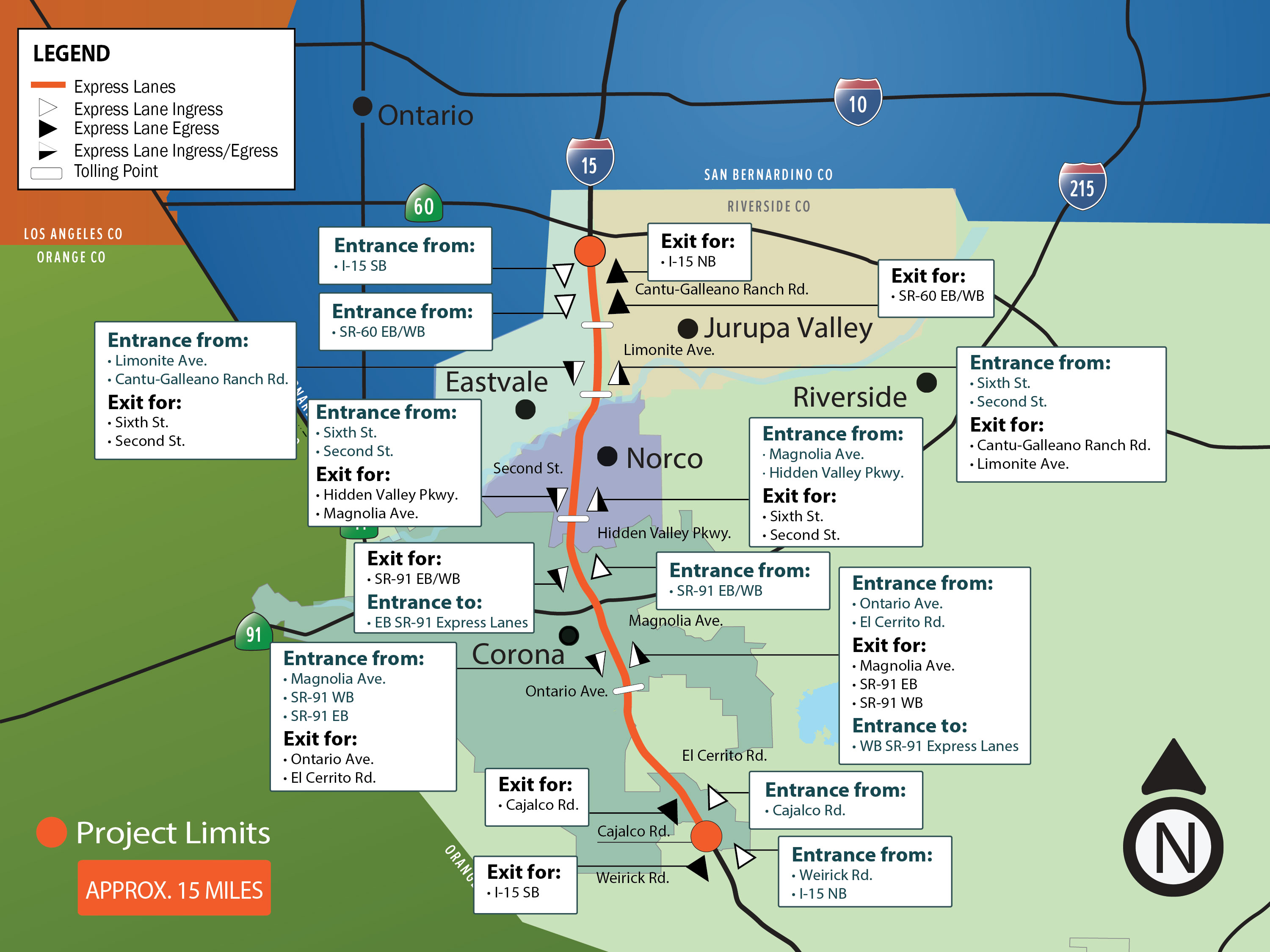 Sponsor / Borrower:
Riverside County Transportation Commission (RCTC)
Project Cost Details:
$461.3 million in eligible project costs
Duration / Status:
RCTC executed the design-build contract on April 12, 2017. Construction is expected to commence in 2017, with substantial completion estimated to occur in July 2020.
Project Description:
The I-15 Express Lanes Project will be built along a 14.6-mile corridor of Interstate 15 in Riverside County, California between the Cajalco Road interchange near the city of Corona to just south of the SR 60 interchange near the San Bernardino/Riverside county line.  I-15 is a major north-south truck/passenger route that links Southern California to Los Angeles and Orange counties as well as to Las Vegas. I-15 is part of the National Highway System that links to major east-west limited access roads and arterials, including SR-91, SR-60, I-10, and SR-74.
The Project consists of the construction of one to two managed lanes in each direction primarily along the median of I-15 and includes retaining walls, storm water runoff treatment services, 11 bridge widenings, tie-ins to the existing travel lanes, an electronic toll collection system, a customer service center and a traffic management system. The Project is designed to improve congested traffic operations and travel times as compared to the I-15 general purpose lanes and expand travel choice as well as providing direct access to the express lanes that RCTC recently opened on SR-91.
Funding Sources:
TIFIA Loan: $152.2 million
Measure A Sales Tax Bonds: $114.2 million
CMAQ Contribution: $110.0 million
Measure A Sales Tax Revenues: $93.8 million
Interest Income: $0.8 million
Project Delivery / Contract Method:
Project Participants:
Design-Builder: Skanska USA Civil West California District, Inc./Ames Construction, Inc. joint venture
Project Advisors / Consultants:
To RCTC:
RCTC Legal Advisor: Best, Best & Krieger LLP
Bond Counsel: Orrick, Herrington & Sutcliffe LLP
Financial Advisor: Fieldman, Rolapp & Associates
Traffic and Revenue: Stantec Consulting Services Inc.
Independent Engineer: Parsons Transportation Group Inc.
To USDOT Build America Bureau:
Financial Advisor: IMG Rebel
Traffic and Revenue Advisor: IMG Rebel
Legal Advisor: Skadden, Arps, Slate, Meagher & Flom LLP
Project Lender(s):
USDOT Build America Bureau
Bondholders
Financial Status:
TIFIA credit agreement was signed on July 20, 2017, and will mature no later than June 1, 2056 or 35 years after substantial completion.
Project Contacts:
John Standiford, Deputy Executive Director
(951) 787-7141