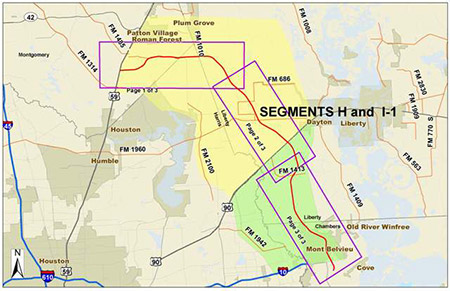 Sponsor / Borrower:
Texas Department of Transportation (TxDOT)
Grand Parkway Transportation Corporation (GPTC)
Project Description:
The Grand Parkway Segments H&I Project involves continuation of construction of a tollway in the Greater Houston area, spanning seven counties, that will partially complete a proposed 184-mile circumferential tollway known as the Grand Parkway System.  Segments H and I, with substantial completion slated for May 2022, will extend the outside loop by 43 miles.  All project segments previously under construction are complete and open to tolling, totaling approximately 64 miles.
Funding Sources:
2018A Subordinate Bonds: $712.1 million
2018A Subordinate Premium:  $98.1 million
2018 Bond Anticipation Notes (BANs): $605.33 million*
2018 BANs Premium: $63.2 million
2018B Subordinate Bonds: $166.525 million
2018B Subordinate Premium: $20.6 million
2013E Subordinate Bonds: $150 million
*TIFIA Loan Proceeds will be used takeout the BANs after construction
Project Delivery / Contract Method:
Design-Build with Grand Parkway Infrastructure a joint venture between Ferrovial Agroman US Corp, Webber LLC, and Granite Construction
Project Advisors / Consultants:
To GPTC:
Estrada Hinojosa & Co., Inc. - Financial Advisor
T&R Advisor: CDM-Smith
Goldman Sachs, Underwriter for the Revenue Bonds
Mayer Brown- Counsel to the Borrower
To USDOT Build America Bureau:
TIFIA Financial Advisor – Deloitte
TIFIA T&R Advisor - PFAL/C&M Associates
TIFIA Legal Advisor – Bryant, Miller, Olive, PA
Project Lender(s):
USDOT Build America Bureau
Bondholders
TIFIA Credit Assistance Detail:
Direct loan: Up to $605.33 million.  The TIFIA loan will be repaid with toll revenues from the Grand Parkway System.