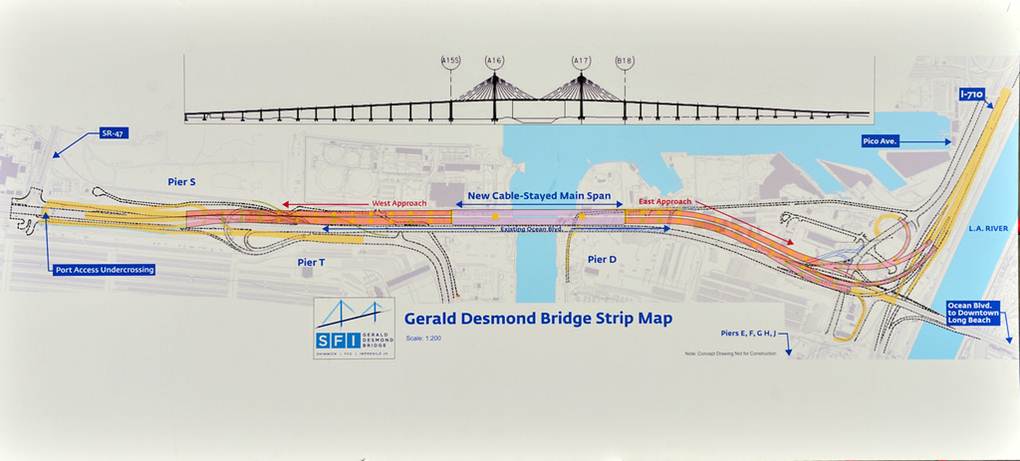 Duration / Status:
Construction is expected to reach substantial completion in late 2018.
Project Description:
The Gerald Desmond Bridge is a major access point to the Port of Long Beach from downtown Long Beach, California and surrounding communities, carrying I-710 over the Port's Inner Harbor to Terminal Island. The replacement bridge will be a six-lane, cable-stayed design, with a 205-foot clearance to allow the newest generation of cargo ships to enter the Port. The bridge will include emergency lanes on the inner and outer shoulders, as well as a bicycle/pedestrian path. The new bridge is being built alongside the current bridge to maintain traffic flow. The replacement bridge is scheduled to open in late 2018.
Construction of the new bridge will provide an economic boost to Long Beach and the region. The more than $1 billion in spending is estimated to generate economic activity of more than $2 billion in Southern California, and the project is anticipated to support 3,000 jobs per year for five years.
Funding Sources:
TIFIA Loan: $325M
LA Metro: $17.3M
Port of Long Beach: $117M
State/Caltrans Funds: $153.7M
Federal Funds: $675M
Project Delivery / Contract Method:
Project Participants:
Design-builder: SFI (Shimmick Construction Company, Inc., FCC Construction SA, Impreglio S.p.A. joint venture)
Arup North America Ltd. - lead design
Biggs Cordosa Associates Inc. - lead design
Project Advisors / Consultants:
To the borrower:
Public Resources Advisory Group - Financial Advisor
Kutak Rock - Counsel to the Borrower
Additional Advisors
To USDOT TIFIA JPO:
TIFIA Legal Advisor: Shearman & Sterling
TIFIA Financial Advisor: IMG Rebel
TIFIA Credit Assistance Detail:
Direct loan: $325 million. The TIFIA loan will be repaid with port revenues.
Financial Status:
TIFIA credit agreement was executed with the Harbor Department of the City of Long Beach, California in May 2014. Interest and principal payments are set to begin in 2018; final loan maturity is expected to occur in 2051.
Innovations:
Port of Long Beach and Caltrans jointly procured the project.
Project Contacts:
Judy Gish
Caltrans District 7 Office
(213) 897-3487
John Pope
Port of Long Beach Communications
(562) 283-7714
john.pope@polb.com