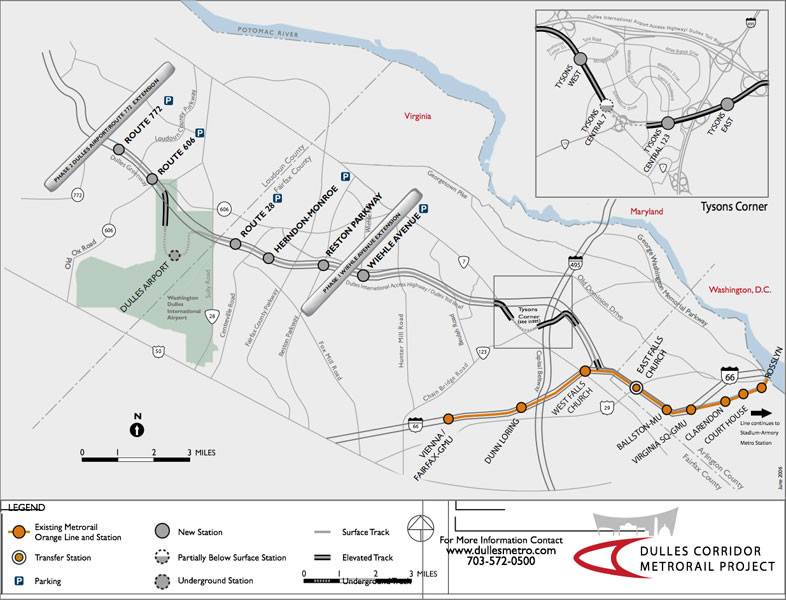 Sponsor / Borrower:
Metropolitan Washington Airports Authority (MWAA)
Fairfax County, Virginia (Fairfax)
Loudoun County, Virginia (Loudoun)
Primary Revenue Pledge:
State or Local Appropriations
Toll Revenues
Duration / Status:
Phase 1: Design-builder signed a contract in March 2008. Construction began in March 2009 and the project opened in July 2014.
Phase 2: The design-builder was named in April 2013, and construction began in 2014. Substantial completion is expected to be in 2019.
Project Description:
The Dulles Corridor Metrorail Project is a new 23-mile extension of the current Metrorail system, branching from the Orange Line's East Falls Church Station in Arlington, Virginia to the Washington Dulles International Airport and west to eastern Loudoun County. The project will add 11 stations, and it includes the construction of a new rail yard on Dulles Airport property and procurement of 128 railcars. Upon completion of the project, operation will be transferred to the Washington Metropolitan Area Transit Authority (WMATA).
Phase 1 of the project runs 12 miles from East Falls Church to Wiehle Avenue in Reston, Virginia. This phase includes five stations to the Silver Line, including four in Tysons Corner, Virginia. Phase 2 will continue 11 miles from Wiehle Avenue to eastern Loudoun County, Virginia. This phase will add six stations, including stops in Reston, Herndon, Dulles Airport, and Ashburn.
TIFIA will finance direct loans to leverage the financial commitments made by Fairfax County, Loudoun County, and MWAA expediting the construction period, saving $2.3 billion in financing costs, and decreasing the extent of planned future toll rate rises.  The extension will improve transportation to the area's largest employment centers in Virginia (Tysons Corner, Reston/Herndon region), as well as provide a one-seat ride from the Airport to downtown Washington, DC. According to the Project Sponsors, the project is forecasted to achieve transportation and mobility benefits including the elimination of approximately 402 million vehicle miles travelled per year, over 300 tons of harmful auto emissions, and travel time savings of approximately 53 minutes per trip. The project is also expected to facilitate substantial transit-oriented development and job growth that will contribute approximately $1.2 billion in total economic impact and help to transform Tysons into a walkable, sustainable, urban center that Fairfax County estimates will be home to up to 100,000 residents and 200,000 jobs by 2050.
Funding Sources:
TIFIA Loan (MWAA): $1.278B
TIFIA Loan (Fairfax): $403.3M
TIFIA Loan (Loudoun): $195M
FTA New Starts Grant & Other Federal Grants: $975M
Commonwealth Funds: $500M
Senior DTR Bonds: $1.428B
Dulles Toll Road Revenues: $82M
MWAA Aviation Funds: $233M
Fairfax County: $511.8M
Loudoun County: $77.8M
Project Delivery / Contract Method:
Design-Build (Phases 1 and 2)
Project Participants:
Phase 1: Dulles Transit Partners (Joint venture of Bechtel and URS)
Phase 2: Capital Rail Constructors (Joint venture of Clark Construction Group and Kiewit Infrastructure South)
Project Advisors / Consultants:
Additional Advisors
To USDOT TIFIA JPO:
TIFIA Legal Advisor: Skadden, Arps, Slate, Meagher & Flom
TIFIA Financial Advisor: Scully Capital
TIFIA Credit Assistance Detail:
Total direct loans: $1,875.7 million.
Financial Status:
The TIFIA credit agreement for MWAA, Fairfax and Loudoun was executed in 2014. Interest repayment is expected to begin in 2019 for MWAA and Loudoun and in 2023 for Fairfax. Principal repayment is expected to begin in 2022 for Loudoun and in 2023 for MWAA and Fairfax. Final loan maturity is expected to occur in 2043 for MWAA and in 2046 for both Loudoun and Fairfax.
Innovations:
Local partners are leveraging special assessment districts and revenues through a TIFIA loan to accelerate the project construction timeline.
The Project will be a catalyst for transit-oriented development in Tysons Corner, one of the largest employment centers in Northern Virginia.
Project Contacts:
Dulles Corridor Metrorail Project Office
Metropolitan Washington Airports Authority
(703) 572-0500