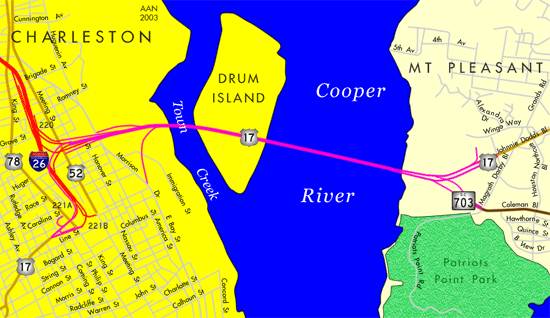 Sponsor / Borrower:
South Carolina Transportation Infrastructure Bank (SCTIB)
South Carolina Department of Transportation (SCDOT)
Primary Revenue Pledge:
Infrastructure Bank Loan Repayments
Duration / Status:
The project opened to traffic on July 16, 2005.
Project Description:
The Cooper River Bridge Replacement project connected the cities of Charleston and Mount Pleasant. The Arthur Ravenel Jr. Bridge replaced two functionally obsolete bridges, the Grace Memorial and Pearman Bridge, along U.S. 17 over the Cooper River. The new bridge increased roadway capacity, improved safety, reduced the frequency and cost of major bridge maintenance, and increased the vertical and horizontal navigational clearances to accommodate the current needs of seafaring vessels on the river, including permitting modern cargo vessel passage to the Port of Charleston, the second largest container cargo port on the East Coast.
Funding Sources:
SCTIB Grant backed by motor fuel tax, truck registration fees, local taxes, tolls: $325M
SCTIB Loan backed by TIFIA Loan: $215M
Federal and State Funding: $135.2M
Project Delivery / Contract Method:
Project Advisors / Consultants:
Design-Build:
Palmetto Bridge Constructors - Joint venture of Tidewater Skanska, Inc. and Flatiron Constructors Inc.
Parsons Brinckerhoff
T.Y. Lin International/HDR (a joint venture)
To USDOT TIFIA JPO:
TIFIA Legal Advisor: Nixon Peabody, LLP
TIFIA Financial Advisor: Montague DeRose and Associates, LLC
TIFIA Credit Assistance Detail:
Direct loan: $215 million. The loan was secured by two primary sources: (i) payments from SCDOT ($8 million per year for 25 years), and (ii) certain revenues from hospitality fees levied by Horry County as well as an intercept of State funds collected by the County, if needed.
Financial Status:
The TIFIA credit agreement was signed in July 2001. The refinancing was completed on July 6, 2004. The USDOT and SCTIB terminated the loan agreement, so SCTIB could issue new tax-exempt bonds backed by the revenues pledged to the TIFIA loan. The new bonds carry a lower interest rate than the TIFIA loan, the proceeds of which SCTIB had yet to draw. This retirement of the TIFIA loan marked a successful milestone, as the Federal credit commitment in 2001 enabled project construction to get underway, to be replaced entirely by private investment after only three years.
Innovations:
Largest contract in SCDOT history
Part of SCDOT's innovative 27 in 7 Program