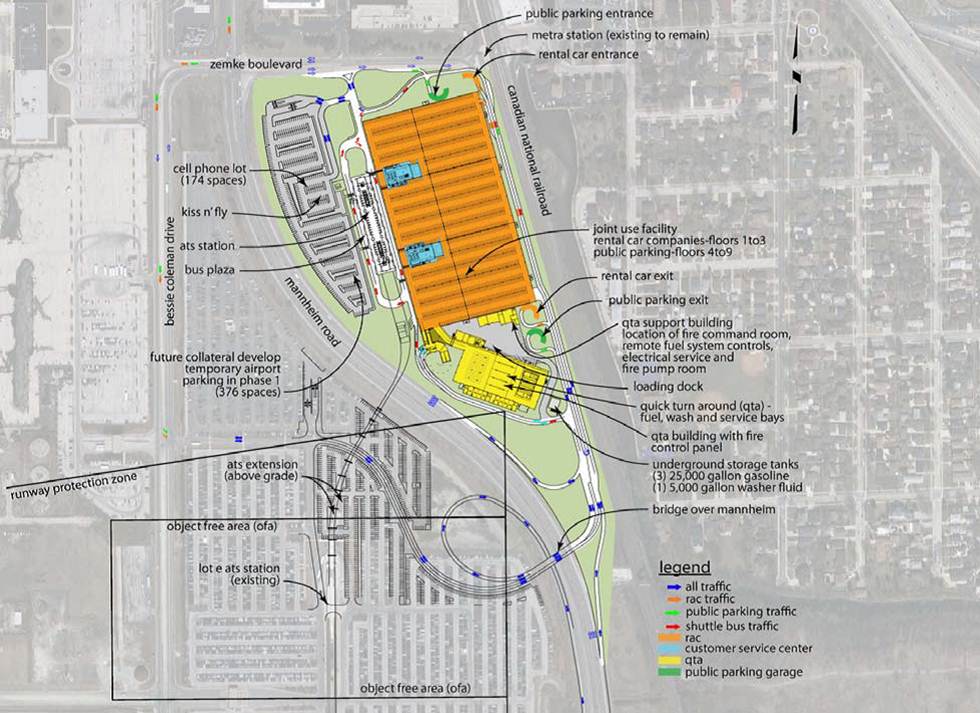 Project Type:
Other Surface Transportation
Sponsor / Borrower:
City of Chicago
Chicago Department of Aviation (CDA)
Primary Revenue Pledge:
Facility Rents
User Charges
Duration / Status:
The construction management at risk contract was awarded in June 2013.  Final construction was contract awarded in 2014. Expected project completion is 2017.
Project Description:
The project is a component of the O'Hare Modernization Program and includes the relocation and consolidation of rental care operations and public parking into a multi-use facility at O'Hare International Airport. As part of the overall project, the existing Airport Transit System (ATS), a 24-hour rail system that serves terminals and parking structures, will be extended to serve the new facility and a new ATS station connected to the Consolidated Rental Car Facility (CRCF). A new bus plaza accommodating bus services, off-airport hotel, and other commercial shuttles also will be connected with the CRCF. Excess surrounding land will be used for new commercial development.
The new facility will be located on the site of a current surface parking lot located at Mannheim and Zemke Streets in the northeastern quadrant of O'Hare International Airport. The CRCF will provide approximately 4,100 rental car parking spaces on levels one through three of the structure. A customer lobby will be located on level four, adjacent to the ATS station. The project will also replace approximately 3,000 uncovered parking spaces with 2,000 covered spaces dispersed over two levels of the facility with design options to allow for further expansion of the public parking. These new parking spaces will have direct access to the ATS and existing Metra Rail stop. The connection to Metra Rail will allow those riders to access terminals via the ATS as well as the Blue Line to downtown Chicago.
The CRCF is expected to reduce congestion by limiting the need for rental car company shuttle buses, consolidating surface parking spaces, and providing direct access to the ATS. The project will act as an employment center, including approximately 3,000 design and construction jobs. The project has the potential to create additional jobs associated with hotel, office, and commercial use development opportunities on 4.5 frontage acres. The project also estimates that approximately 1.3 million vehicle trips will be eliminated per year, which over a 20-year period, will result in: 1) reduction of greenhouse gas carbon emissions by 50,000 to 100,000 tons of CO2 and 2) greenhouse gas emissions savings equivalent to planting a 20,000 acre pine forest. The project also features sustainable design features such as a solar farm; integrated Photovoltaics and low energy light fixtures.
Funding Sources:
General Airport Revenue Bonds: $95.6M
Customer Facility Charge (CFC) Senior Lien Revenue Bonds: $250.5M
Airport Development Funds: $62.4M
CFC Pay-go: $141.7M
Passenger Facility Charge Revenues: $37.7M
TIFIA Loan: $288.1M
Project Delivery / Contract Method:
Construction Manager (CM) at Risk
Project Advisors / Consultants:
To the Borrower
Senior Managers (Bond issuance):

Bank of America Merrill Lynch
Estrada Hinojosa & C
Raymond James

Advisors: Frasca & Associates and DNG Consulting LLC
Airport Consultant: Ricondo & Associates
To USDOT TIFIA JPO:
TIFIA Legal Advisor: Skadden, Arps, Slate, Meagher & Flom LLP
TIFIA Financial Advisor: FirstSouthwest
TIFIA Credit Assistance Detail:
Direct loan: $288.1 million.
Financial Status:
The TIFIA credit agreement was executed in August 2013. Interest payments are expected to begin in 2017 and principal payments are expected to begin in 2023; final maturity of the TIFIA loan is expected to occur in 2052.
Innovations:
Innovative combination of a $288.1 million TIFIA loan with previously issued and authorized general airport bonds, leveraging an $8 rental car fee implemented in 2010.
Project Contacts:
Michael Boland 
First Deputy Commissioner 
Department of Aviation 
Chicago O'Hare International Airport 
P.O. Box 66848 
10510 Zemke Road 
Chicago, IL 60666 
E-mail: michael.boland@cityofchicago.org 
Telephone: (773) 686-7091