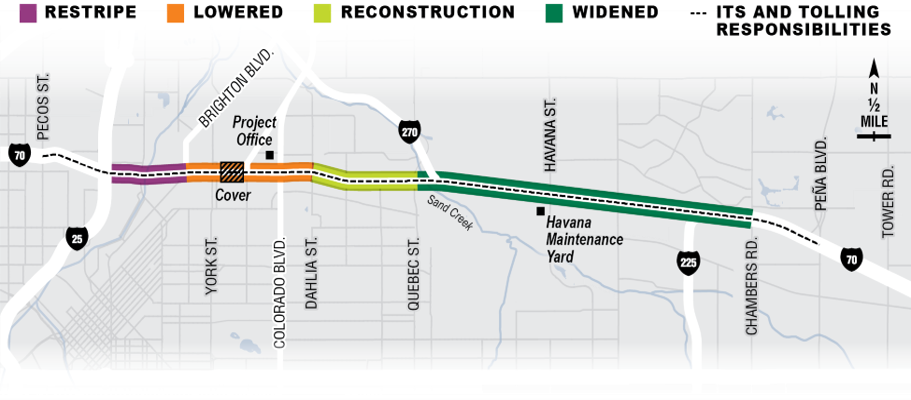 Sponsor / Borrower:
Colorado Department of Transportation / Kiewit Meridiam Partners LLC
Project Cost Details:
$1.271 billion in eligible project costs
Duration / Status:
Substantial completion expected in March 2022.
Project Description:
The Project involves redesigning a 10-mile portion of I-70 East highway in Denver, Colorado which stretches from I-25 on the west to Tower Road on the east. The Project scope includes addition of one Express Toll Lane in each direction, the removal of the aging 53-year-old viaduct between Brighton and Colorado boulevards, the lowering of this section of the interstate below grade, and the placement of a 4-acre park over a portion of the lowered interstate.  The Project, more than 14 years in the making, will be Colorado's largest-ever transportation project.  The Project is designed to reduce travel time through the corridor by one-third to one-half by 2035, accommodate the needs for growing population, improve safety standards by redesigning shoulders and interchanges that will reduce crashes and to unite the Swansea and Elyria neighborhoods which are currently split on the two sides of the corridor.
The Project will be delivered under a Design-Build-Finance-Operate-Maintain (DBFOM) procurement method and will be governed by a concession or Project Agreement between the High Performance Transportation Enterprise (HPTE) and Colorado Bridge Enterprise (CBE) (collectively the Enterprises), within the Colorado Department of Transportation (CDOT), and Kiewit Meridiam Partners LLC (KMP), a special purpose company incorporated by Kiewit Development Company, a major infrastructure developer and investor, and Meridiam, a global equity investment firm. KMP was selected as a preferred bidder in August 2017 from among four consortia bidding on the Project following a procurement process managed by CDOT.
KMP will be compensated though availability payments made by CBE and HPTE. CBE will fund its contribution to the Project through bridge safety surcharges on vehicle registration and HPTE will fund its obligation through tolls on the Express Toll Lane to be constructed as part of the Project.
Funding Sources:
TIFIA loan: $416 million
Milestone payments by CDOT and CBE: $319 million
Private activity bonds proceeds: $114.7 million
PABs premium: $6.3 million
Equity funding: $66 million
Project Delivery / Contract Method:
Project Participants:
Public Sponsor: Colorado Department of Transportation, High Performance Transportation Enterprise, Colorado Bridge Enterprise
Equity Sponsors: Meridiam Infrastructure North America LLC, Kiewit Development Co.
Design-Builder: Kiewit Infrastructure Co.
Operator: Roy Jorgensen Associates Inc.
Project Advisors / Consultants:
To USDOT Build America Bureau:
TIFIA Financial Advisor: Greengate Inc.
TIFIA Legal Advisor: Shearman and Sterling, LLP
TIFIA Credit Assistance Detail:
Direct loan: Up to $416 million. The TIFIA loan is secured by availability payments paid by the Enterprises to KMP.
Financial Status:
TIFIA Credit Agreement signed on December 19, 2017. Final loan maturity is expected in December 2049.
Project Contacts:
Mr. John Dionisio (Meridiam)
Official Representative
Kiewit Meridiam Partners LLC