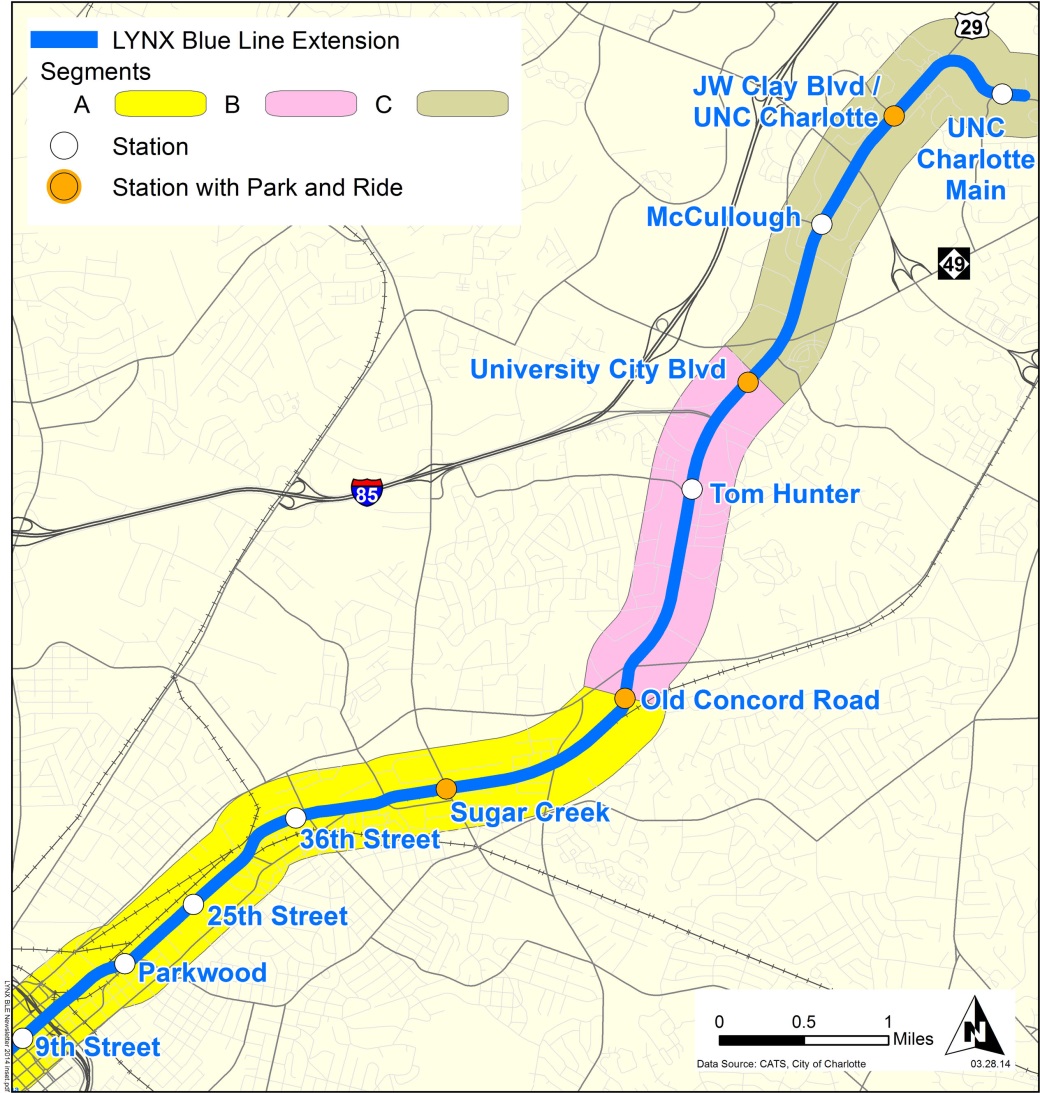 Sponsor / Borrower:
Charlotte Area Transit System (CATS)
Primary Revenue Pledge:
State or Local Appropriations
Duration / Status:
Construction began in January 2014 with expected substantial completion in 2017.
Project Description:
The CATS LYNX Blue Line Extension (BLE) will extend light rail transit service from the 9.6-mile LYNX Blue Line that opened in the South Corridor of Charlotte, North Carolina, in 2007. The BLE will be 9.3 miles in length with 11 new transit stations. Approximately 3,100 parking spaces will be provided at the four stations with parking facilities, including 3 parking garages.
The alignment will run within the existing Norfolk Southern and North Carolina Railroad (NCRR) rights-of-way from Center City Charlotte to the middle of the route where it will transition to the median of North Tryon Street/US-29. The line will remain in the median until approximately 1,000 feet north of the existing entrance to the University of North Carolina (UNC) Charlotte's Charlotte Research Institute, where it will enter the campus. The BLE will terminate at the UNC Charlotte Station. Twenty at-grade crossings and 11 grade separation structures, which cross over or under roads, railroads, and environmental features, are included in the project.
The Northeast Corridor begins in Center City Charlotte, the City's central business district and the region's largest employment concentration. The Center City has approximately 21 million square feet of office space, more than 2.1 million square feet of retail space, and numerous entertainment destinations. Approximately 73,000 employees work in the Center City, while only 14,000 residents live in the district. The $1.16 billion CATS LYNX BLE project will provide a transportation alternative to a highly congested commuter travel corridor, while supporting the region's plan for sustainable growth and development. The BLE will provide a high-capacity, fixed guideway transit service in the corridor. This new service will offer a convenient, time-competitive travel alternative and reduce dependence on single-occupant automobiles.
Funding Sources:
Full Funding Grant Agreement (FFGA): $580M
State of North Carolina: $299.1M
City of Charlotte, North East Corridor Infrastructure (NECI) Funds: $17.5M
Local In-Kind Right of Way (ROW) Contributions: $13.4M
Pay-Go CATS: $70.1M
TIFIA Loan: $180M
Project Delivery / Contract Method:
Project Advisors / Consultants:
Technical Advisor: DEC Associates
Financial Advisor: Ernst & Young
Counsel: Parker Poe
To USDOT TIFIA JPO:
TIFIA Legal Advisor: Nixon Peabody
TIFIA Financial Advisor: Deloitte
TIFIA Credit Assistance Detail:
Direct loan: $180 million
Financial Status:
The TIFIA Credit Agreement was executed in September 2015. Interest payments began in 2015, and principal payments will begin in 2019; final loan maturity is expected to occur in 2048.
Project Contacts:
Dee Pereira
Chief Financial Office
Assistant Director of Public Transit
Charlotte Area Transit System
600 East 4th Street
Charlotte, NC  28202
dpereira@charlottenc.gov