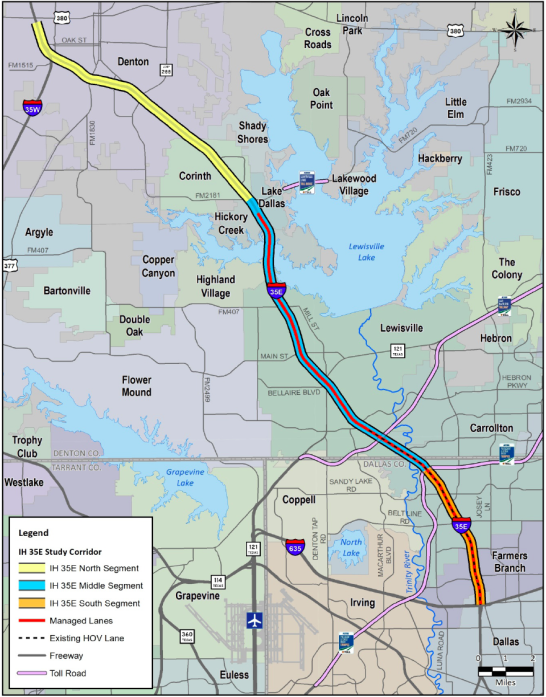 Sponsor / Borrower:
Texas Transportation Commission ("Commission")
Duration / Status:
Substantial completion is expected in 2017.
Project Description:
The Project is the initial phase in a multi-phase project to reconstruct and expand a 28-mile section of IH35E between IH635 to US380. This initial phase, which is funded with the TIFIA Loan, includes (i) the construction of two reversible lanes with associated exit/entrance ramps between Valley View Lanes and Turbeville Road; (ii) the construction of managed lanes from south of IH35E – IH635 interchange to Valley View Lane; (iii) reconfiguration and rehabilitation of general purpose lanes from IH635 to Corinth Parkway; (iv) the construction of direct connectors to Sam Rayburn Tollway; (v) the reconfiguration and/or widening of general purpose lanes and the construction of an additional general purpose lane in each direction from Sam Rayburn Tollway to US380; (vi) the construction, reconstruction, widening or rehabilitation of various frontage roads, interchanges, and bridges; (vii) the construction of a collector-distributor system between President George Bush Turnpike and Sam Rayburn Tollway; (viii) the construction of a new bridge and re-purposing of the existing bridge over Lake Lewisville; and (ix) associated mitigation projects.
Funding Sources:
Federal, State, and Local funds: $1.018 billion
TIFIA Loan: $285.0 million
Project Delivery / Contract Method:
Project Advisors / Consultants:
To TxDOT:
Financial Advisor – KPMG

Legal Advisors – McCall, Parkhurst & Horton L.L.P. and Nossaman L.L.P.
To USDOT TIFIA JPO:
TIFIA Financial Advisor – Taylor DeJongh, Inc.
TIFIA Legal Advisor – Nixon Peabody L.L.P.
TIFIA Credit Assistance Detail:
Direct loan: $285 million. The TIFIA loan will be repaid through a pledge of the project's gross toll revenues.
Financial Status:
The TIFIA credit agreement was signed on November 3, 2016. Principal repayment of the TIFIA loan will begin with substantial completion of delivery and will amortize through a 30-year maturity with the final maturity anticipated in 2052.