Updated: Friday, October 21, 2016
U.S.-China Strategic and Economic Dialogue (S&ED)
The eighth session of the U.S.-China Strategic and Economic Dialogue (S&ED) was held in Beijing, China, June 5-7, 2016.  The Dialogue focused on the challenges and opportunities that both countries face on a wide range of bilateral, regional, and global areas of immediate and long-term economic and strategic interest.
Fact Sheets
Media Notes
Building on Paris Agreement and Strengthening Climate Change Cooperation
The Joint Session offered a chance to review climate progress and achievements over the past year. Chief among them was the historic Paris Agreement, which would not have been possible without the leadership of the United States and China. Both countries reaffirmed their plans to join the Agreement as early as possible this year, and agreed to work together to urge others to do so.
 
EcoPartnerships Program
Six new EcoPartnerships were announced that bring together experts and innovators from U.S. and Chinese cities, companies, universities, and NGOs to work together, exchange best practices, and find solutions to challenges related to environmental protection, clean energy, and climate change. 
 
Strategic Track Outcomes
Of the 120 outcomes, over 50 were related to climate change, energy issues, and the environment as the U.S. and China continue to expand their climate change cooperation.
Remarks
U.S.-China Climate Change Working Group (CCWG)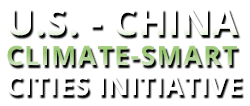 U.S.-China Climate Change Working Group (CCWG)
The CCWG was established pursuant to the Joint Statement on Climate Change issued on April 13, 2013 during Secretary Kerry's first trip to China and is intended to spur large-scale, cooperative efforts to address the climate challenge, including deepening and expanding work already underway.
Media Notes
Ten-Year Framework for Energy and Environment Cooperation Meetings
CCWG participants to assess progress and discuss next steps on: reducing emissions from heavy-duty and other vehicles; increasing carbon capture, utilization, and storage (CCUS); increasing energy efficiency in buildings, industry, and transport; improving greenhouse gas data collection and management; and promoting smart grids. 
Reports
​Annual Report: U.S.-China Climate Change Working Group (CCWG)
An overview of the ongoing work and concrete next steps of the multiple cooperative elements of the CCWG.  The report was presented to the four Special Representatives of the S&ED (Secretary Kerry, Secretary Lew, Vice Premier Wang, and State Councilor Yang) and approved at the Joint Session on Climate Change held immediately following the S&ED opening ceremony.