Project Image: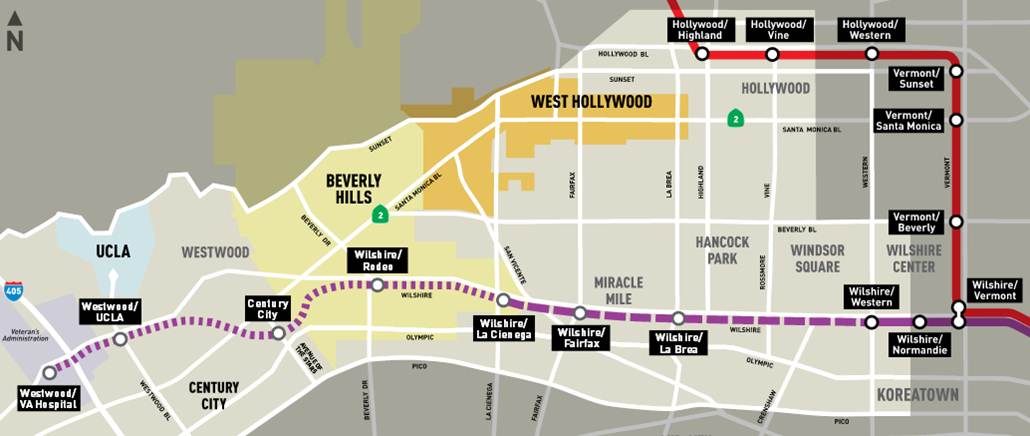 Secondary Project Image: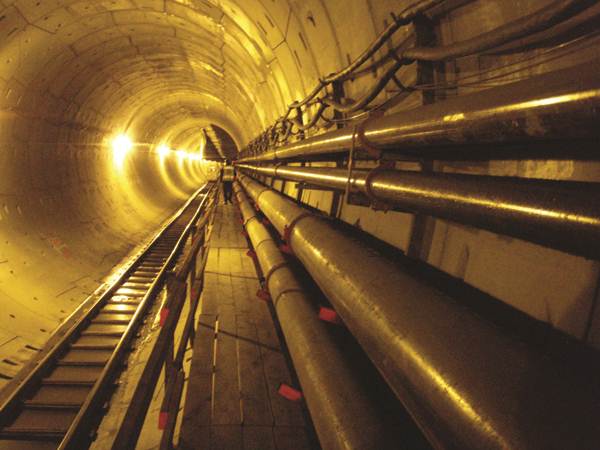 Sponsor / Borrower:
Los Angeles County Metropolitan Transportation Authority (LACMTA or Metro)
Project Cost Details:
$2.648 billion (Section I)
Duration / Status:
Construction of Section 1 began in January 2015. Building demolition was completed in July 2015. Pre-demolition work on the South Wilshire/La Brea construction staging site has begun. Substantial completion is expected to be achieved in 2023.
The Westside Purple Line Extension (formerly known as the Westside Subway Extension) is the extension of the Purple Line from its current terminus at Wilshire/Western, nine miles to Los Angeles' "second downtown" through the neighborhoods of Beverly Hills, Century City, and Westwood. The new line will ultimately add seven stations upon the completion of all three phases of the project. Section I of the project also includes the procurement of 34 new heavy rail vehicles compatible with the existing system and improvements to existing Division 20 Rail Maintenance and Storage Yard to accommodate additional vehicles. The extension is currently slated to be built in three sections by the design-build delivery method: Section 1 is a 3.9-mile long segment along the Miracle Mile to Wilshire and La Cienega Boulevards (including three stations), Section 2 is 2.6 miles from La Cienega to Century City, and Section 3 is a 2.9-mile section through Westwood to the Department of Veterans Affairs (VA) Hospital. The extension will consist of twin tunnels approximately 20 feet wide, located 50-70 feet underground.
LACMTA commissioned an economic impact study from the Los Angeles Economic Development Corporation (LAEDC) for the 12 projects connected to the Measure R local retail sales tax.  Per LAEDC estimates, the projects will produce an economic impact of approximately $3.5 billion in direct, indirect, and induced business revenues.  The Westside Purple Line Extension, Section 1 is expected to create 22,500 jobs in the construction phase alone. Once completed, the project is expected to pull over 30,000 drivers off of the road, saving approximately 65 million vehicle miles travelled per year. TIFIA loans provide significant benefits to LACMTA.  TIFIA interest rates are lower, which will result in financing cost savings of approximately $100 million, and TIFIA-secured loans have allowed LACMTA to maximize debt capacity.  The $856 million TIFIA loan for Westside Subway and other LACMTA projects have helped accelerate infrastructure investment in the region and deliver significant economic advantages.
Funding Sources:
Federal Sources

TIFIA Loan: $856M
FTA New Starts Grant: $1.25B
CMAQ: $12M

State Sources: 
Regional Improvement Program: $3M
Local Sources:

Measure R: $366M
City of Los Angeles: $77M
LA Metro Lease Revenues: $45M
Other LA Metro Funds: $39M
Project Delivery / Contract Method:
Project Advisors / Consultants:
The PFM Group - Financial Advisor
Fulbright & Jaworski - Counsel to the Borrower
Additional Advisors
To USDOT TIFIA JPO:
TIFIA Legal Advisor: Squire Sanders
TIFIA Financial Advisor: Infrastructure Management Group
TIFIA Credit Assistance Detail:
Direct loan: $856 million.  The TIFIA loan will be repaid with Measure R local retail sales tax.
Financial Status:
The TIFIA credit agreement was executed in May 2014. Interest payments are expected to start in 2019 and principal payments in 2020; final loan maturity is expected to occur in 2037.
Innovations:
Approximately 32 percent of the Project budget is funded from voter-approved sales tax measures devoted to transit projects, which will be used to repay the TIFIA loan.
Locality Area:
POINT (-118.37305075737 34.064927913566)