Project Image: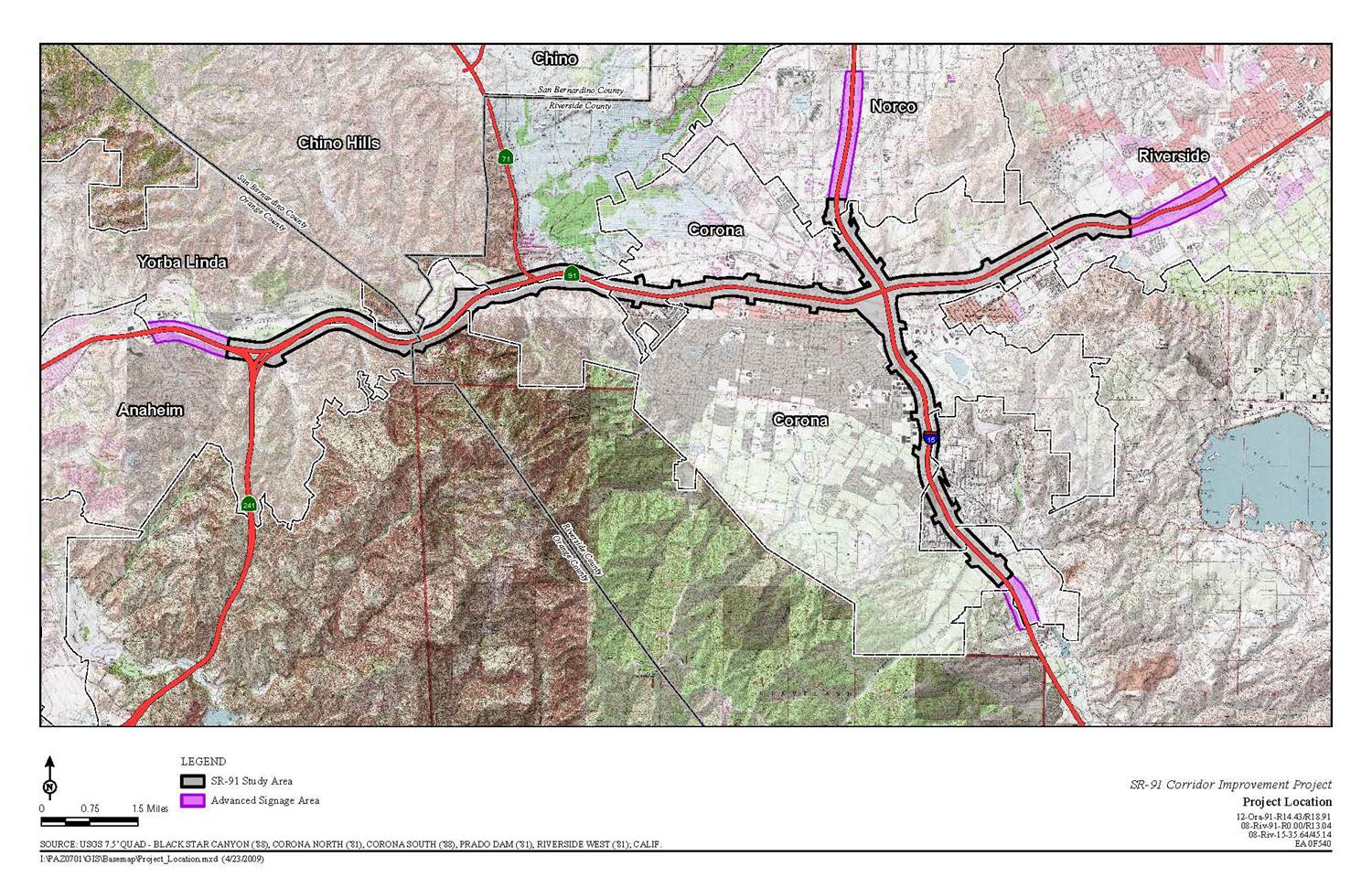 Secondary Project Image: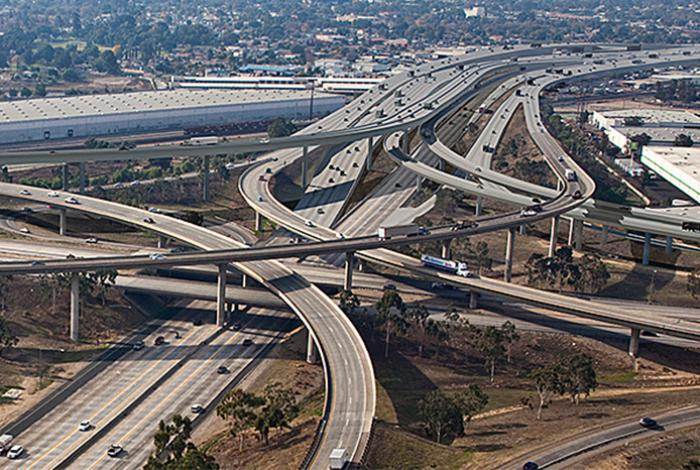 Sponsor / Borrower:
Riverside County Transportation Commission (RCTC)
Project Cost Details:
$1.312 billion (TIFIA eligible costs are $1.279 billion)
Duration / Status:
The Federal Highway Administration (FHWA) issued a Record of Decision (ROD) in November 2012. RCTC executed the design-build contract on May 8, 2013. Construction commenced in October 2013, and the new lanes are expected to open in 2017.
SR 91 is a heavily traveled east-west corridor through Riverside and Orange Counties, California. Currently, SR 91 includes two tolled express lanes in each direction in Orange County from the Riverside County line 10 miles west to Anaheim. They are managed by the Orange County Transportation Authority. The SR 91 Corridor Improvement Project will extend the tolled express lanes west into Riverside County from the Orange County line to I-15, a distance of approximately eight miles, replacing the existing High Occupancy Vehicle (HOV) lanes. The project will also add one general purpose in each direction and make improvements to bridges and interchanges, including the addition of auxiliary or merge lanes for improved access. Direct connectors to/from the express lanes to I-15 south of SR 91 are also included.
SR-91 is currently used by more than 280,000 vehicles per day, and this volume is expected to increase by approximately 50 percent by 2035. According to the RCTC, the project is estimated to create approximately 16,200 jobs and $310 million in total economic impact. The finished improvements will accommodate growing demand, featuring a fully electronic tolling system designed to prevent significant traffic delays and improve corridor safety. According to the RCTC, the project is forecasted to reduce the average daily trip by 30 minutes, resulting in an estimated value of $36.3 million in annual travel time savings. The improvements are also expected to reduce fuel consumption by approximately 285 million gallons and eliminate roughly 2.1 million tons of carbon dioxide emissions over the 50 years. TIFIA financing allows for the realization of these benefits at least two years faster and at cost reductions of approximately $749 million when compared to the timeline and cost of conventional financing methods.
Funding Sources:
TIFIA Loan: $421.054M
Senior Toll Revenue Bonds: $174.2M
Measure A Sales Tax Bonds: $500.5M
Measure A Sales Tax Revenues: $208.1M
Other Funding Sources: $2M
Investment Earnings: $5.8M
Project Delivery / Contract Method:
Project Participants:
Design-Builder - Atkinson Contractors/Walsh Construction Company joint venture
Lead designer - URS
Design-build Project Manager and Right-of-Way Acquisition - Parsons Transportation Group
Operations and Maintenance - Cofiroute USA LLP
Project Advisors / Consultants:
Parsons Brinckerhoff - NEPA/Technical Advisor
To the Borrower:
Financial Advisor - Fieldman Rolapp & Associates
Underwriter - Goldman Sachs
Underwriter - Bank of America Merrill Lynch
Bond Counsel - Orrick, Herrington & Sutcliffe LLP
Legal Advisor - Nossaman LLP
Legal Advisor - Best Best & Krieger LLP
Traffic and Revenue - Stantec Consulting Services
To USDOT TIFIA JPO:
TIFIA Legal Advisor - Nixon Peabody LLP
TIFIA Financial Advisor - Infrastructure Management Group, Inc.
TIFIA Credit Assistance Detail:
Direct loan: $421.054 million. The loan period is 35 years from substantial completion. Toll revenues, net of operating and maintenance expenses, have been pledged to repay the toll-backed debt, including the senior debt and the TIFIA loan. Under the Master Indenture, RCTC will be required to set toll rates and charges at levels that will generate net revenues sufficient to cover debt service on the Senior Toll Revenue Bonds and debt service on all toll revenue bonds, including the TIFIA loan.
Financial Status:
The TIFIA credit agreement was executed in July 2013. Interest payments are set to begin in 2021, and principal payments are expected to begin in 2030; final loan maturity is expected to occur in 2051.
Innovations:
Significant RCTC "equity contribution" through its Measure A local sales tax program to support the financial planning and affordability of the Project.
Project Contacts:
Theresia Trevino, Chief Financial Officer
Riverside County Transportation Commission
P.O. Box 12008
Riverside, California 92502
Telephone: 951-787-7141
Facsimile: 951-787-7920
E-mail: ttrevino@rctc.org [3]
Locality Area:
POINT (-117.59010320275 33.880829193259)