Woman's History Month: OSDBU Celebrating Women in Transportation
The United States Department of Transportation's (USDOT) Office of Small Business (OSDBU) is celebrating Women's History Month by highlighting the success of women in the transportation.
"We are so proud to work with the Office of Small Business at the Department of Transportation. It has made us better as a company. We are excited about the opportunities ahead" –Kathleen Makowski, Vice-President of Administration & Finance, JP Hogan Coring & Sawing Corporation.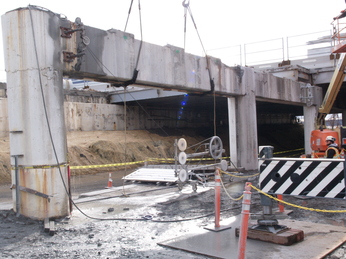 Photo of JP Hogan's work site on the New NY Bridge project. This bridge project totals $4,500,000,000.
This week's featured business, owned by Bernadette Hogan, JP Hogan Coring and Sawing Corporation (JP Hogan), is a premier concrete coring and sawing company operating in the Northeast and Mid-Atlantic regions of the United States since 1994. Based in Staten Island, NY, JP Hogan is a certified Woman-Owned Disadvantaged Business Enterprise.
Bernadette Hogan inherited her father's company with a vision to be the top concrete cutting company in the New York metropolitan area. In 2014, JP Hogan participated in the USDOT OSDBU Bonding Education Program (BEP). Bernadette participated in the 9-week program hosted by OSDBU's Northeast Region Small Business Transportation Resource Center (SBTRC) in collaboration with Skanska Civil for the Kosciuszko Bridge Replacement Project.
As a result of participating in the BEP, JP Hogan was approved for $1,000,000 in bonding capacity. This allowed JP Hogan to expand its business portfolio to include some of the region's mega infrastructure projects. The firm completed work on the New NY Bridge project, the Kosciuszko Bridge Replacement Project, and the Brooklyn Battery Tunnel.
The Research Foundation of City University of New York - LaGuardia Community College serves as OSDBU's Northeast SBTRC. The Northeast SBTRC administers small business assistance programs and provides technical assistance to small businesses throughout the states of New York, New Jersey, Connecticut, Rhode Island, Massachusetts, Maine, New Hampshire, and Vermont. 
Last updated: Thursday, April 20, 2017