USDOT Puts Small Business First
Last week, The U.S. Small Business Administration (SBA) announced the U.S. Department of Transportation (USDOT) earned an 'A+' scorecard rating from the SBA. Today, the Office of Small and Disadvantaged Business Utilization (OSDBU) would like to highlight its Procurement Assistance Division and the USDOT's Office of the Senior Procurement Executive who helped make this achievement possible.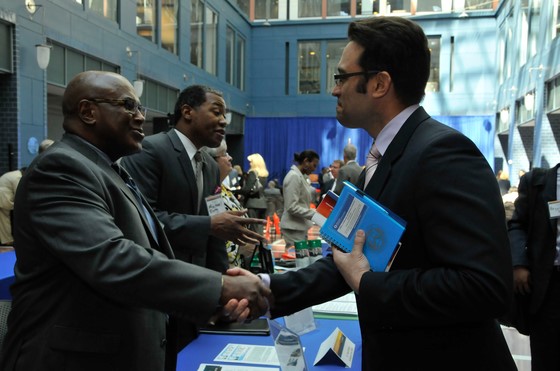 USDOT procurement matchmaking session during an OSDBU Small Business Day.
The "A+" rating the USDOT received reflects the Department's ongoing commitment to providing the small business community with the greatest access to federal contracting opportunities and ensuring the USDOT's procurement officers have the tools needed to connect with these innovative small businesses.  This is the seventh consecutive year the USDOT received at least an "A" rating for its small business contracting achievements.
Under the direction of Dr. Willie H. Smith, the Office of the Senior Procurement Executive provides effective, ethical, state of the art business policies, practices and services in acquisition, financial assistance management, and competitive sourcing. Dr. Smith is responsible for the management direction of all USDOT procurement systems and programs. His responsibilities encompass implementation of procurement policies, regulations, and standards applicable to the Department.
The OSDBU Procurement Assistance Division works closely with the Office of the Senior Procurement Executive along with each of the USDOT Operating Administrations to ensure that small businesses have an equitable opportunity to participate on contracting and subcontracting opportunities.  This includes the development and maintenance of the USDOT Procurement Forecast, a database of potential upcoming procurement opportunities. The forecast provides information on anticipated USDOT procurements over the simplified acquisition threshold and can be searched by quarter, industry category, Operating Administration and key words.
Last updated: Monday, August 14, 2017