United State of Women
The U.S. Department of Transportation's, Office of Small and Disadvantaged Business Utilization (OSDBU), is proud to highlight our Small Business Transportation Resource Centers (SBTRC) and their successful support of United State of Women.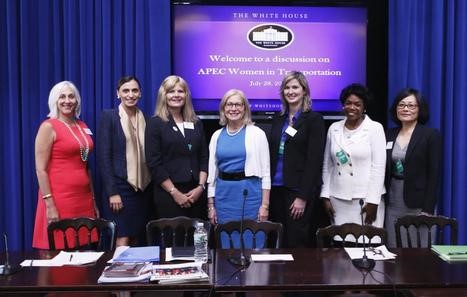 Women United
On June 15th, our Southeast Region SBTRC's distinguished Women in Transportation Initiative (WITI) committee of advisors from across the transportation industry joined in celebration of the United State of Women via online platform.  Committee members simultaneously watched an online film on the United State of Women website. This gesture of solidarity was in accordance with the United State of Women's pledge, "I Will Get Paid the Same as Everyone Else Who Does the Same Job."
The Gulf Region SBTRC also held a roundtable discussion with regional transportation-related women's organizations and small business owners to discuss small business concerns. The week was capped by a Women In Transportation roundtable discussion that featured an address from Leslie Jean, Project Director of the Capital Region SBTRC, hosted by Women In Transportation Seminar at Uber's offices in downtown Washington D.C.  The event focused on small business development, and included Lora Byala of Foursquare ITP and Amy Morris of T3 Design as panelists. Each entrepreneur spoke about their transportation career journey and the motivators that pushed them towards success in their field. Participants in the discussion thoroughly enjoyed the anecdotal stories of the humble beginnings of each entrepreneur's business.
Our SBTRCs work closely with the transportation contracting community and technical assistance providers to serve businesses within the 13 SBTRC regions located throughout the United States and its territories. Utilizing partnerships and industry expertise, SBTRCs provide business counseling that includes market research, certification, procurement and technical assistance, amongst others. SBTRCs also administer the U.S. DOT Bonding Education Program, Short Term Lending Program and WITI. 
Last updated: Wednesday, October 4, 2017