Small Business Celebrates Minority-Owned Businesses during Black History Month
The United States Department of Transportation's (USDOT) Office of Small Business (OSDBU) is celebrating Black History Month by highlighting the success of Minority-Owned businesses.
"Thank you to OSDBU who helped ACU Construction in our growth and understanding of small business opportunities in the transportation industry". -Harry Clincy, President of ACU Construction.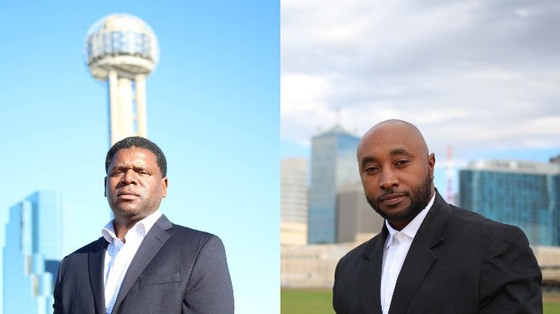 Harry Clincy, President (left), Harold Williams, General Superintendent (Right) of ACU Construction
This week's featured business is ACU Construction. Based in Dallas-Fort Worth (DFW), Texas, ACU Construction is owned by Harry Clincy. Mr. Clincy had a vision of running a successful small business, so he sought assistance from OSDBU's Gulf Region Small Business Transportation Resource Center (SBTRC) in 2009. He wanted to learn how to start a business and successfully engage in commerce with city, county, state and federal government agencies. With the assistance and mentorship of the SBTRC, ACU Construction obtained its Disadvantaged Business Enterprise (DBE) and Historically Underutilized Business Zone certifications in 2010.
In 2011, Clincy was joined by business partner Harold Williams, who brought years of valuable experience and knowledge from previous work in New York and Pennsylvania. The duo focused on filling the large void in the DFW market. Although the company's growth took time, ACU Construction finally gained traction in 2012. The company was contracted to demolish asphalt roads and parking lots on the Dallas Area Rapid Transit Orange Line expansion project at DFW International Airport. In 2013, the DFW USDOT Bonding Education Program was offered by the Gulf Region SBTRC, providing ACU Construction with much needed business counseling and technical assistance.
The assistance from the Gulf Region SBTRC, and the resulting DBE Certification, allowed ACU Construction to complete over 12 construction projects for the Texas Department of Transportation. One specific project ACU Construction completed was the Navarro IH 45 project totaling $356,126.
ACU Construction received several industry awards, including the 2015 Government Contractor of the Year Award from the Dallas Metropolitan Small Business Development Center and the 10,000 Small Business Alumni Honors Award from Goldman Sachs. Mr. Clincy believes OSDBU's educational programs, workshops and seminars served as key ingredients to ACU Construction's success. He stated, "having the opportunity to personally meet key USDOT and OSDBU leadership such as the Deputy Secretary of Transportation, Victor Mendez, and OSDBU's Director, Brandon Neal, was an extremely motivational and inspirational experience". He relishes in the fact that his company has created jobs and fostered economic development in an attempt to give back to the DFW community.
The Gulf Region SBTRC is one of 13 regional field offices of the USDOT OSDBU. The SBTRC provides services to small businesses in the transportation industry in the states of Texas, Louisiana, Oklahoma and New Mexico. The Gulf Region SBTRC is operated by the Greater Dallas Hispanic Chamber of Commerce through a Cooperative Agreement with the U.S. DOT/OSDBU. 
Last updated: Thursday, April 20, 2017