OSDBU Earns A+ for DOT on Small Business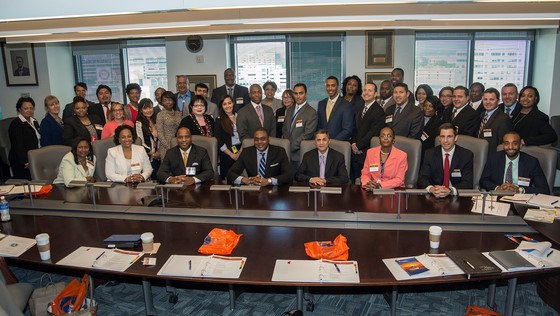 USDOT OSDBU Team
If America's small businesses are the engines of job creation, then the Federal government has been providing those engines a good supply of fuel. DOT is proud to be a leader in the Federal government, earning a grade of "A+" from the Small Business Administration (SBA) on the annual Small Business Procurement Scorecard. This marks a seventh consecutive year DOT consistently earned at least an "A" rating.
DOT's Office of Small and Disadvantaged Business Utilization (OSDBU) was instrumental in this achievement by providing a range of support to help small businesses compete for these contracts.  
Here at DOT, we've made supporting small and disadvantaged businesses a top priority.  So it's no surprise that --in conjunction with Secretary Foxx's Ladders of Opportunity initiative-- DOT alone awarded double the federal average in Fiscal Year 2015. For the year, more than 50 percent of our procurement contracts went to small businesses.  
Through OSDBU, small and disadvantaged businesses are ensured fair access to federal contracting opportunities.  The office also assists these businesses in competing in other programs for transportation-related projects.
About the achievement, OSDBU Director Brandon Neal said, "We pride ourselves in helping a diverse base of small businesses grow and develop, including supporting women, disabled veterans, and disadvantaged owners."
Secretary Foxx lauded this accomplishment: "I've said this before, but transportation is about much more than just getting from point A to point B; it's about getting to a better life. Our perennial "A" rating from the SBA demonstrates a holistic commitment to providing ladders of opportunity to small and disadvantaged business."
When we support America's small businesses, they provide value to government and to the economy in return. As SBA Administrator Maria Contreras-Sweet said, "Small businesses get the revenue they need to grow and create jobs, and the federal government gets the chance to work with some of the most responsive, innovative and nimble companies in the U.S. while the economy grows."
Last updated: Monday, July 3, 2017