Opening the Doors of Opportunity
The U.S. Department of Transportation's (USDOT), Office of Small and Disadvantaged Business Utilization (OSDBU) is pleased to highlight Ana Cervantes, an intern of the 2016 Women In Transportation Initiative (WITI) Internship Program in the Gulf Region Small Business Transportation Resource Center (SBTRC).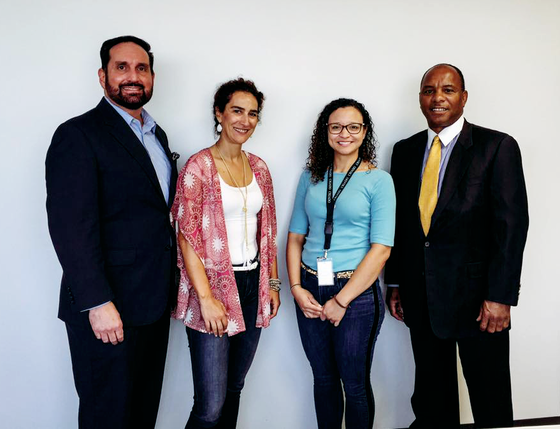 From left to right: Rick Ortiz, Criado & Associates; Cristina Criado, Criado & Associates; Ana Cervantes, 2016 WITI Intern; Tony Arps, Gulf Region SBTRC
Ana Cervantes is currently a sophomore with the University of Texas at Arlington. While maintaining excellence in school and sports, she primarily relies on public transportation to navigate between work and school. Ana's current major in Civil Engineering provided awareness of how transportation creates a nexus to be mobile, thus preparing her for the WITI Internship Program.
Ana was a proud WITI intern, and recipient of the TexITE Dallas Section Scholarship, totaling $2,000. Through the WITI program, Ana fostered relationships at CRIADO & Associates, Inc. (CRIADO) where she was introduced by her colleagues to the opportunity with TexITE Dallas Section. Throughout her WITI Internship  journey, she states, " I have met wonderful people, have gained an insight of what my future might hold, and this internship has re-assured me that this is the career I want to pursue. Again, the experience obtained at CRIADO has been unforgettable and absolutely rewarding in every way. CRIADO allowed me to expand my knowledge in engineering contractual procedures and guidelines, CAD software, planning and design of transportation facilities, and traffic flow relations in traffic streams. I want to continue the path of learning and growing, both professionally and academically within the fields of Transportation Engineering and Water Engineering."  
WITI is an internship program available in all 13 OSDBU regions, enabling young women from colleges and universities across the country to participate. The Greater Dallas Hispanic Chamber of Commerce serves as OSDBU's Gulf Region SBTRC.  The SBTRC provides services to small businesses in the transportation industry in the states of Texas, Louisiana, New Mexico, and Oklahoma. For more information on the SBTRC, please click here.
Last updated: Friday, September 22, 2017