A New Generation for Transportation
The U.S. Department of Transportation's (USDOT), Office of Small and Disadvantaged Business Utilization (OSDBU) is pleased to highlight our Great Lakes Region Small Business Transportation Resource Center (SBTRC) for successfully implementing the USDOT's 2016 Women In Transportation Initiative (WITI) Internship program.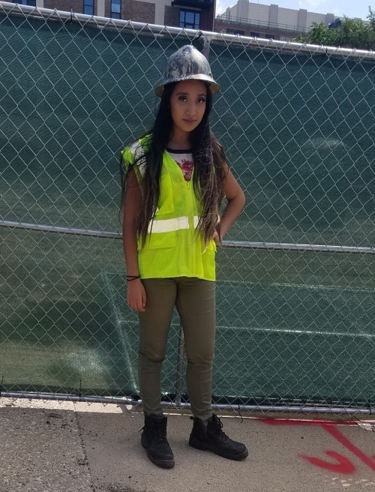 Chloe Hernandez, Great Lakes Region SBTRC WITI Intern
Chloe Hernandez and Taylor Avery had the opportunity to participate in this year's USDOT 2016 WITI Summer Internship program implemented by OSDBU's Great Lakes Region SBTRC. Chloe Hernandez, majoring in Business Administration at National Louis University, was placed with CSI 3000; a Chicago, IL construction company specializing in concrete, asphalt, excavation, and pavement management. Taylor Avery, a Communication's major at Howard University, was successfully placed with Midwest Moving and Storage.
While interning with Midwest Moving and Storage, Taylor was tasked with the marketing and research of an initiative geared towards the abolishment of human trafficking in the transportation industry. Taylor was excited to apply her knowledge, skills, and abilities learned from school to her internship in an industry that could directly correlate with her collegiate studies. Like Taylor, Chloe had the opportunity to explore a new industry and utilizing her knowledge, skills and abilities acquired in school while taking a closer examination at the world of small business. Chloe learned the operational processes of a small business by working with payroll and office administration during her WITI Internship.
"I am forever grateful that I was allowed the opportunity to intern under the USDOT WITI Internship Program. I am blessed that I am living proof that not only can women make great achievements in the working world, but Hispanic women at that. This internship has not only taught me a lot about myself, but about the working world in general. It's not easy, but it can be achieved, especially with the right tools."  – Chloe Hernandez
"This internship gave me a direction in the consulting field. In order to become a successful consultant I will need to gain skills administrative business, strategic communications, and marketing. This internship has allowed me to assess the skills I've gained in my school courses as well as have products of my own work to add to my portfolio."  – Taylor Avery
WITI is an internship program available in all 13 OSDBU regions, enabling young women from colleges and universities across the country to participate. The Illinois Hispanic Chamber of Commerce serves as OSDBU's Great Lakes Region SBTRC.  The SBTRC provides services to small businesses in the transportation industry in the states of Ohio, Illinois, Indiana, Michigan, and Wisconsin. For more information on the SBTRC, please click here.
Last updated: Friday, September 22, 2017