$550,000,000 and Counting
The U.S. Department of Transportation's (USDOT) Office of Small and Disadvantaged Business Utilization (OSDBU) strives to assist small businesses in becoming more competitive. Today, OSDBU is proud to recognize the recent achievement of its Bonding Education Program (BEP).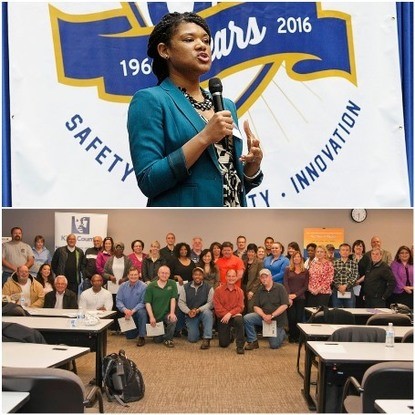 Nyime Gilchrist, National Program Manager, BEP (Top), OSDBU Northwest SBTRC 2013 Seattle, WA BEP Graduating Class (Bottom)
Since the inception of the BEP in 2010, the program helped effectively develop and guide over 1100 small business down the path of success. To date, the BEP assisted small businesses to generate over $550,000,000 in bonding capacity. We are giving a special thank you to Nyime Gilchrist, National BEP Manager for her outstanding work with the BEP. Since 2012, under Nyime's leadership and the hard work of the 13 Small Business Transportation Resource Center (SBTRC) Project Directors in conjunction with their teams, the BEP has generated over $356,000,000 in bonding capacity.
The OSDBU BEP partners with the Surety and Fidelity Association of America to help small businesses develop and obtain surety bonds to become more competitive on federal transportation projects. This hands-on, multi-component program designed to address the steps small businesses must take to become surety bond-ready, and provides one-on-one sessions with local surety bonding professionals to help assemble the materials necessary for a complete surety bond application. This program is tailored to businesses competing for transportation-related contracts and is administered by OSDBU's 13 SBTRC.
Across the country small businesses have stressed the importance and effectiveness of the program. Susanna Guzman, Co-Owner of Mundo Verde Irrigation & Landscaping, stated "I highly encourage any small business that wants to take their company to the next level to participate in the programs offered by OSDBU". Sharon Douglas, Founder and Owner of Bradley Douglas Construction, also stated similar sentiments, "Thank you to the U.S. Department of Transportation BEP for opening their doors to increase the capacity of small business owners".
More Information
Last updated: Thursday, August 17, 2017