DOT's Open Government Initiatives and Activities for 2012-2014
Through the process described in Chapter 2, DOT identified 12 activities, grouped into five initiatives (plus a flagship initiative) for inclusion in the 2014 Open Government Plan. These activities will span 2014, 2015 and 2016 and will further the Open Government goals outlined in Chapter 1. Figure 3 below illustrates how the initiatives map to related activities and when each activity will occur over the next three years.
Figure 3: DOT Open Government Initiatives, Activities and High Level Milestones
Index
---
Section 3.1: Open Government 2014 Flagship Initiative
The National Environmental Policy Act (NEPA) can require extensive review and coordination among a complex network of Federal, State, local, and tribal government agencies. The process can be especially difficult to navigate in the case of large-scale, critical projects. NEPA review and coordination is characterized by extensive "back-and-forth" conversations and negotiations over highly technical topics. These complexities can create delays and increase project costs.
The Department of Transportation has launched a new initiative, eNEPA, which is an online collaboration tool designed to expedite the NEPA development process by facilitating concurrent agency reviews; allowing for quick, clear and transparent issue resolution; and promoting trust and consensus among all project partners. The results are efficient environmental reviews, improved results and reduced project development time and cost. eNEPA directly supports the Open Government principle of collaboration and DOT's Open Government goal of institutionalizing an open DOT culture.
Figure 4: eNEPA Overview
eNEPA is a secure, web-based collaboration tool originally developed by the Federal Highway Administration (FHWA). It is currently being used by State DOTs to improve project delivery and enhance the environmental review process. Other DOT components, including the Federal Transit Administration (FTA) and Federal Railroad Administration (FRA), are already participating in eNEPA. Several Federal resource agencies (US Fish and Wildlife Service (USFWS), US Army Corps of Engineers (USACE), US Coast Guard (USCG), and the National Oceanic and Atmospheric Administration (NOAA)) have users registered in the system and are expected to be regular users.
DOT leadership has identified eNEPA as a readily implementable solution that can bring these same benefits to other Federal agencies across the Federal government. By leveraging existing software and system users, eNEPA can be deployed for use by other permitting agencies. This will encourage broader use by project sponsors and build a collaborative network that can be expanded across modes resulting in reduced costs and faster project delivery.
Currently, six states are using the tool for eight total projects. To scale this initiative and ensure its sustainability, DOT will take the following concrete actions:
National Rollout webinars (Complete)
eNEPA project manager survey (Complete)
Meetings with resource agencies to demonstrate eNEPA and seek support (Complete)
Send letter from Secretary Foxx to Resource Agency Secretaries (May 2014)
Secretary's video promoting eNEPA (May 2014)
Conduct individual demonstration meetings and training for State DOTs and DOT modes upon request (Ongoing)
Collaborate with modes to determine what system changes are needed for modes (Ongoing)
---
Section 3.2: INITIATIVE ONE: Open Data
Improving access to data is a core principle of Open Government, and DOT remains committed to this goal. As a Department with extensive regulatory responsibility, DOT has broad data holdings about the entities it regulates, and has committed to improving access to this high value data through its regulatory compliance plan. Furthermore, DOT collects and disseminates a great deal of data about the safety of the transportation system. To facilitate the application of these data in the development of new insights and applications, DOT has been leading the development of the safety community on data.gov. To support better transportation information through increased and improved disclosure of data, DOT is committing to the following activities for the next two years:
Implementing the Administration's Open Data Policy
Encouraging Innovation through Public Engagement
Improving Access to Data through Visualization Platforms
Coordinating Geospatial Data Efforts
---
Section 3.2.1: Implementing the Administration's Open Data Policy
In the President's Executive Order on making open and machine-readable the "new default" for government data, he noted that "[o]penness in government strengthens our democracy, promotes the delivery of efficient and effective services to the public, and contributes to economic growth." DOT believes that Open Data initiatives improve the effectiveness of transportation decisions by making DOT's extensive data available and usable to all levels of government, the private sector, and the general public. Related to the Executive Order, DOT is also developing a plan to increase access to research data sets, in accordance with the Office of Science and Technology Policy memorandum. DOT believes that access to digital data sets underlying research can catalyze innovation and increase reproducibility in the scientific process. DOT has already built http://www.dot.gov/data and released its approach to completing the enterprise data inventory. DOT Components has developed plans to complete their portion of the enterprise data inventory and are working to finalize their list of data sets that are already made available to the public.
To accomplish the goals of the Executive Order and meet the requirements of the Open Data Policy, DOT will take the following concrete actions:
Complete inventory of mission-related data sets, regardless of their public availability (May 2014)
Complete inventory of administrative data sets, regardless of their public availability (August 2014)
Release a plan to increase access to Federally-funded research results (TBD early 2015)
Implement the plan to increase access to Federally-funded research results (tentatively October 2015)
---
Section 3.2.2: Encouraging Innovation through Public Engagement
As DOT works to increase the amount of data available to the public through the initiative in Section 3.2.1 of this Plan, we will also seek to engage the public to encourage the application of those data sets to spur innovative solutions. Through the Safety Data Initiative, DOT works with Federal partners from around the government as well as the private sector to host an annual Safety Datapalooza and an ever-increasing number of data jams. DOT helped organize the Second Annual Safety Datapalooza in January 2014. During this event, two companies applying DOT data in innovative ways were highlighted: Bustr and Keychain Logistics. DOT has also begun hosting the annual Transportation Datapalooza. The first annual Transportation Datapalooza was held in May 2013. DOT believes that datapaloozas offer an opportunity to celebrate innovators that are applying data to solve our most difficult transportation problems.
DOT is also committed to stimulating data-driven innovation through the use of data jams as well as challenges and competitions. DOT recently launched the Data Innovation Challenge, which seeks to encourage the development of innovative tools to address our nation's transportation challenges or revolutionize the way Americans see and understand the transportation system they use every day.
To do so, DOT will take the following concrete actions:
---
Section 3.2.3: Improving Access to Data through Visualization Platforms
Data visualization techniques provide a useful way for the Department to communicate key messages and stories that are hidden away in its data sets. DOT is committed to exploring new and innovative tools that can help the public better understand data about the transportation system. Providing interactive tools can engage the public with these important data sets in new and innovative ways. Many of the Department's important statistics are presented in static, pre-formatted graphics and charts. Moving these statistics to interactive platforms will provide for new visualization opportunities and increased understanding. Similarly, the Department makes the raw data from the National Transportation Atlas available, but there is a significant learning curve for the public to put geospatial information to use. By developing an interactive viewer and providing the data via Web services, DOT will enable the public to explore the National Transportation Atlas more effectively—users will now be able to view, extract, and analyze parts of the data to meet their specific needs without having to resort to specialized software.
DOT will take the following concrete actions:
Launch Highway Statistics visualization through the Google Public Data Explorer (TBD)
Launch the National Transportation Atlas Viewer (beta in April 2014, available at http://gis.rita.dot.gov/nta/)
Section 3.2.4: Coordinating Geospatial Data Efforts
Geospatial data management is an area of opportunity for DOT. Many of the Department's geospatial information programs are fragmented, acquiring data in a siloed manner and developing individualized approaches to disseminating data as well as developing applications to present data to stakeholders and the public. The Federal geospatial data community has developed new tools to help agencies better manage and disseminate geospatial data and Web services in a manner that facilitates ease of discovery and enables downstream utility. To take advantage of these new tools, DOT will take an enterprise approach to improve coordination of geospatial data efforts. Specifically, DOT will take the following actions:
Fully participate in geoplatform.gov, maintaining the transportation theme page as well as the DOT agency page (June 2014)
Acquire a FedRAMP-certified, cloud-based geospatial platform in collaboration with other Federal agencies (March 2015)
Transition delivery of geospatial data to focus on Web Feature Services (May 2015)
Require publication of geospatial data to the cloud platform (May 2015)
Require all public-facing visualization applications to be built from cloud-delivered data and services, where available (April 2016)
---
Section 3.3: INITIATIVE TWO: Utilizing IdeaHub to Foster Collaboration, Engagement, and Transparency
The three principles of transparency, participation, and collaboration form the cornerstone of an Open Government.  Federal leaders are charged with incorporating the values of transparency, participation, and collaboration into the ongoing work of their agency.  The DOT is making several internally-facing commitments to ensure Open Government principles are implemented within the Department.  To achieve this objective, DOT will focus on two primary activities over the next two years :
Enhancing collaboration with an employee skills database
Strengthening employee engagement
---
A fundamental principle of IdeaHub is to equip employees with the tools and resources necessary to be more participatory and collaborative in their work and in transforming the culture of DOT.  Ensuring that employees have access to the information needed to be more effective at their jobs helps the Department align with the Secretary's 3Es: efficiency, effectiveness, and encouraging economic growth, while positioning the Department to become a 21st century agency.
Using IdeaHub, employees submitted ideas on increased utilization of existing personnel, demonstrating their desire to be collaborative and engaged in Departmental efforts.  An employee skills database could ease the ability to find the right people to execute day-to-day work assignments and to participate on more focused initiatives.   A system could consist of employee profiles, including information on an employee's job function, expertise, and other specialized characteristics.  This system would enable managers and employees to:
Improve Departmental collaboration on mission-specific topics;
Leverage existing employee resources to meet the mission;
Reduce contract support; and
Facilitate focused mentoring and skill swaps.
In response to employee suggestions, DOT will take the following concrete actions:
Explore ways to improve accessibility to employees across DOT's Operating Administrations (OAs) through a standardized system or database  (April 2015)
---
Section 3.4: INITIATIVE THREE: State Transportation Scorecards
As DOT moves to a more performance-based approach to planning, programming, and outcome measurement, state scorecards will provide a window into the outcomes of taxpayer investment in transportation infrastructure for every single state.  By making this information available to the public, DOT can increase transparency of the performance of the nation's multimodal transportation system and, hopefully, spark a debate on the need for smart investment.
Benefits include increased transparency of public infrastructure management, a monetary benefit of better stewardship of public dollars with increased accountability, and programmatic benefits associated with more efficient programming of priority projects to address underperforming areas of the transportation system.
By aggregating multimodal data from across the country, State Transportation Scorecards will comprehensively communicate the performance of the transportation network in each state and as a whole. Presented measures include:
Miles of road and rail
Number of flights
Miles of transit trips
Highway Trust Fund (projected balance)
System usage (including licensed drivers, transit ridership, freight throughput)
Safety (annual roadway fatalities, structurally deficient bridges)
Efficiency (fuel consumption, road condition)
The state transportation scorecards will be made available to the public through an interactive portal.  Currently, the Federal government does not make this type of data available for easy comparisons.  DOT plans to measure the impact of the state scorecards by measuring the number of web views, uptake in traditional and social media, as well as other means.
Important external stakeholders impacted by this Web site will include State and local governments, transportation agencies, grantees, the transportation industry, transportation investors and Congress. A coordinated communications and public engagement strategy around the online release of the scorecards will include the Secretary's engagement via his blog and opportunities to amplify the announcement at events. DOT believes this activity has significant value for the targeted stakeholders.
To implement these scorecards, DOT will take the following concrete actions:
Finalize concept template, develop content for each state as well as some aggregate data (September 2014)
Go live with finished product online, amplify and engage through events, blogs, etc. (2015)
---
Section 3.5: INITIATIVE FOUR: Innovative Financing Transparency.
DOT operates a number of innovative financing programs and continues to work to provide additional transparency to help applicants understand the programs and to view information about projects. These programs are designed to offer alternative methods to finance major infrastructure projects, rather than the typical Federal-aid grant model. Two examples of these programs are:
The Transportation Infrastructure Finance and Innovation Act (TIFIA) program provides Federal credit assistance in the form of direct loans, loan guarantees, and standby lines of credit to finance surface transportation projects of national and regional significance. TIFIA credit assistance provides improved access to capital markets, flexible repayment terms, and potentially more favorable interest rates than can be found in private capital markets for similar instruments. TIFIA can help advance qualified, large-scale projects that otherwise might be delayed or deferred because of size, complexity, or uncertainty over the timing of revenues.
The Railroad Rehabilitation & Improvement Financing (RRIF) program provide direct loans and loan guarantees up to $35.0 billion in the aggregate to finance development of railroad infrastructure.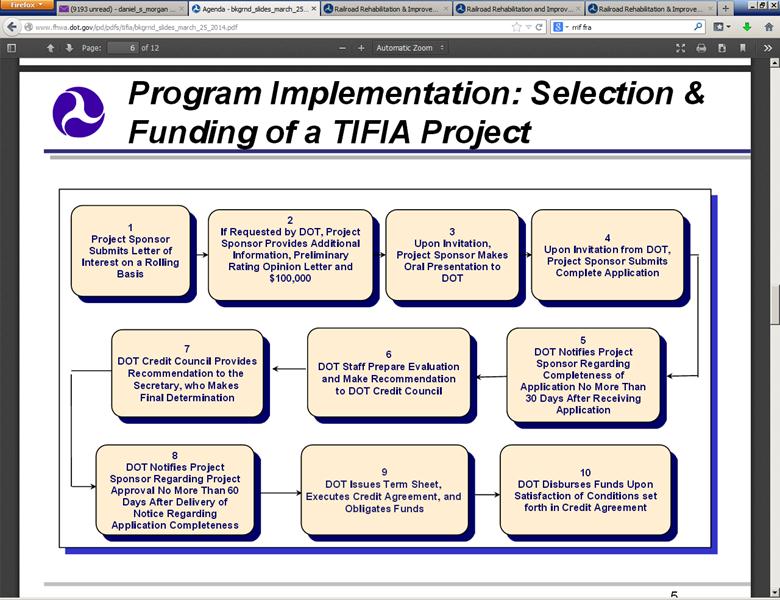 Figure 5: TIFIA Project Selection and Funding Process
DOT believes that bringing more transparency to the application review and approval process will help current applicants track the status of their projects, but we also believe that transparency will encourage even greater participation in these programs. To that end, DOT is focused on making information more transparent.  For example, for the TIFIA program, DOT is posting profiles for each projects (http://www.fhwa.dot.gov/ipd/project_profiles/).
The innovative financing transparency commitments will allow applicants and the public to see data about loans that have been closed. Concurrent with these transparency initiatives, DOT is also taking steps to improve its ability to track the status of innovative financing applications. DOT's improved internal tracking mechanisms allow us to provide applicants with more detailed information about the current status of their application, the estimated date that step will be completed, and information about the next step in the process.
DOT will take the following actions to deliver the innovative financing transparency:
Develop and release RRIF program guide (September 2014).
Develop and release templates for public agency TIFIA applicants (December 2014).
Increase outreach and storytelling to demonstrate how TIFIA, RRIF programs are achieving results (Ongoing)
Expand applicant resources and templates (Ongoing)
---
Section 3.6: INITIATIVE FIVE: DOT Actions in Response to the Open Government National Action Plan
In addition to the work identified in the previous initiatives, DOT is also taking specific steps to address new and expanded Open Government requirements set forth in the Office of Science and Technology Policy guidance for Open Government plans.  This section outlines our efforts around:
Increasing proactive disclosure;
Improving privacy program transparency;
Protecting whistleblowers;
Implementing the Digital Government Strategy; and
Reporting on No FEAR Act Implementation.
---
Section 3.6.1: Increasing Proactive Disclosure
DOT is fully committed to the proactive disclosure of information, consistent with the President's and the Attorney General's instruction to disclose information to achieve "an unprecedented level of openness."  The Office of General Counsel periodically makes inquiries to each Operating Administration to confirm that proactive disclosures required by FOIA have been incorporated into each FOIA Electronic Reading Room.  Several Operating Administrations evaluate web metrics collected from visitors to their websites to identify areas of public concern for which data is not already being proactively disclosed.
To more effectively systematize DOT's proactive disclosures, the Senior Accountable Official for Open Government, in coordination with the Office of General Counsel, will ask each Operating Administration to prepare a plan detailing:
How Operating Administrations will identify records appropriate for proactive disclosure (other than those required to be proactively disclosed by the FOIA);
What impediments exist to proactively releasing the records;
Who will be responsible for the preparation and release of the identified records; and
How the Operating Administration will update its proactive disclosures. 
Each Operating Administration will also be required to consider proactively releasing specific types of information that some, but not all, Operating Administrations currently release.  Each plan will also identify what, if any, components of the "Openness Floor" maintained by OpenTheGovernment.org are appropriate for proactive disclosure and document reasons why certain types of information cannot be proactively disclosed.
To accomplish this objective, DOT will take the following concrete actions:
Issue guidance requiring a proactive disclosure review (February 2015)
Collect proactive disclosure plans from Operating Administrations (August 2015)
Implement proactive disclosure plans (September 2015 and ongoing)
---
Section 3.6.2: Improving Privacy Program Transparency
The DOT privacy program carries out the privacy risk management requirements of the Privacy Act, the Paperwork Reduction Act (PRA), the E-Government Act of 2002 (EGov), the Federal Information Security Management Act (FISMA), and the Consolidated Appropriations Act of 2005, as well as general privacy risk management at DOT. The DOT CIO is the Senior Agency Official for Privacy (SAOP) and operational responsibilities of the SAOP and implementation of the Privacy Act are assigned to the DOT Chief Privacy Officer.
In its mission to ensure a fast, safe, efficient, accessible and convenient transportation system that meets our vital national interests and enhances the quality of life, DOT collects, accesses, and uses significant amounts of data every day. The DOT is committed to protecting the safety of all data used in the system development lifecycle, but is especially aware of the risks associated with the collection, use, storage, and sharing of personally identifiable information (PII). It is vitally important that DOT not only protect this information, but ensure that individuals be able to appropriately control the collection, use and sharing of their own PII within DOT systems.
The DOT's regulatory activities may also raise privacy concerns for members of the public by requiring regulated parties to collect information on individuals or implement technologies which may impact individual privacy.  The DOT has an obligation to identify, analyze, and mitigate these concerns.
With increased data collection, technology acceleration, and regulatory complexity comes increased privacy risk.  DOT focuses on incorporating proactive risk management into every stage of system and program development. Risk management improves compliance with privacy objectives by raising awareness among employees and leadership regarding the standards for data safety. It institutes frameworks for training, compliance assessment, and vulnerability mitigation.
DOT is fully committed to protecting the personal privacy of all individuals. Certain privacy protections are stated in law; however, DOT recognizes that compliance with the letter of the law is not enough. DOT has a responsibility to ensure that individuals are treated with fairness and respect. DOT has established a Privacy Program to ensure that, in addition to compliance with the law, the Fair Information Practice Privacy Principles (FIPPs) are integrated into every policy decision and are observed and followed by all DOT employees and contractors. The FIPPs are a widely accepted framework that is at the core of the Privacy Act of 1974 and is mirrored in other statutes, Federal policy and guidance. The FIPPs cover common privacy concerns and provide a universal platform for identifying, assessing, and mitigating privacy risk. The DOT has adopted the FIPPs as its privacy policy framework and seeks to apply them to the full breadth and diversity of DOT programs and activities.
The FIPPs provide the foundation of all DOT privacy policy development and implementation. The FIPPs must be applied whenever a DOT program or activity collects information or raises privacy concerns involving the collection of PII. In addition, the FIPPs will be applied to the deployment of any technology or development of any proposed regulation that raises privacy risks for individuals. This is a media-neutral policy and applies to all records regardless of whether they are created and/or maintained on paper or in an electronic format, unless otherwise specified in the policy. To the extent practical and permitted by law, DOT extends its application of the FIPPs to all individuals living or deceased and to all individuals regardless of legal status.
The DOT posts public notices of information practices and the privacy impact of government programs and activities. Accordingly, DOT is open and transparent about policies, procedures, and technologies that directly affect individuals and/or their PII. Additionally, the Department does not maintain any system of records that are not known to the public.  The DOT privacy impact assessment (PIA) and system of records notices (SORN), as well as other policy documents may be found on the DOT website – www.dot.gov/privacy. A complete inventory of DOT privacy reports follows:
DOT Website policy – completed and posted to www.dot.gov/privacy
Information Sharing Environment (ISE) Privacy policy – completed and posted to www.dot.gov/privacy
Privacy Impact Assessment (PIA) – completed and posted to www.dot.gov/privacy
System of Records Notices (SORN) – completed and posted to www.dot.gov/privacy
E.O. 13636 Privacy/Civil Liberties Assessment – completed and posted to www.dot.gov/privacy
Annual SAOP report as part of FISMA – completed 
Data Mining Report – DOT has not identified activities meeting the definition of Data Mining as defined for this report
Computer Matching Report – DOT has not identified activities subject to the Computer Matching requirements of the Privacy Act
---
Section 3.6.3: Protecting Whistleblowers
The Department of Transportation (DOT) is committed to adhering to the requirements of the Whistleblower Protection Act of 1989, and the expanded protections provided by the Whistleblower Protection Enhancement Act of 2012. In accordance with 5 USC § 2302(c), DOT will assure, in consultation with the U.S. Office of Special Counsel (OSC), that DOT employees are informed of their rights and remedies under the prohibited personnel practices and whistleblower retaliation protection provisions of Title 5. This will be accomplished by requiring all DOT Operating Administrations to participate in OSC's Whistleblower Protection Act certification program.
Presently, the Federal Aviation Administration is the only Operating Administration with a current certification. Certifications for the following OAs have expired:
Federal Motor Carrier Safety Administration (FMCSA) - expired 11/3/11
Federal Railroad Administration (FRA) - expired 11/3/11
Saint Lawrence Seaway Development Corporation (SLSDC) - expired 11/3/11
The following Operating Administrations have not been certified:
Federal Highway Administration (FHWA)
Federal Transit Administration (FTA)
Maritime Administration (MARAD)
National Highway Transportation Safety Administration (NHTSA)
Office of the Secretary (OST)
Pipeline and Hazardous Materials Safety Administration (PHMSA)
Surface Transportation Board (STB)
The plan to achieve certification/re-certification for all Operating Administrations includes the following elements:
The Office of the Secretary (OST) will notify each Operating Administration of the requirement that each organization obtain OSC certification/re-certification. OST will establish a deadline of December 31, 2014 by which time components are to obtain certification/re-certification. (May 12, 2014)
Operating Administrations to submit certification/re-certification plans to OST.  (June 13, 2014)
OST will request monthly reports from Operating Administrations of each organization's progress toward certification/re-certification. (beginning July 11, 2014)
OST will provide Operating Administrations information and assistance needed to achieve certification/re-certification on an on-going basis.
OST will appoint a Senior Executive Service employee to oversee implementation of its compliance plan.
Updated: Monday, June 2, 2014