DOT's Open Government and Public Engagement Strategy
Index
Overview
With over 80 percent of its budget dedicated to grants, DOT is externally focused.  As a result, DOT's ability to engage effectively with stakeholders, grantees, appropriators and other partners, in addition to the general public, is critical to achieving our goals.  There are currently many low- and high-tech channels for stakeholders and the general public to engage with DOT.  Most opportunities for collaboration and participation are ongoing, lending themselves to social media and Web 2.0 tools.  Open Government provides an opportunity to improve collaboration not only with the general public, but also with specialized groups that have transportation interests.  Since the publication of the first Open Government Plan in 2010, DOT has made significant strides to enhance public and stakeholder engagement.
"Public engagement enhances the Government's effectiveness and improves the quality of its decisions."
- President Obama, January 2009
DOT is committed to sharing information and data to encourage opportunities for public feedback, creating opportunities for public participation in the business of DOT, and building opportunities for collaboration and coordination.  This commitment is illustrated by the Public Engagement Model that DOT embraced in 2011 (see Figure 1).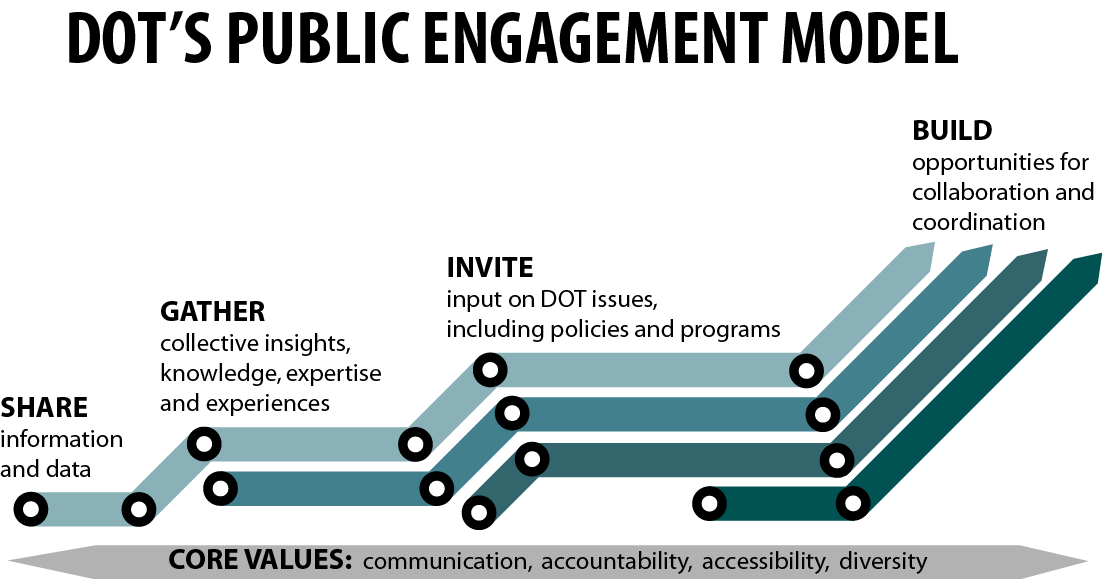 Figure 1: DOT's Public Engagement Model
This model closely follows the principles of transparency, participation, and collaboration as established in the Open Government Directive and also the goals articulated in DOT's first and second Open Government Plans, which included:
Increase Agency Transparency and Accountability by:

Presenting in a clear manner DOT information about programs and objectives; and
Continuing to release DOT data in a timely manner by proactively making it available online in consistent, open formats, while ensuring accuracy and protecting privacy, security, and confidentiality.

Apply Citizen Knowledge Through Participation to Government Service by:

Maintaining commitment to collecting and responding to public input on DOT policies and programs in innovative ways; and
Continuing to create opportunities for public participation in problem identification and idea generation.

Encourage Collaboration and Innovation by:

Enhancing collaboration with other federal agencies, the private sector, and other non-government organizations in providing mission-related services; and
Enhancing efforts to stimulate innovation from DOT data and information.

Institutionalize an Open DOT Culture by:

Encouraging commitment to Open Government principles at all levels;
Encouraging a cross-OA, interdisciplinary, collaborative, and engaged workforce through enhanced communication, governance, and guidance regarding Open Government tools and programs; and
Maintaining commitment to data-driven DOT decision-making, by increasing employee awareness of DOT data and information.
The model illustrated in Figure 1 highlights the goals and objectives articulated in the first Open Government Plan and recognizes that public engagement principles build upon each other to foster effective decision-making and service delivery.  Furthermore, there are increasingly more tools available to DOT to engage across the spectrum illustrated in Figure 1.  Some of these tools (listed in Table 1) are technology-based, whereas others are an approach or methodology.  Many of the tools identified in Table 1 have a long history at DOT while others are much newer.
Strategy and Sample Tools

Strategy

SHARE  Information and Data

Blogs
Social Networking Sites and New Media
Smartphone Apps
Federal Register
Presentations, Briefings, and Exhibits at National/State/Regional/Local Meetings
Webinars, Webcasting, Podcasting and Live Streaming
Publications
Data.gov Web Site and Open Data Communities
DOT Web Sites (including https://www.transportation.gov/open/) and Data Visualization

GATHER

 Insights, Knowledge, Expertise and Experiences

Social Networking Sites
Phone or In Person 1:1 Meetings, Focus Groups, and Small Group Discussions
Advisory Groups
Web-based Online Dialogue
Structured/Facilitated Conversations
Summits on Targeted Topics
Town Hall Meetings
Workshops/Charrettes
Webcasting/Streaming During Live Events

INVITE

 Input on DOT Issues, including Policies and Programs

BUILD Collaboration and Coordination

Collaboration with Coalitions and Industry Partners
Collaborative Workspaces (including Wiki and SharePoint) with External Stakeholders
Committee/Workgroup Participation
Ombudsman Programs
Online Mash Ups and Tools
Research and Development
Self-Assessment Tools
Tool Kits
Table 1: DOT has a wide range of tools for public engagement
---
Section 1.1: Tools for Enhancing Transparency, Public Participation and Collaboration Opportunities at DOT
This section describes the priority engagement and Open Government tools for DOT for the next two years.  Chapter 3 will describe broad initiatives and specific activities that leverage these tools to make DOT more transparent, participatory and collaborative.
---
Section 1.1.1: Open Data and Data.gov Topics
DOT has been an active participant in the data.gov initiative.  The strategies outlined in our first three Open Government Plans align with the requirements of the Open Government Directive as well as the Open Data Policy and have been at the core of our open data efforts over the last six years.  The DOT is particularly focused on contributing useful data and tools related to climate change, ocean and maritime issues, and public safety.  The Department remains committed to:
Driving innovation by tapping into the ingenuity of the American people;
Increasing agency accountability; and
Solidifying the connection between the Department's services and individual citizens, businesses, governmental bodies, universities, and other non-government organizations.
DOT also serves as the agency co-lead for the Cross-Agency Priority (CAP) Goal on open data.  In this role, DOT helps promote successful open data policy implementation across all of government.
---
Section 1.1.2: Other Opportunities for Participation and Collaboration with DOT
DOT is committed to building a central place that gives the public an opportunity to discover engagement opportunities that are relevant to their interests and expertise.  The DOT has launched http://www.transportation.gov/engage, and this page collects  information about proposed DOT regulations and other Federal Register opportunities open for comment; information about upcoming public meetings (to include town halls, Federal Advisory Committee meetings, listening sessions, and more), webinars, and opportunities to engage in an online dialogue; as well as other relevant content.
The list in Table 2 contains other examples of past and current opportunities to participate and collaborate with DOT, categorized by Operating Administration (OA):
Mode
Opportunities
Status

FAA:

FAA Small Unmanned Aircraft System Registration Service

One stop registration site for both recreational and business small unmanned aircraft (also known as drones)

Available for the public use

FHWA: 

Ideas are shared by State, local and private sector partners to shorten project delivery or accelerate technology and innovation deployment.

Continues to be an active initiative with ongoing engagement with State DOTs and other stakeholders. 

FMCSA: 

Allows easy access to bus safety information and a one-touch process to start filing a complaint.

Continues as a tool available for stakeholders

FMCSA:

Provides convenient access for safety performance information on interstate truck and bus companies

Continues to be available for stakeholders

FRA: 

Fostering a Safe Railroad Environment Nationwide

Links to prominent safety programs and forums.

Available for download in Apple App Store and Google Play

FTA: 

Notices of Funding Availability

Posts all opportunities for funding as they become available.

Continues to be available for stakeholders

MARAD:

School classrooms (5th-8th grade) can adopt a ship of the American Merchant Marine and exchange correspondence.

Continues to be available for teachers and schools

NHTSA

Consumers can look up vehicles that are under a recall. 

Available for consumers

NHTSA:  

NHTSA Distracted Driving Study

A national telephone survey on driving habits and attitudes related to distracted driving.

Completed and posted on NHTSA website. 

PHMSA: 

Provides State-by-State pipeline profiles.

Continues to be available for the public

SLSDC:

The St. Lawrence Seaway: Gateway to North America [external link]

Binational site of the Great Lakes St. Lawrence Seaway System.

Continues to be available for the public
Table 2: Status of Participation Opportunities
Section 1.1.3: DOT Web sites and Data Visualization
One of the other major commitments in our first Open Government Plan was the redesign of the DOT Web site.  The DOT has a wide range of stakeholders.  The diversity of these stakeholders drives the need for a "best in class" Web site that is both dynamic and easily managed.  Our public-facing Web presence must provide relevant information to other government agencies, private sector organizations, and individual citizens.
We launched the external-facing transportation.gov site in summer 2012.  The new DOT Web presence aligns with and promotes achievement of the Department's strategic goals.  In keeping with the principles of Open Government, our updated Web presence strategically uses a variety of crowdsourcing tools, smartphone applications, Facebook, Twitter, and other Web 2.0 platforms through multimedia pages.  The new DOT.gov was the first Cabinet-level Web site to use responsive design throughout, allowing better access for the increasing number of stakeholders using mobile devices.
The DOT continues to evolve its web presence, recently deploying a microsite template.  The template demonstrates the Department's continued embrace of multimedia platforms.  Web pages for the Build America Bureau, Ladders of Opportunity, the Race To Zero Emissions, Protect Your Move, Our Roads Our Responsibilities, and the 50th Anniversary of DOT all use the new, more visual design to present key initiatives and campaigns to the public.  The Ladders, Bureau, and 50th microsites have used live video streaming extensively.  For more information about DOT's Web-related efforts, view the DOT digital strategy Web page.
---
DOT recognizes that through new media opportunities such as blogging, webcasting, Facebook and Twitter, the Department's message can reach more people.  New media tools can be used to gather insights, knowledge, expertise, and experiences in real time, establishing a true two-way connection between DOT and participants.  These tools give DOT an opportunity to invite input on DOT issues, including policies and programs, while building opportunities for collaboration and coordination.
DOT continues to deliver on its comprehensive social media strategy, appropriately leveraging social media, managing risks and establishing guidelines and expectations around official, professional, and personal use.
Since the last Open Government Plan, DOT has increased its use of real-time social media engagement.  In the last year alone, for example, NHTSA has conducted a dozen townhalls and tweet-ups on Twitter around safety issues, each of which has reached millions of accounts.  One of the more popular FAA News tweet categories has been daily flight weather announcements for the general aviation community.  And PHMSA has live-tweeted and live-streamed several pipeline safety workshops.
DOT's complete social media directory can be found at https://www.transportation.gov/social.
---
Online dialogues are an effective way to gather insights, knowledge, expertise and experiences about specific issues.  Some of the benefits from online dialogues we have found include:
Diversifying the participants in the dialogue
Encouraging wider geographic representation
Proactively making comments transparent that previously would have been collected by e-mail
As proposed in its first Open Government Plan, DOT has increased the use of Web-based dialogues significantly in the past four years.  Recent dialogues have engaged the public on a number of policy initiatives.  Below are some statistics from those dialogues:
| Dialogue | # ideas | # comments | # votes |
| --- | --- | --- | --- |
| Strategic Plan for Transit Research | 92 | 126 | 639 |
| Best Practices Transit Procurement Manual | 39 | 26 | 167 |
| Transit Worker Assault Prevention | 40 | 72 | 440 |
| Public-Private Partnerships in Public Transportation | 43 | 18 | 379 |
| XPEDITE | 57 | 47 | 460 |
| Performance Measures | 228 | 293 | 3,695 |
| Freight | 69 | 71 | 462 |
| Transit Asset Management | 86 | 146 | 1,478 |
| Ferry Program | 54 | 39 | 675 |
| Transit Provider Representation in MPOs | 106 | 81 | 776 |
| Totals | 814 | 919 | 9171 |
Table 3: DOT Has Held Successful Online Dialogues
---
Over the last few years, DOT has recognized a need to leverage online collaborative workspaces with our stakeholders and customers.  NHTSA's Grants Management Solutions Suite (GMSS) system provides for electronic submissions of grant applications.  The full deployment of GMSS will automate  all phases of NHTSA State Highway Safety grants.  Developed using Microsoft Dynamics CRM Online for Government (CRMOL-G), an integrated component of Microsoft Office 365.    Grantees submit applications electronically and seamlessly communicate within GMSS via messaging with NHTSA throughout the grants life cycle. The GMSS system uses a secure SharePoint site to store grant submission documents that are accessible to approved users and grantees from State Highway Safety Offices.  CRMOL-G is a Software-as-a-Service (SaaS) solution that is FEDRamp-authorized.
Updated:
Thursday, September 15, 2016