U.S. Airlines Reach New Heights in 2016
U.S. airlines set new records in 2016 for the number of passengers carried, for the distance they carried those passengers and for the capacity that the airlines used to move them, according to numbers released by the Bureau of Transportation Statistics (BTS). It was the second consecutive year that the airlines set all-time highs.
In 2016, for the first year ever, U.S. airlines carried more than 800 million scheduled service passengers – reaching 823 million worldwide, 3.1 percent more than the 798 million they carried in 2015. Using the measure of revenue passenger-miles (RPMs), which includes both the number of passengers and the distance they travel, U.S. airline operations grew even more – with 933 billion RPMs, up 3.5 percent from 2015.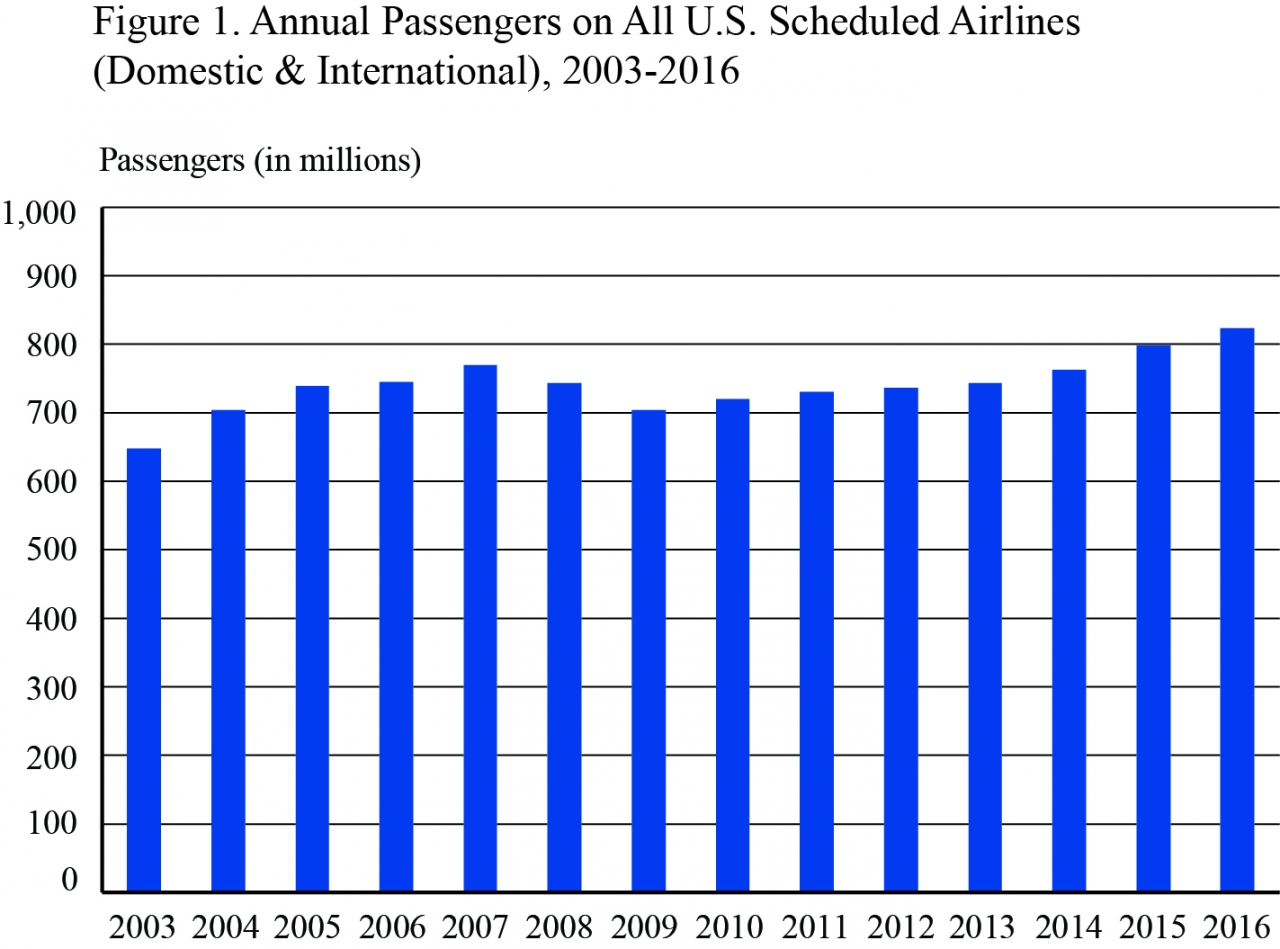 Airlines measure capacity using the number of seats and the distance traveled. In 2016, U.S. airline scheduled service available seat-miles (ASMs) exceeded 1.1 trillion, a record that was up 3.9 percent from 2015.
Airline load factor declined to 83.4 from an all-time annual record of 83.8 in 2015. The load factor remains high compared to earlier years. A decade ago, in 2006, the load factor was 79.2.  A decade before that, in 1996, it was 69.3.
The airlines carried 719 million domestic passengers, a 3.3 percent increase from 2015 and the first time they have topped 700 million.  Internationally, U.S. airlines carried 104 million passengers, 1.7 percent more than in 2015.
RPMs, the measure of passengers and distance traveled, also grew faster on the domestic side, rising 4.7 percent to 660 billion compared to international growth of 0.7 percent to 273 billion. International traffic generated 29 percent of U.S. airline RPMs in 2016 even though fewer than 13 percent of their passengers traveled internationally.
For more information, see the BTS 2016 Annual and December Air Traffic Statistical Release.